Cultural background:
Norwegian
Collection:
Powerhouse Museum
Theme:
Snowy Hydo-Electric Scheme

Hans Berents skis and stocks 1952. Courtesy Powerhouse Museum
Collection
Powerhouse Museum, Sydney, Australia.
Object Name
Skis & stocks
Object description
Pair of long laminated wooden skis and bamboo stocks that were owned and used by Hans Berents while working on the construction of the Snowy Mountains Hydro Electric Scheme between 1952 and 1960. The skis have a rocker tip at front and metal strip at rear. The veneer consists of strips of dark wood running the length of the ski in a thick centre band and thin side bands. The ski boot bindings consist of a release toe, heel plate and heel cable. The metal release toe holds the front of the ski boot while a swivel latch releases the boot. Dimensions: 2120mm long x 40mm high x 90mm wide.
The two bamboo ski stocks have leather wrist straps. The end of the pole is reinforced with aluminium and a metal tip. The basket prevents the stocks sinking into the snow, and features leather straps to prevent the stock being dropped or lost while skiing. Dimensions: 1320mm high x 175mm wide.
These skis were purchased by Hans Berents in Norway and brought with the family when they migrated to Australia in 1952 to work on the Sydney Mountains Hydro Electric Scheme. Hans used the skis between 1952 and 1960 for work and recreation. Laminated skis date from 1939 to 1950. Safety bindings became common during the 1940s, with the Kandahar cable binding a popular brand well into the 1950s. The Japanese made Evernew release toe was one of many available at this time.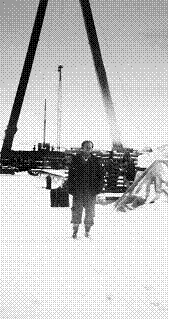 Worker with construction rig, c.1951. Courtesy National Archives of Australia
In 1949 a massive international recruitment program was launched to target workers with scientific and engineering skills for the Snowy Mountains Hydro Electric Scheme. Migrants from many countries with skills in surveying, tunnelling, geology and hydrology came to work on the project. Hans Berents was a Norwegian engineer who migrated to Australia in 1952, with his Russian-born wife, Dr Ina Berents, and son Peter. The family moved to Cooma and both Hans and Ina were employed as professional staff by the Authority.
Skis were an essential means of transport for engineers, hydrographers, geologists, and surveyors who needed to work in the high-country sites during winter. Investigation teams went into the mountains to gather and analyse information about topography, rock types and water flows before construction work could begin. According to Peter Berents his father often skied into inaccessible locations to conduct field research for the Snowy Mountains Authority.
The skis are historically significant as evidence of the many nationalities who worked on the Snowy Mountains Hydro Electric Scheme. They show that many migrants were actively selected for the skills and experience in working and living in cold alpine conditions. Norwegian and German people with engineering and surveying skills were especially targeted for work on the scheme. These groups added to the waves of post war migration that helped create post war multi cultural 'New Australia'. Skiing was an essential means of transport for high altitude workers on the Snowy Mountains Hydro Electric Scheme. The skis are significant because of their use by Hans Berents who used them when undertaking engineering field research between 1952 and 1960.
---
Bibliography
Coupe, S & Andrews, M 1992,
Was it only Yesterday? Australia in the Twentieth Century World
, Longman Cheshire, Sydney.
Heritage Office & Dept of Urban Affairs & Planning 1996, Regional Histories of NSW, Sydney.
Heritage Collections Council 2001, Significance: A guide to assessing the significance of cultural heritage objects and collections, Canberra.
Thompson, S 2011, New Australia: The Snowy Mountains Hydro – Electric Scheme 1949 – 1974, Migration Heritage Centre, Sydney.
---
---
Websites

The Migration Heritage Centre at the Powerhouse Museum is a NSW Government initiative supported by the Community Relations Commission.
www.migrationheritage.nsw.gov.au

Regional Services at the Powerhouse Museum is supported by Movable Heritage, NSW funding from the NSW Ministry for the Arts.