Era:
1990 and beyond
Cultural background: Australian, Chinese
Collection:
Sydney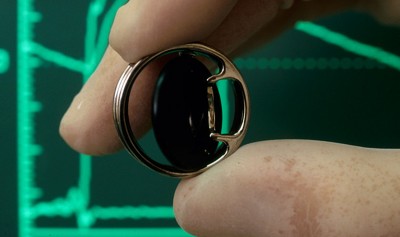 Dr Victor Chang's St Vincent's artificial heart valve, 1991. Courtesy National Archives of Australia
Collection
Powerhouse Museum, Sydney, Australia.
Object Name
St Vincent's Artificial Heart Valve
Object Description
A artificial heart valve dubbed the 'St Vincent's Heart Valve' designed by Dr Victor Chang for the replacement of dysfunctional ventricle heart valves in people with chronic heart disease. Dimensions: 20mm diameter x 5mm deep.
Dr Victor Chang was a Chinese Australian cardiac surgeon and a pioneer of modern heart transplants and artificial heat valves.
DR Chang was born in Shanghai to Australian-born Chinese parents. He grew up in Hong Kong where he attended primary school in Kowloon Tong and spent two years in St. Paul's College. He moved to Australia in 1953 where he attended Belmore Boys High School and completed his secondary education at Christian Brothers' High School. In 1960, he graduated as a Bachelor of Medical Science with first class honours at the University of Sydney and with a Bachelor of Medicine and Bachelor of Surgery in 1962. With heart surgeon Mark Shanahan as his teacher, Dr Chang worked for two years as an intern in St Vincent's Hospital before Shanahan sent him to England to train with London surgeon Aubrey York Mason.
Dr Chang became a Fellow of the Royal College of Surgeons in 1966 and trained in cardiothoracic surgery at the Royal Brompton Hospital. In London, he met and married his wife Ann. He spent two years in the United States at the Mayo Clinic and became chief resident. In 1972, he returned to St Vincent's Hospital, where he was a consultant cardiothoracic surgeon and was appointed Fellow of the Royal Australasian College of Surgeons in 1973 and Fellow of the American College of Surgeons in 1975.
In St Vincent's Hospital, he worked with surgeons Dr. Harry Windsor (who had performed Australia's first heart transplant in 1968) and Dr. Mark Shanahan. The advent of anti-rejection drugs in 1980 made heart transplants more feasible, and Chang lobbied politicians and businessmen to raise funds to establish a heart transplant program at St. Vincent's. On 8 April 1984, a team of doctors led by Dr Chang operated on 14-year old Fiona Coote who became Australia's youngest heart transplant patient.
Between 1984 and 1990 Dr. Chang's unit performed over 197 heart transplants and 14 heart-lung transplants. The unit had a high rate of success with 90% of those receiving transplants from the unit surviving beyond the first year.
Dr Chang was an original thinker and saw the need for research and development of various cardiothoracic devices including the modern artificial heart valve and an artificial heart.
Concerned about a shortage of organ donors, he secured funding to create a team of scientists and engineers from around the world to develop an artificial heart. Working in Singapore, Guangzhou and Sydney, they also developed artifical heart valves called the 'St. Vincent's Heart Valve', which were widely implanted throughout Asia. Dr. Chang and his team also made significant progress on the design of an artificial heart.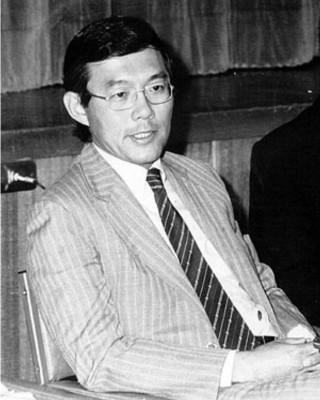 Dr Victor Chang, c.1980. Courtesy Wikimedia
A pioneer of the modern era of heart transplantation, Victor Chang was responsible for the establishment of the National Heart Transplant Program at St Vincent's Hospital in 1984, lobbying politicians and raising funds for its ongoing work.
In 1986, Dr Chang was appointed a Companion of the Order of Australia In recognition of service to international relations between Australia and China and to medical science, and the University of New South Wales awarded him its highest degree of M.D. Honoris Causa for 'scholarly achievement and humanitarian endeavour'.
Victor Chang was considered a visionary in medicine, in innovation and as an ambassador for Australia and the people of South-East Asia.
On the 4th of July 1991, Chang was shot twice in the head in a failed extortion attempt. His research projects ended with his death. His last project was the development of the St Vincent's Heart Valve., which is used to treat hundreds of patients in Southeast Asia.
On 15 February 1994, the Victor Chang Cardiac Research Institute was launched by Prime Minister Paul Keating with Kerry Packer as its patron. In 1999, Prime Minister John Howard announced Dr Chang as Australian of the Century at the People's Choice Awards
Thanks to Dr Victor Chang and his colleagues in the development of cardiothoracic devices, and in particular the artificial heart valve, many thousands of people are leading full and healthy lives today. Dr Victor Chang's expertise and innovation has seen the migration of knowledge, ideas and technology to and from Australia that has benefited many thousands of people the world over.
---
Bibliography
Coupe, S & Andrews, M 1992, Was it only Yesterday? Australia in the Twentieth Century World, Longman Cheshire, Sydney.
Heritage Collections Council 2001, Significance: A guide to assessing the significance of cultural heritage objects and collections, Canberra.
Mellor, L. 2006, 150 Years, 150 Firsts: The People of the Faculty of Medicine, Sydney University Press, Sydney.
---
Websites