Era:
1939 - 1945
Cultural background:
Italian
Collection:
Griffith Italian Museum
Theme:
Folk Art
Games
Settlement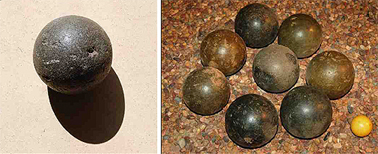 Italo-Australian Club set of bocce balls.Photograph Peter Kabaila
Collection
Griffith Italian Museum: Pioneer Park Collection, Griffith, Australia.
Object Name
Bocce Balls Set.
Object/Collection Description
Set of eight bocce balls, with several additional balls as "spares". Dimensions: 105mm diameter. Made in Italy. Outer material made from a rubber composition. The surface exhibits use-wear in the form of scratches and chips, as well as a white chalk mark. The jack (small target ball) has been lost and replaced with a billiard ball.
Bocce was an important element in the social life of Griffith's Italian settlers prior to World War II. Work was hard and money was scarce, but a game of bocce could be set up almost anywhere. Families frequently gathered at one or other of the Italian farms, such as that of the Ceccato family and a makeshift bocce court would be laid out. With the help of home made grappa, food cooked by the women and the strong musical traditions of the Comunità in the evening, these were lively occasions remembered fondly by all participants. At other times they would pack onto the back of farm trucks and head to the Murrumbidgee River. There was a bocce court on the Salvestro's own farm. The end of this lively social life came with the advent of the Second World War, when Italians needed to keep their heads down and avoid notice.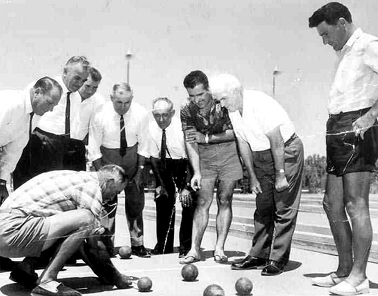 Press photograph of bocce at Catholic Club, Yoogali. Courtesy of Griffith Italian Museum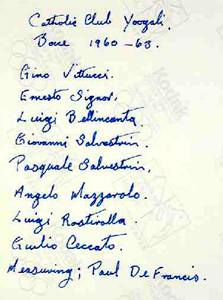 Inscription on back of photo. Courtesy of Griffith Italian Museum
This type of bocce ball was used in Griffith in the c1937 to 1971 period. Charlie's father Antonio Suine was a good player and used this bocce set. From 1971, when bocce was formalised internationally as a competition sport, metal bocce balls were adopted and the old rubber composition balls were no longer used.
Bocce is a bowling game played with unbiased balls on a hard compacted sand court. It is at this stage of the game where the balls are thrown from a run through the air to knock out an opponent's ball, often with considerable precision, that the game becomes really exciting.
The game can trace its origins back from ancient Egypt through the Greek and Roman empires. It was so popular in the Middle Ages that several European rulers tried to ban it because it interfered with archery, considered important for the defence of their realms.
The game is extremely popular in Europe. It was brought to Australia by European migrants from the early 1900s and has become increasingly professional with the formation of the Australian Bocce Federation in 1971 and the acceptance of Australia into the Federation Internationale de Boules in 1974.
Griffith was one of the first places in Australia where the game became an organised sport. It was brought to the area by the first Italian settlers began as an informal social activity on impromptu courts set up at private homes around Hanwood and Yenda, or sometimes on the river bank at Darlington Point. Groups of men would play for a drink, the losers doing the shouting, while their wives had a chance to gossip and their children to play together.
It is said the competition was often lively, with much excitement and shouting. The gathering might then continue on to the evening with cards or dancing to records such as the 'Blue Danube' or 'Skater's Waltz', played on a hand turned gramophone.
The popularity of bocce lead to the formation of many of Griffith's social, and now licensed clubs, beginning with the Italo-Australian Club in 1936, for whom the Coronation Hall at Yoogali was built. Griffith's players are now some of the best in Australia and the game, organised through several clubs, is played by both men and women. The Yoogali Club is thought to be the first club in New South Wales to admit women.
The bocce ball has historic significance as evidence of the transfer of a men's social activity from Italy to Australia. It was an informal social activity often played in people's yards when guests called around. This was part of a colourful social life which stopped when the Second World War broke out.
This bocce ball represents a purely functional item, not intended for aesthetic value.
This item has research significance for the study of sport in Australia. It has potential for oral history research with veteran Italian bocce players as a primary source.
The bocce ball is intangible significance to Italian men as a reminder of rivalry and companionship in Italian male society.
This ball is very typical of bocce balls used from the early twentieth century to the 1970s when the activity was internationalised as an official competition game and is not a rare item, and would be widely recognised by Italian migrant descendants.
This item has interpretive potential in the study of male social activity in Italian migrant communities.
---
Bibliography
Cornwall, J 2007,
Fruits of Our Labour. The history of Griffith's Italian Community.
Griffith City Council.
Kabaila, P 2005, Griffith Heritage. Pirion Publishing, Canberra.
Heritage Office & Dept of Urban Affairs & Planning 1996, Regional Histories of NSW, Sydney.
Heritage Collections Council 2001, Significance: A guide to assessing the significance of cultural heritage objects and collections, Canberra.
Robyn Oliver, "Bocce in Griffith", Area News, March 1991.
Robyn Oliver, "1930s Christmas with the Salvestro Family", Area News, Dec 1994.
---
Websites
www.griffith.nsw.gov.au/Page/Page.asp?Page_Id=143
www.griffith.nsw.gov.au/Page/page.asp?page_Id=142
---
Written by Peter Kabaila
March 2008
Edited by Stephen Thompson
Migration Heritage Centre
March 2008 updated 2011
Crown copyright 2008©

The Migration Heritage Centre at the Powerhouse Museum is a NSW Government initiative supported by the Community Relations Commission.
www.migrationheritage.nsw.gov.au

Regional Services at the Powerhouse Museum is supported by Movable Heritage, NSW funding from the NSW Ministry for the Arts.

Griffith Italian Museum & Griffith Pioneer Museum are managed by Griffith City Council.
www.griffith.nsw.gov.au