Era:
1790 - 1830
Cultural background: Aboriginal, English
Theme:
Clothing
Convicts
Government
Indigenous Relations
Macquarie
Settlement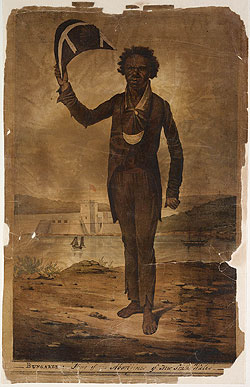 Bungaree: King of the Aborigines of New South Wales. Augustus Earle, 1826. Courtesy State Library of New South Wales
Collection
Dixson Library: State Library of New South Wales, Sydney, Australia.
Object Name
Bungaree Lithographic print.
Object Description
Lithographic print of King Bungaree, King of the Aborigines of New South Wales, Attributed to Augustus Earle and dated 1826. Good condition, very fragile. Dimensions: 405mm high x 234mm wide.
Bungaree, from Broken Bay, was for many years the best known Aboriginal person in nineteenth century Sydney. As soon as any ship dropped anchor in Port Jackson Bungaree arrived in his fishing boat rowed by his two wives. Dressed like Napoleon in rags in a cast off military dress jacket with shiny brass buttons, tattered trousers and bare feet, he climbed on board to welcome newcomers to 'his' country. His trade mark was a stiff black bicorn hat decorated with gold ribbons and feather plume. Doffing his hat, bowing deeply and grinning widely he would ask to drink to the captain's health in rum or brandy. Afterwards he inspected the ships pantry and levied his 'tribute' in the form of 'presents' or 'loans'. On his chest hung his treasured brass gorget shaped like a crescent which had been presented to him by Governor Lachlan Macquarie. It was inscribed 'Boongaree, Chief of the Broken Bay Tribe, 1815′. Bungaree's flamboyant costume, good nature and elaborate manners set him apart from other Aborigines living on the fringes of the British convict settlement. He was witty, intelligent and diplomatic enough to keep a foot in black and white camps and used his natural talents to obtain most of his needs. A clever actor he mimic the walk, gestures and expressions of past governors of the colony of New South Wales.
Macquarie his great patron had built two huts for Bungaree and his people at Georges Head opposite the entrance to Port Jackson in the vain attempt to persuade 'friendly' Aborigines to settle down and become farmers. The Governor gave them clothes, agricultural tools, seeds and a fishing boat. Bungaree used the boat to ambush ships entering Port Jackson. Bungaree was useful to the Europeans by tracking escaped convicts and guiding naval explorers.
Bungaree also exerted considerable influence in Aboriginal tribal life. He often took part in corroborees and ritual battles which sometimes degenerated into drunken brawls. At this time he abandoned his European finery, armed himself with traditional weapons and covered his body with red ochre. Bungaree also appointed himself traditional owner of the land and made it his business to meet Aborigines visiting Sydney. Bungaree and another Sydney Aboriginal Nanbaree volunteered to join Matthew Flinders on the Investigator in 1802 for the expedition to circumnavigate Australia. It is ironic that the bicorn hat Bungaree wore is almost identical to that of Flinders.
The image of Bungaree is based on a series of sketches by Augustus Earle for a panorama display that toured Britain in 1829. The audience in England no doubt expected views of brutality at Botany Bay with leg iron and the lash, but instead were presented with tranquil views of a provincial township beside a blue harbour surrounded by wind mills, sturdy Regency buildings, barracks for the soldiers and convicts and spire of St James Church. It did not show the thin rabbit warren laneways of the Rocks with its sly grog shops and hovels. A group of naked Aborigines appear in the foreground of the landscape where Bungaree was depicted and named. Nothing remains of the original canvas of the panorama, but an engraving titled Panorama of Sydney NSW in the year 1829 as painted by Robert Burford, and exhibited in Leicester – square London in which Bungaree is a stick figure remains.
In 1821 Sir Thomas Brisbane a keen astronomer brought two lithographic presses to New South Wales. He planned to use them to print charts of the Southern Hemisphere stars, but none were produced. Augustus Earle acquired one of them from Colonial Astronomer James Dunlop and in 1826 Earle used the press for a series of Sydney views and to reproduce several impressions of Bungaree which is thought to be the first lithograph ever printed in Australia. This version is thought to be a proof copy. In 1987 it was thought that no prints of Earle's lithographs survived, but they were rediscovered in the Mitchell Library by then PHD student and later Curator of Pictures Research at the Mitchell Library, Richard Neville.
After his death in 1830, Bungaree's reputation as a mimic, beggar and affable drunk was embellished. What is almost forgotten is that Bungaree was involved with the last great expeditions to circumnavigate Australia and his contact with Flinders one of the last great map makers of the South Pacific helped to transform Australia from a penal colony to a growing economic port. This ironically ultimately led to the increased British migration and complete European settlement of Australia.
The lithograph has historic significance. It is the first lithograph produced in Australia. It depicts Bungaree the first Aboriginal person to successfully stride both Aboriginal and European communities and cultures.
The lithograph has aesthetic significance. It is the first lithograph produced in Australia. It was made by renowned Australian artist Augustus Earle and is a rare insight into the early life of colonial Sydney.
The lithograph has research value as it is the first lithograph produced in Australia on local presses and depicts Bungaree, a prominent Aboriginal person in Sydney in the early colonial period. It provides a window into the social, cultural and political culture of the time and the status of Aboriginal people then.
The lithograph has intangible significance being an iconic object of Australian art, social history and Aboriginal relations in Australia in the early colonial period.
The object is well provenanced and documented in the Mitchell Library Collection, State Library of New South Wales. It was re-discovered by Richard Neville in1987 and had new card drawn up in 1987.
The lithograph is extremely rare.
It is a rare object still in existence that was created by Augustus Earle and it is the first lithograph produced in Australia. It is also rare as an artefact from early colonial Australia.
The object represents a time early in Australia's history when the colony was still establishing itself and exploring its new environment. The lithograph also represents the coming of Europeans to Aboriginal Australia and it is instantly recognisable as a European image of the Aboriginal person Bungaree and also a symbol of the British presence at and expansion from Sydney Cove.
The lithograph is in excellent condition for its age and material.
The lithograph interprets the Aboriginal relations to the European in Port Jackson in the early 1800s and the attempts of the British Governors to assimilate the indigenous population into European culture and society.
---
Bibliography
Neville, R 1992,
Faces in Australia: Image, reality and the portrait
. State Library of NSW Press.
Broese, F 1998, Island Nation: Australia's Maritime Heritage, Sydney.
Coupe, S & Andrews, M 1992, Their Ghosts may be heard: Australia to 1900, Longman Cheshire, Sydney.
Smith, K V 1992, King Bungaree: A Sydney Aborigine meets the great South Pacific Explorers, 1799- 1830, Kangaroo Press, Sydney.
Heritage Collections Council 2001, Significance: A guide to assessing the significance of cultural heritage objects and collections, Canberra.
---
Written by Stephen Thompson
Migration Heritage Centre
December 2006 – updated 2011
Crown copyright 2006©

The Migration Heritage Centre at the Powerhouse Museum is a NSW Government initiative supported by the Community Relations Commission.
www.migrationheritage.nsw.gov.au

Regional Services at the Powerhouse Museum is supported by Movable Heritage, NSW funding from the NSW Ministry for the Arts.

State Library of NSW
www.sl.nsw.gov.au