Era:
1945 - 1965
Cultural background:
Italian
Collection:
Griffith Italian Museum
Theme:
Agriculture
Blacksmiths
Food
Settlement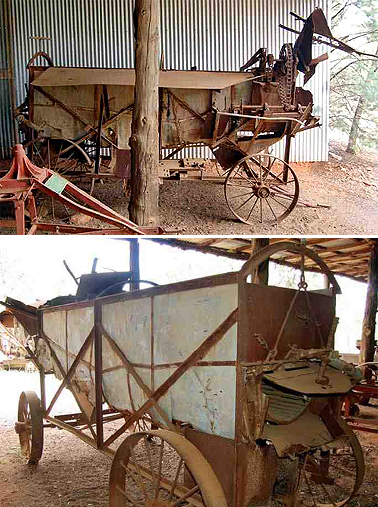 Carrot washer invented and made by Anacleto Leonardo Giancotti. Photograph Peter Kabaila
Collection
Griffith Italian Museum: Pioneer Park Museum, Griffith, Australia.
Object Name
Carrot washer invented and made by Anacleto Leonardo Giancotti.
Object Description
The carrot washer machine (1952-1970) was designed and constructed by Anacleto Giancotti for his friends Giovanni and Danilo Piccoli. It is made from scrap metal. Dimension: approximately 2500mm long x 1500mm wide x 2000mm high.
Giancotti, Giovanni and Danilo Piccoli met on board the ship travelling to Australia in 1951. On arrival in the Murrumbidgee Irrigation area, Anacleto set up a blacksmithing business in Yenda and the Piccoli brothers became vegetable farmers. This carrot washer is the prototype for all carrot washers later used in the Murrumbidgee Irrigation Area.
Before this machine was invented, carrots were washed manually in irrigation channels and dams, by dumping wheat bags full of carrots in and out of the water. After watching people standing in muddy dams with hessian sacks full of carrots, dumping them in and out of water, trying to release the dirt from the carrots in order to have a clean product for selling, Anacleto set about eliminating this back-breaking work.
The first prototype was a simple 44 gallon drum with holes in it. This was horizontally positioned a fixed stand, filled with carrots and turned by hand, similar to a cement mixer. From this, the transportable carrot washer was conceived. The project became an all-consuming passion for Giancotti, who worked on it day and night, sometimes until three o'clock in the morning. It took him two years to develop the machine.
The transportable washer was operated by a small petrol motor, pipes in the middle of the drum have a series of water spraying holes. The drum was turned slowly by a metal chain which wrapped around the drum and connected to cogs. Carrots were loaded into the front of the machine and progressively came out the back. Workers would collect them and bag them into large wheat bags. The machine required usually three, sometimes four operators, but was capable of washing 20 bags a day. Later after some modifications it was capable of washing 50 bags per day. The effect that the washed carrots had on the market price astounded local farmers, who were able to attain prices of at least double what other growers were receiving.
The carrot washer was such a success that within 6 months, every vegetable grower in the district had visited to see the amazing machine in operation and every grower wanted one. During the 1950s, Griffith was the main supplier of carrots for the state of New South Wales.
Anacleto's carrot washer served the Piccoli Bros. business for a good ten years. During this time it was modified and improved slightly. Its main problem was that its moving parts had no bearings. They were chain pulley driven and the metal against metal function resulted in frequent break-down. Piccoli Bros. eventually upgraded to a much larger electric pump driven washing plant.
Following the local success of the washer, Anacleto patented his machine. It did not make the family a fortune, because while some growers were prepared to pay the royalties, others simply appropriated the ideas and modified them sufficiently to circumvent the patent law. Sadly, Anacleto Giancotti died in 1963 after a short illness, at the age of 42.
The carrot washing machine is historically significant in the development of local machinery production and improvement of irrigation farming. Station properties prior to irrigation generally had a station employee with blacksmithing skills. The introduction of irrigation also brought blacksmiths into the Murrumbidgee Irrigation Area. By the 1920s, the Griffith area had three operational blacksmith workshops and all the small outlying villages had a blacksmith business. The demand for the skills of a metal fabricator was first to service equipment and vehicles that were animal powered. But a new demand for machinery and tools was created by the introduction of irrigated horticultural farming. The carrot washer is a significant example of one such new creation.
Aesthetically, the carrot washer is a utilitarian item, and reflects the rugged aesthetic of home engineered machines.
Technologically, the machine has research significance is an example of the logical transition from blacksmithing to steel fabrication. Construction techniques used for the machine included the traditional oxy-acetylene welding and electric welding, which was a new technology at the time. The welds are not good-looking, but are strong and serviceable.
The carrot washer has high social significance to the Italian community of the Griffith area. It is a significant piece of equipment in the industrial heritage of the Murrumbidgee Irrigation Area, representing both the ingenuity required in the development of irrigated agriculture and the contribution of Italian immigrants to the Area.
It is representative of blacksmithing adapted to the needs of Italian horticultural farming.
This machine is believed to be locally rare, and possibly unique. It was a prototype for modern carrot washing machines available today. When this carrot washer was made, no other washer of such mechanical function was available. Many farmers made copies along similar lines and several can still be found on farms today. Future research outside the M.I.A. may determine its wider significance.
Its condition displays signs of a hard working life. No later additions or modifications are visible. The front loading chute is dented; the result of many trailers being forced tightly up against the machine. It is very rusty as its prime use was to contain and spray water.
The carrot washer has interpretive potential as an example of local machine building in steel.
---
Bibliography
Interview by Sandra Cecone with Joh Piccoli at Griffith, Dec 2002. Placed in Pioneer Park Museum files.
Interview by Shirley Norris with Anna Gioncotti at Griffith, Dec 2002. Placed in Pioneer Park Museum files.
Cornwall, J 2007, Fruits of Our Labour. The history of Griffith's Italian Community. Griffith City Council.
Feletti Antonio 1992, Il Museo dell'Uomo – Sezione degli antichi mestieri artigiandali, Fondazione Cosulich, Conegliano.
Kabaila, P 2005, Griffith Heritage. Pirion Publishing, Canberra.
Heritage Office & Dept of Urban Affairs & Planning 1996, Regional Histories of NSW, Sydney.
Heritage Collections Council 2001, Significance: A guide to assessing the significance of cultural heritage objects and collections, Canberra.
Oliver, Robyn, "Anacleto's Invention", Area News, August 1991.
Oliver, Robyn, "Colla Brothers: carrying on the Blacksmith Tradition", Area News, September 1991.
---
Websites
www.griffith.nsw.gov.au/Page/Page.asp?Page_Id=143
www.griffith.nsw.gov.au/Page/page.asp?page_Id=142
---
Written by Peter Kabaila
March 2008
Edited by Stephen Thompson
Migration Heritage Centre
March 2008
Crown copyright 2008©

The Migration Heritage Centre at the Powerhouse Museum is a NSW Government initiative supported by the Community Relations Commission.
www.migrationheritage.nsw.gov.au

Regional Services at the Powerhouse Museum is supported by Movable Heritage, NSW funding from the NSW Ministry for the Arts.

Griffith Italian Museum & Griffith Pioneer Museum are managed by Griffith City Council.
www.griffith.nsw.gov.au