Era:
1901
Cultural background: English, German
Collection:
Riverina
Theme:
Agriculture
Blacksmiths
Folk Art
Settlement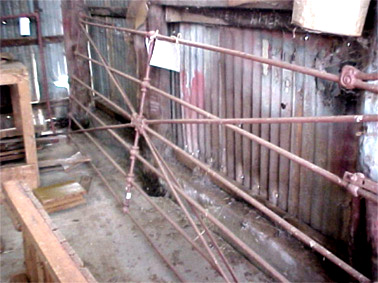 H.V. McKay Sunshine Farm Gate, c.1900. Photograph Annette Brown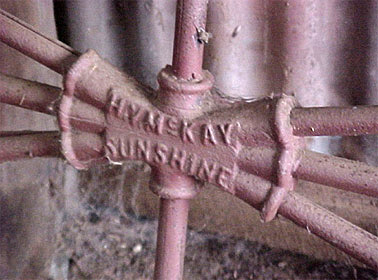 Detail –
Sunshine
Logo. Photograph Annette Brown
Collection
Museum of the Riverina, Wagga Wagga, Australia.
Object Name
Sunshine Farm Gate.
Object Description
Many German migrants living in South Australia and Victoria moved to the Riverina after the1861 Robertson Land Act provided for the selection of land for £1 per acre. In 1858, the town of Holbrook was locally known as 'the Germans' and officially changed to 'Germantown' in 1876. Communities in the Riverina grew and prospered in the late 19th and early 20th centuries with the success of the wool and agricultural industries. Jindera, Walla Walla, Gerogery, Milbrulong, Henty and Trungley Hall also maintained Germanic populations, along with the townships of Jindera, Walla Walla and Henty.
This gate is believed to be one of the first cast iron manufactured gates in the Cowabbie district. The gate was erected by Adolph Pfrunder on his property Baden at Grong Grong. Adolph Pfrunder was grandfather of Garth Jones whose historic collection of agricultural machinery is located at Coolamon. Adolph Pfrunder was born on 27 November 1859 and migrated from Baden Baden, Germany at the age of 19 years.
Hugh Victor McKay produced the first successful stripper/harvester in Australia in February 1884. He went on to establish the McKay Harvesting Machinery Company Limited in 1889. Famous for their 'Sunshine' harvesters, the company also manufactured combined grain and fertilizer cultivators, hay presses, swingle trees, equalizing horse yokes, farm gates and garden gates. Gates of a similar design to the one installed by Adolph Pfrunder in c1904, were still being advertised for sale by the company in the 1940s.
There are many different varieties of gates to be found throughout regional Australia. It has been suggested that in the southern states it is possible to tell the origins of the pioneers of certain districts by the style of gates that they built. Many of these gates were no doubt copies or derivatives of field gates from the United Kingdom. These gates, traditionally constructed from heart of oak or chestnut wood, were designed to last for many years and came in a variety of styles, which varied from county to county.
Stan Heffer, of Coolamon noted that this type of cast iron gate was heavy and would drag on the ground:
Most H.V. McKay gates became LD (lift and drag) gates because they were too heavy. In the early days farmers could not afford gates on every opening and used gates made of wire. Playing on gates, swinging etc. was a good pastime, but our gates were mostly LD (lift and drag) jobs. 1
As well as serving a functional role in securing property, gates were popular for children to play on. This is noted on the documentation sheet for this object thus:
My mother told me she used to swing on the gate on her way to school, approximately in 1904. The story goes……….one of the neighbours saw my mother swinging on the gate and told my grandfather [Adolph Pfrunder] about it. He was most incensed that the man thought that a gate swung by him wouldn't take the weight of a small child. 2
Laurie Gaynor from Coolamon also recalls: The steel gates were the best, a lot of the old gates still remain on farms. Old McKay gates sell like hot cakes at clearing sales. I was belted by my father for swinging on gates, by this I mean it made the gate sag, prevented it from swinging. 3
Manufactured steel gates, such as those made by H.V. McKay, were purchased when farming economies were stable enough to allow the purchase of manufactured goods, rather than the total reliance on 'home-made' products. These gates were mass produced and marketed as a quality product by the H.V. McKay 'Sunshine' company and purchased with the likelihood of many years of use ahead. The story of Garth Jones' grandfather, Adolph Pfrunder suggests that farmers took pride in the strength and workmanship of their gates.
This type of manufactured gate is associated with children's play on rural properties. Many farm gates, both of wood and metal construction, provided hours of fun many country children.
This gate is of local historical significance as possibly one of the first cast iron gates in the Cowabbie district and for its association with German migrant, Adolph Pfrunder and his property Baden at Grong Grong. It suggests the success and consolidation of agriculture and farming in the Riverina where farmers moved from homemade gates to manufactured ones and by implication the success of this German migrant farmer. The gate has local historical significance for its associations with community memories of children's play on farms and of farmers' pride in, and necessity for, strength and workmanship in their gates.
The gate is aesthetically significant. Its functional and solid design with restrained ornamentation is typical of mass produced early twentieth century cast iron farm machinery and fittings. It evokes nostalgic memories of 'old' Australian farms and vernacular farm architecture and fixtures. Cast iron H.V. McKay gates from the early twentieth century are increasingly rare sights on Riverina farm properties and on New South Wales farms generally.
The gate is provenanced and in good condition.
It is rare for a museum collection to include a H.V. McKay gate with documented provenance to a property and as part of a provenanced regional farming collection like the Garth Jones Collection at Coolamon. The object is a good example of a H.V. McKay, Sunshine cast iron gate from the early twentieth century and of Australian farm manufacture.
The gate has potential to interpret the history of Baden at Grong Grong as a place associated with a German migrant farmer, the history of farming and agriculture in the Riverina, along with other objects from the Garth Jones Collection at Coolamon and the play activities of children on farms.
---
Footnotes
1 Annette Brown, response to questionnaire sent to Stan Heffer, Coolamon, February 2003.3 Garth Jones Collection. Notes p.2.
2 ibid.
3 Annette Brown, response to questionnaire sent to Laurie Gaynor, Coolamon, February 2003.
---
Written by Annette Brown
Museum of the Riverina
May 2003
Edited by Stephen Thompson
Migration Heritage Centre
2006 – updated 2011
Crown copyright 2006 ©

The Migration Heritage Centre at the Powerhouse Museum is a NSW Government initiative supported by the Community Relations Commission.
www.migrationheritage.nsw.gov.au

Regional Services at the Powerhouse Museum is supported by Movable Heritage, NSW funding from the NSW Ministry for the Arts.

The Museum of the Riverina is supported by the City of Wagga Wagga and the NSW Ministry for the Arts.
www.arts.nsw.gov.au