Era:
1945 - 1965
Cultural background:
Italian
Collection:
Griffith Italian Museum
Theme:
Agriculture
Folk Art
Food
Settlement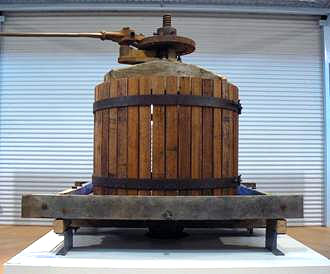 Basket Grape press used on the Mogliotti farm c1948. Photograph Peter Kabaila
Collection
Griffith Italian Museum: Pioneer Park Museum, Griffith, Australia.
Object Name
Grape press.
Object Description
Large grape press used from 1948 in the manufacture of wine on the former Mogliotti farm, Yoogali, New South Wales.
The 30 acre parcel of land at Farm 670, Leeton Road, Yoogali, was initially taken up by J Batros, a First World War returned soldier who planted it to oranges and prunes in approximately 1929.
In 1940 the farm was sold to Mr Peter Mogliotti and his wife. They were living in the town where they managed a grocery shop. In 1945, they built a small winery cellar capable of storing 80,000 gallon capacity underground in a concrete vat. They made wine for three years. It was purchased from a winery at Renmark, South Australia and was said to have been originally made in Italy. The basket was rebuilt by Italian Museum volunteers in 2008.
The crusher was placed over a concrete pit, the grapes were shovelled onto a platform and then pushed down the chute of the crusher (this cute was later taken off and used by Mr Previtera, the next farm property owner, as a chimney for his wife's bread making oven). The grapes were then crushed and the juice was collected.
In 1956, Mr Mogliotti sold the farm to
Giovanni
Salvestrin who owned it for five years, growing vegetables and oranges and grapes.
Giovanni
Salvestrin then sold the farm to Antonio Previtera in 1961 and returned to Italy. Antonio Previtera never used the basket press as it was too big and cumbersome, he had a smaller motorised crusher for his personal wine making. They also used an anti-drive wood crusher with rolls, made by Mr Giuseppe Di Mauro of Griffith and used for many years on the property – especially in 1978-1980 when the wineries and the Grape Growers Board didn't take the grapes from the growers. During that period they produced homemade wine. The original workmen's accommodation is still on the farm.
The grape press is of historic significance as a central item in the early Italian manufacture of wine in Griffith.
This grape press has a rustic quality with aesthetic value in its own right, as an example of traditional wooden machinery.
This item has research significance for the study of the history of wine making in Australia. It has potential for oral history research with Italian winemakers as a primary source.
This grape press is an example of the wine making craft brought to Australia from Italy by Italian families. It is significant to Italians as evidence of a traditional farm activity that developed into a major local industry.
The provenance of the grape press is only partially established, and future research of comparative examples could further resolve provenance.
The grape press is representative of early wine making technology in Australia and of the early establishment of Italian migrant winemakers in the Murrumbidgee Irrigation Area (M.I.A.).
The grape press is locally rare as it has been replaced by mechanised equipment in present day wineries.
The worn condition of this article of wooden machinery shows evidence of use.
The grape press has interpretive significance in the presentation of the role of the Italian community in the evolution of the Australian wine industry, the influence of Italian culture and cuisine in Australia.
---
Bibliography
Interview by Sandra Cerone with Antoni Previtera, Feb2002. Placed in Pioneer Park Files.
Interview by Tony Colla with Giovanni Mogliotti, March 2008. Placed in Pioneer Park Files.
Cornwall, J 2007, Fruits of Our Labour. The history of Griffith's Italian Community. Griffith City Council.
Kabaila, P2005, Griffith Heritage. Pirion Publishing, Canberra.
Heritage Office & Dept of Urban Affairs & Planning 1996, Regional Histories of NSW, Sydney.
Heritage Collections Council 2001, Significance: A guide to assessing the significance of cultural heritage objects and collections, Canberra.
---
Websites
www.griffith.nsw.gov.au/Page/Page.asp?Page_Id=143
www.griffith.nsw.gov.au/Page/page.asp?page_Id=142
---
Written by Peter Kabaila
March 2008
Edited by Stephen Thompson
Migration Heritage Centre
Crown copyright 2008©

The Migration Heritage Centre at the Powerhouse Museum is a NSW Government initiative supported by the Community Relations Commission.
www.migrationheritage.nsw.gov.au

Regional Services at the Powerhouse Museum is supported by Movable Heritage, NSW funding from the NSW Ministry for the Arts.

Griffith Italian Museum & Griffith Pioneer Museum are managed by Griffith City Council.
www.griffith.nsw.gov.au