Era:
1945 - 1965
Cultural background:
Italian
Collection:
Griffith Italian Museum
Theme:
Agriculture
Folk Art
Government
Settlement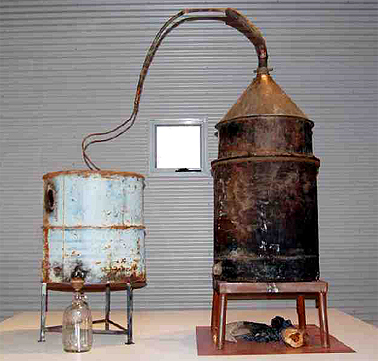 Local grappa-making still c.1950. Photograph Peter Kabaila
Collection
Griffith Italian Museum: Pioneer Park Museum, Griffith, Australia.
Object Name
Grappa making still.
Object Description
Locally welded still made from recycled steel and copper components. Manufactured pot of riveted copper with welded steel stand.
The still has three components. A copper with lid, bolted together, a pipe from the copper leading into a tub, coiled in the tub and tub made from 44 gallon drum (cut two thirds down for display of the coil) with a spout. The pot is a large copper housed on a circular iron frame. It has a chain on the outside so that the whole copper could be turned so as to pour out the contents. It also has a large oar shaped wooden spoon for use during cooking. Dimensions: 830mm diameter x 860mm high. The wooden spoon is 1,250mm long x 90mm wide at base of spoon.
It has been a long established tradition for farmers in Italy to grow their own grapes and make their own wine.
Residual grape mark (skins etc) would be distilled in their own rudimentary still from which would be extracted the grappa spirit which would be used for 'medicinal' purposes.
A main concern was to evade the ever watchful eye of officers of the Department of Customs and Excise. Heavy fines would have been imposed if convicted of making illicit spirit.
The tradition was adhered to by the early Italian pioneers and continued until recent times.
The still was originally used to melt fat at Codemo's Griffith butchery from 1955. Later it was employed by the Griffith Alpini Group, among other community organisations, to cook polenta during fund raising functions.
Griffith Pioneer Park Museum obtained a big copper "polenta pot" on loan at one stage from Mr Italo Codemo of the abattoir – also at that stage one of the instigators and promoters of the Italian Museum. Subsequently the "polenta pot" label caused considerable mirth among the Italian community when it was exhibited it at the local show. Its real purpose in life was as part of an illegal still for the making of grappa – fairly common in the early years of Italian settlement. The "polenta pot" caused Josie Valentino, whose father Tomaso Bortolazzo was a blacksmith by day and distiller by night, to reminisce about things other than washing bubbling in the laundry, with lots of visitors after dark, carrying away clinking parcels wrapped in plain brown paper (Oliver, Robyn, pers comm. 2007). Italo Codemo's brother and a friend who worked in the engineering trade organised the metal framework for the pot. It was later used by the Griffith Alpini Association to cook large quantities of polenta (corn meal) to feed crowds at charity fund raising events.
Villages such as Bilbul had a blacksmith because up into the 1950s, horse and cart were the mode of power and transport. Tomaso (Tom) Bortolazzo had learned the trade in Crespano in his native Italy. He migrated to Australia in 1938, working for several years as a cooper for McWilliams at both their Beelbangera and Hanwood wineries. In his workshop at the Bilbul Store, his skills were much needed during the war years, because there was a shortage of steel and machine parts. He was able to weld spring steel and return it to its original temper to repair cart springs. Farmers came from as far as Hillston and Lake Cargelligo for repairs. He would shoe horses and clip their hooves only on weekends and made all his own horseshoes. He also did the wheel-wrighting repairs of wooden sulky and cart wheels. Like other blacksmiths and coopers, he made most of his own tools.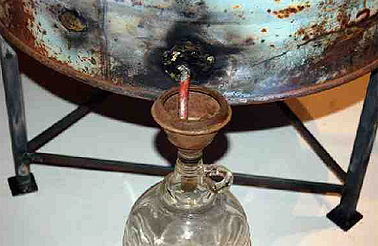 Grappa still, detail of spout. Photograph Peter Kabaila
Wherever a blacksmith has worked, children have gathered to watch, fascinated by the whole process. It was also a meeting point for farmers particularly on rainy days, with anywhere up to a dozen gathered around the forge yarning and comparing notes. Using drawings provided by Vic De Bortoli, Tomaso made the winery a new, large grape crusher. Manufacturing stills for distillation of grappa was a special service he provided to Italian farmers; and a headache for Customs and Excise officials (Bilbul Public School Bicentennial Committee. 1988. Bilbul Public School, A History.)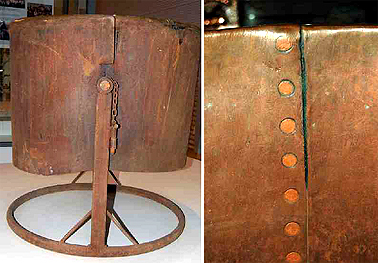 Polenta and fermentation pot. Photograph Peter Kabaila
Natalina Salvestro recollected grappa distilling in the 1930s. Her father, Santo Salvestro, migrated to Griffith in 1924 from Cavaso del Tomba, Northern Italy. He married Regina Cadorin, also from Cavaso del Tomba, in Griffith, 1927. Natalina was the eldest of the family's five children and recalled that in the 1930s, behind the Salvestro's house was an avenue of shacks, a sort of boarding house for new migrants, many without work. In those days the family eked out their other income by keeping a sort of open house – her mother providing meals, and her father making wine and grappa – before the days of stricter licensing laws (Oliver, Robyn. 2003 Historical notes, including articles written for the Area News).
The process was that grape skin juice would be fermented in the pot. Once fermented it was placed in the copper of the still and a fire lit underneath. The 44 gallon drum would be filled with cold water and topped up throughout the distillation process. Steam would be forced through the copper tube and cool when it entered the coil in the drum. It could be a dangerous process because sometimes the copper could blow up if overheated. There was no release valve. If accidents occurred then medical assistance was not sought, as it would have led to the discovery of an illegal activity.
Just as polenta is the traditional regional food of Veneto, Grappa is its regional alcoholic beverage.
The grappa still is of historic significance as evidence of an important cottage industry and illicit craft. It reflects the grappa making tradition brought from Italy by economically impoverished migrant families. It symbolises the continuation of this tradition to the present day.
The grappa still has an aesthetic value in their own right, as an example of a ruggedly welded, home-engineered, processing plant of primitive traditional design. Such early grappa stills of primitive construction have become a disappearing type because of their illegality and due to the widespread availability of stainless steel containers.
The grappa still has intangible significance as evidence of a tradition brought to Australia from Italy, and a reminder of comradeship and good times among drinkers.
The worn condition of the grappa still and pot shows evidence of use.
This still has interpretive potential as an example of plant machinery associated with an illicit male activity.
---
Bibliography
Bilbul Public School Bicentennial Committee. 1988.
Bilbul Public School, a history.
Cornwall, J 2007, Fruits of Our Labour. The history of Griffith's Italian Community. Griffith City Council.
Griffith Alpini Association notes (undated) for Area News article.
Kabaila, P 2005, Griffith Heritage. Pirion Publishing, Canberra.
Oliver, Robyn 1995, Discussion, recollection of interview with Josie and Val Valentini at the Griffith Show.
Heritage Office & Dept of Urban Affairs & Planning 1996, Regional Histories of NSW, Sydney.
Heritage Collections Council 2001, Significance: A guide to assessing the significance of cultural heritage objects and collections, Canberra.
---
Websites
www.griffith.nsw.gov.au/Page/Page.asp?Page_Id=143
www.griffith.nsw.gov.au/Page/page.asp?page_Id=142
---
Written by Peter Kabaila
March 2008
Edited by Stephen Thompson
Migration Heritage Centre
March 2008
Crown copyright 2008©

The Migration Heritage Centre at the Powerhouse Museum is a NSW Government initiative supported by the Community Relations Commission.
www.migrationheritage.nsw.gov.au

Regional Services at the Powerhouse Museum is supported by Movable Heritage, NSW funding from the NSW Ministry for the Arts.

Griffith Italian Museum & Griffith Pioneer Museum are managed by Griffith City Council.
www.griffith.nsw.gov.au