Era:
1945 - 1965
Cultural background: Austrian, Belgian, Canadian, Dutch, English, Estonian, French, German, Greek, Hungarian, Irish, Italian, Jewish, Latvian, Lebanese, Lithuania, Macedonian, Maltese, North American, Norwegian, Pakistani, Polish, Russian, Scottish, Serbian, Slovenian, South African, Spanish, Swiss, Ukrainian, Uruguayan, Vietnamese, Welsh, Yugoslavian
Collection:
Fairfield City Museum and Gallery
Theme:
Food
Hostels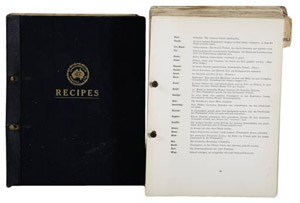 Commonwealth Hostels Ltd Recipe Book N0. 32 with German translations of cooking terms, 1959. Courtesy Fairfield City Museum & Gallery
Collection
Fairfield City Museum and Gallery, Smithfield, Australia.
Object name
Commonwealth Hostels Ltd. Recipe Book No. 32 and No. 66.
Object Description
Recipe books, two, dark blue hardcover, with embossed gold logo Commonwealth Hostels of Australia, Nos. 32 and 66. The removable pages are bound on the left hand side on two steel pins secured by metal caps, with section dividers indicating meal types. German translations of cooking terms and ingredients are included at the front of recipe books, as many of the hostel's cooks spoke German. Dimensions: 280mm high x wide 201mm x deep 90mm and 280mm high x 201mm wide x 45mm deep.
Two dinner plates, and four side plates, white porcelain with the brown logo Commonwealth Hostels of Australia centred on the rim, Australia, Maddock, England (2003.002.1-6); plate, side, white, porcelain with a black logo Commonwealth Hostels of Australia centred on the rim, England; Jug, small porcelain; yellow glaze, concentric circles on body, Woods, England (2003.005); salt & pepper shakers, cylindrical, green glaze, porcelain, England (2003.006.1-2), glass, clear, with two concentric circles around the middle of the body, Duralex, France (2003.007), trays, rectangular, with moulded edge, one plastic, red and the other anodised aluminium, blue; and Christmas Day Menu, for breakfast, dinner and evening meal, foolscap paper, typed and centred, Villawood Migrant Hostel, 1959 (2003.008).
The City of Fairfield represents one of the most culturally diverse communities in Australia and reflects the spread of cultures that settled around familiar areas after leaving the nearby Cabramatta and Villawood Migrant Hostels over four decades from the 1950s to the 1990s.
The many migrants, displaced persons and refugees who came through the Fairfield migrant hostels of Cabramatta and Villawood, share a common experience of hardships, with new rules, a new language and a history and culture that had no meaning for them. For some there was the barrier of social exclusion, isolation, racism and a struggle for economic security. For many with limited or no English, it was a traumatic and an alienating experience. Arrival at the Villawood and Cabramatta Hostels was the last stage of a long journey, some having been introduced to the strangeness of Australian flora and fauna at other reception centres at Bonegilla, and Bathurst.
It was the hostel experience that made many realise that the picture painted by the advertisements at the Immigration Offices located in Britain and Europe, for a country glowing with opportunities was at variance with the reality they experienced. The Commonwealth Government was inadequately prepared for the influx of new arrivals. They were treated as an "add-on" to the communities in which they were injected, and for a considerable time, were also regarded as an "add-on" to Australian history. No integrated settlement strategy existed at any level of government and interpreting and translation services were virtually non-existent. Non-British residents who sought to tackle the immediate problems of work, accommodation, and schooling were unable to communicate their needs to service providers.
Commonwealth Hostels Limited operated the Villawood Migrant Hostel, known as a Reception Centre, for the federal Department of Immigration from the early 1950s to cater for the influx of post-war migrants, refugees and displaced persons. Prior to 1948, the Nissen huts at Villawood operated as a munitions factory. In 1948, 10,000 migrants arrived in Sydney with an expected 5,000 arriving each month thereafter[1]. The Commonwealth Government needed to find accommodation for the new arrivals and to assist with their settlement with support services. The resumed land around the munitions factory was chosen as it had services already laid, was close to Leightonfield Railway Station, and was located near a developing industrial area which would provide work opportunities.
Existing buildings at Villawood were hastily converted to living quarters, kitchens and laundries. Many of the Managers of these centres were ex-army and ran the hostels like troops on the move. Between 1948-1952, 400,000 migrants passed through Villawood Migrant Hostel, as only temporary accommodation was provided until migrants could support their own place in the community. "Reception and training centres were established to be places where migrants learnt English and and the 'Australian' way of life. Hostels became a place where their immediate future was decided for them".[2]
The early Nissen huts had curved corrugated iron roofs lined with Malthoid, a tar coated membrane to prevent leakage, lower walls were lined with thin Masonite, and the floors were covered with bituminous felt. Two families shared the three room division in each Nissen hut with children sleeping on the fold-up couches. The interiors were hot in summer and cold in winter. The laundry and toilet blocks were some distance away, as were the communal dining areas.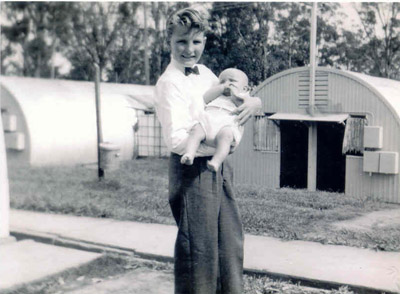 Erling Sorenson celebrating his confirmation at Villawood Migrant Hostel, c.1960s. Courtesy Fairfield City Library and Museum Collection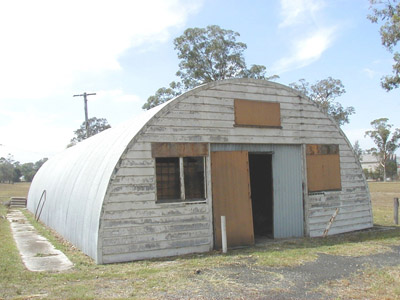 Remaining original Nissen Hut, Fairfield City Museum Collection, 2003. Courtesy Fairfield City Library and Museum
Provision of services was at the discretion of each hostel manager who usually recruited staff from migrants living at the hostel to assist with translations, catering, laundering and cleaning. The company provided all meals, as having kitchen facilities in the small Nissen hut accommodation was viewed as a safety hazard. In the early years of the Hostels, bank agencies and a Post Office were established. Additionally, a housing officer, (to assist with purchasing and renting accommodation on leaving the Hostel), welfare and employment officers, compulsory English classes for adults until the early 1960s, and a kindergarten were provided at no charge. Former residents describe the atmosphere as that of a global village.
Services such as weekly room cleaning and laundered sheets were also provided by Commonwealth Hostels Limited.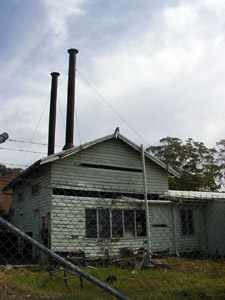 Laundry, one of three buildings remaining on site since 1950s. Courtesy Fairfield City Museum Gallery
Families were issued with serving trays, crockery, cutlery and glassware on arrival at the hostel, and they were accountable for them on leaving. The style of the durable hostel tableware changed very little over 40 years, with the most identifiable changes being the logos on the hostel's crockery when the name of the hostel service provider changed.
Foreign and tasteless is how many migrants remembered hostel food, but they were impressed with its abundance and regularity. Lunches were packed in a paper bag with two sandwiches and a piece of fruit. Camp pie, date spread, tapioca, sago ('frog's eggs'), food cooked in dripping, and the smell of Vegemite and mutton are still remembered vividly. Jam was always available on the tables and could be added to desserts to make them more palatable. Packed lunches were readily discarded in school bins until schools in the 1970s provided more culturally acceptable food in school canteens.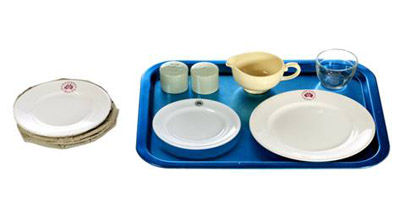 Standard Commonwealth Hostels Limited issue hostel crockery, c.1950-1960. Courtesy Fairfield City Museum Gallery
Christmas day menus were not remembered as being 'special', although they were very British in content reflecting the country of origin of forty percent of residents initially. For many, Christmas was an occasion for celebrating extra days "off" from working extremely long hours in nearby factories at Villawood and Bankstown.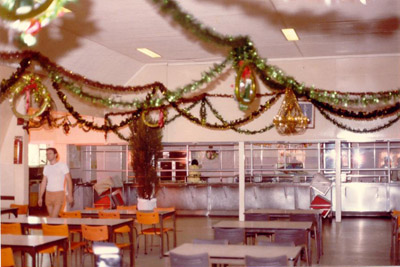 Christmas Menu – 1959
at Villawood Hostel. Courtesy Fairfield City Museum Gallery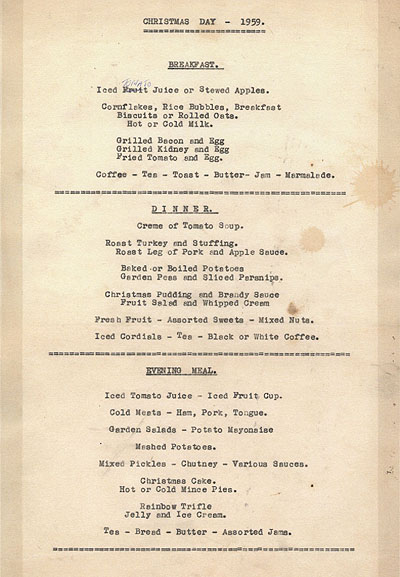 Christmas in the canteen at Villawood, c.1970s. Courtesy Fairfield City Museum Gallery
While residents at the hostels paid for food whether it met their dietary needs or not, a 1951 Hostel Catering file indicates that non-meat meals could be provided on special days of religious observance. Further attempts were made to remedy complaints about the same kind of soup monotonously being served for lunch and dinner each day.[3] According to the procedures, Hostel menus would be submitted and reviewed monthly. A Standard Recipe Book like the two in the collection of the museum, was compiled by the Department of Labour and National Service, and issued to all Migrant Hostels. From the insert in the front of one of the recipe books, it appears that European cooks were encouraged to work in the kitchen with the translation of English cooking terms into German. However, the traditional English food recipes remained.
The opening of the Westbridge brick units at Villawood Migrant Hostel in 1968, brought more substantial accommodation for residents including internal bathrooms and toilets. Kitchens were not provided and laundry facilities were still shared. Communal meals were still only available at the canteen, although many al fresco meals were made "without the knowledge of management" on small portable stoves when various nationalities gathered to celebrate. More varieties of international ingredients were becoming readily available at stores in Cabramatta, Villawood and Fairfield from the late 1960s.
After leaving the hostels, many residents missed the social occasions that the regularity of meals provided, but not the meals. They all looked forward to home cooked meals. Many chose to settle in Fairfield because of the cosmopolitan atmosphere, the ready availability of their own foodstuffs, social clubs, newspapers in their own language, and a supportive cultural network.
Although there were periods of dislocation, disorientation, and desolation, hostels are remembered fondly as places of security and certainty where families could retreat from the demands of new life beyond the fence. Parents worked long hours and sometimes at two jobs, while weekends were spent cooperatively with other migrants building their own homes on the edge of Sydney. For many, interim homes between the hostel and building their own homes, were garages. Regardless of country of origin or year of arrival, setting up house was a priority. The publicity given to migrants said that 'you could own your own home in Australia'. In reality it was not easy. In the first years after the war, houses and building materials were in short supply, and many found themselves living in hostel accommodation for months and years.
A former Hostel Manager at Villawood Migrant Hostel reflected that "Hostels were a part of the flowering of Australian multiculturalism. The migrants took Australia by its bootstraps and brought a different culture – where would we be without them?"[4] The Villawood Hostel changed its function from a "receiving" centre for all migrants and refugees, to a "detaining" centre to accommodate increasing numbers of 'unwanted refugees'.
The Villawood Migrant Hostel recipe books and dinnerware are historically significant as evidence of the daily ritual of communal dining at the Hostel from 1948 until the mid 1980s. The recipe books, the dining settings and hostel life represent for many migrants, refugees and displaced persons who arrived at the Villawood Migrant Hostel in Fairfield from 1948 until the early 1990s, a staging post where they become acquainted with a very different culture and climate.
The Villawood Migrant Hostel recipe books have intangible significance as the process of communal dining allowed for an interaction between different nationalities that many would never have encountered otherwise, had they not made the journey. Friendships made at the hostel have been enduring and many reflect on the supportive role that the hostels played in giving direction to their lives.
The narrative evoked by these small objects shows the important role that the temporary accommodation had in the settlement of Fairfield's expanding and culturally diverse population. For many, Villawood Migrant Hostel was their first home in Australia, and for others it meant freedom and a safe haven, something that they had not experienced in their recent past. Many have reflected on what Villawood has meant as a Detention Centre for those refugees who have left for the same reasons as they did over the last twenty or thirty decades, but without the freedom that they had experienced.[5]
The hostels themselves were points of entry into the unknown, and while providing some respite on a long journey, traumas still continued in silence, as all members tried to deal with isolation, rejection, being misunderstood through lack of communication, and poor support services. The feelings of drifting apart from family left behind, and the families being torn in different directions in their new homeland, were at times overwhelming.
The mostly empty shells of the original kitchen and dining room, laundry and two nissen accommodation huts are still located on the site and fenced off from the Detention Centre complex, holding 'not so empty' memories of the strangeness of this new life. A legacy of Villawood Migrant Hostel was that it provided a sense of community, which in turn, spawned communities of settlement in the familiar areas around Fairfield. The suburbs of Fairfield became the reality of the "global village" atmosphere that became a way of life at Villawood Migrant Hostel.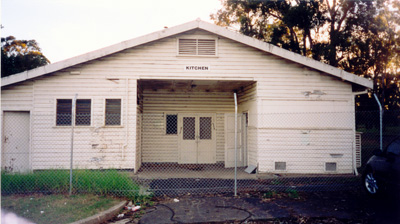 Remaining kitchen and dining room complex. Courtesy Fairfield City Museum Gallery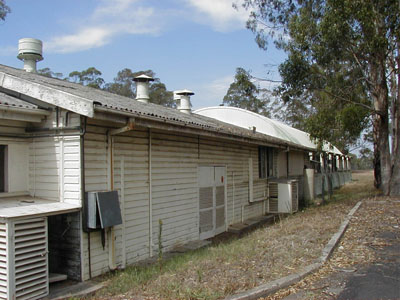 Kitchen entrance from the 1950s at Villawood. Courtesy Fairfield City Museum Gallery
The Villawood Migrant Hostel recipe books and dinnerware  have strong provenance. These two recipe books were used at the Villawood Migrant Hostel between 1952-1983 by Commonwealth Hostels Ltd/Commonwealth Accommodation and Catering Service. They were removed from storage in 2003 after the hostel became the Villawood Detention Centre under the management of Australasian Correctional Management Pty Ltd (A.C.M), who donated the recipe books to the Fairfield City Museum and Gallery.
The serving trays, salt & pepper shakers, milk jug, drinking glass, the dinner and side plates as well as the Villawood Hostel Christmas dinner menu (1959) were also donated to Fairfield City Museum & Gallery at the same time by A.C.M.
The Villawood Migrant Hostel recipe books and dinnerware are in good condition. The two recipe books show signs of use, while some of the plates were still in their original wrapping. The other dining objects show little use, and the trays are in fair condition.
The Villawood Migrant Hostel recipe books and dinnerware have interpretive significance. Hostel food often gave residents a peculiar sense of what food was familiar to Australians. As one young teenage resident from El Salvador in the 1990s recounted 'Australian food such as curries were very unpalatable'. Pasta and curries had become regular meals on the menu for the prior ten years to meet the needs of the predominant migrants at the time, thus becoming " Australian food" for the next decade of migrants. It was for many residents at the hostel, the first opportunity to understand different cultures and appreciate their differences – a shared experience, and the shared friendships across cultures that endured and eased the settlement process.
---
Footnotes
[1] Letter from Prime Minister Ben Chifley to the Dept.of Labour & National Service, 1949. National Archives File No. SP857/10PR 1924.
[2] Sluga, Glenda. Bonegilla and Migrant Dreaming. In Darian-Smith, Kate & Hamilton, Paula. 'Memory and History in Twentieth-Century Australia'. Oxford University Press. 1994.
[3] Hostel Catering – Menus – Procedures, 24/9/1951. National Archives File No. SP 446/2 E 108/4/1
[4] From discussions on 21/6/2001 with Mr. Terry Astor-Smith who was the Manager at Villawood Migrant Hostel for lengthy periods from 1964 until he retired in 1984.
[5] Information relating to the hostel and former residents, was recorded at community forums held on the 10/10/2002 and 14/11/2002 at the Fairfield City Museum and Gallery.
---
Bibliography
Burnley, I H 2001,
The Impact of
Immigration
: A Demographic Approach.
Oxford University Press. South Melbourne.
Gapps, S 2008, Fairfield: evolution of a migrant city. Fairfield City Museum and Gallery, Smithfield.
Oral Histories of six migrants recorded on DVD for the FCMG exhibition Childhood memories of migration: Images, Imaginings and Impressions, available at the Fairfield City Museum and Gallery and the Migration Heritage Centre, Powerhouse Museum, Sydney.
---
Websites

The Migration Heritage Centre at the Powerhouse Museum is a NSW Government initiative supported by the Community Relations Commission.
www.migrationheritage.nsw.gov.au

Regional Services at the Powerhouse Museum is supported by Movable Heritage, NSW funding from the NSW Ministry for the Arts.