Era:
1939 - 1945
Cultural background:
Italian
Collection: Mitchell Library, State Library NSW
Theme:
Government
Internment
Military
Refugees
Settlement
WW2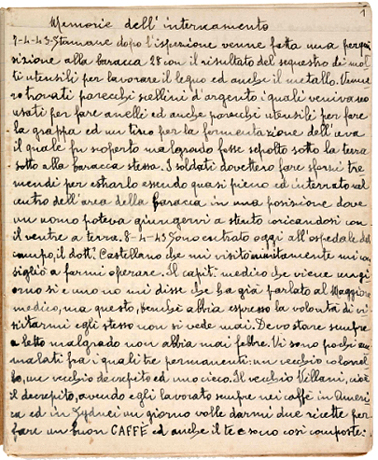 Federico Bonisoli internment diaries c.1939-1944. State library of New South Wales
Collection
State Library of New South Wales, Sydney, Australia.
Object Name
Internment Diaries.
Object/Collection Description
Federico Bonisoli – papers, c.1939-1944, documenting his internment during World War II, Includes Internment diaries (in Italian dated 1940-1944, letters in English received from his niece Maria Bonisoli and nephew Attilio Bonisoli between 1940-1943, a photograph of Federico Bonisoli, c.1939. 4. Letter in Italian to Felice Bonisoli from Rev. Professor M.F. Toal, an ex-internee of Loveday Camp dated 13 September 1956. Dimensions: approximately 340mm x 287mm.
The Hay Prisoner of War (POW) camp was constructed in 1940. The first arrivals were 2036 Jewish internees from Nazi Germany and Austria – mostly professionals who had simply fled for their lives – along with 451 German and Italian POWs. They were transported from England on-board the Dunera, and they became known as 'The Dunera Boys,' which was applied, in particular to the Jewish refugees.
Conditions on the ship were appalling. The passengers were not allowed to leave the ship during stopovers and were rarely permitted on deck and, when they did, the British crew scattered bottles in their path to deter them. Conditions were also unsanitary.
The refugees (and POWs) were transported to Hay via train and then placed in the camps behind barbed wire. They remained active, holding physical education courses and concerts, teaching the children and printing their own money. All of these internees were moved to Hay in May 1941.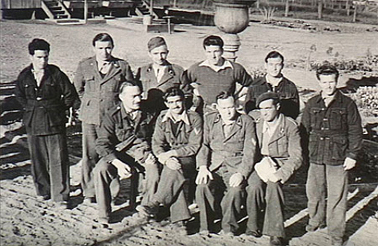 Italian POWs at Hay (or Yanco shortly after) 1941. Courtesy Australian War Memorial
A few weeks later, about 2000 Italian POWs arrived from the battlefields of Egypt. They worked at farming practices, making the camps largely self-sufficient. Only one escaped and he spent six months in Melbourne before being recaptured.

Video: Italian Prisoners 'Down Under' c.1941. British Pathé
In December of 1941 Japanese internees were conveyed to the camp from Cowra. Unfortunately, a number of them were merely Australians from Broome who were descended from Japanese pearlers; some of whom had never been to Japan.
The repatriation of the POWs was carried out in 1946 and the camp was dismantled and all building materials auctioned in 1947.
Federico Bonisoli was interned during World War II at Orange and Hay, New South Wales, then transferred to Loveday Camp, Barmera, South Australia. Federico settled in Sydney as poultry farmer after he migrated from Italy in 1923.
Federico Bonisoli's diaries have historic value as evidence of the events that surround the internment of POWs in Australia in World War II and the experience of the refugees and POWs life at the Hay camp.
Federico Bonisoli's provide a research tool for historians to explore the Second World War chapter of Australian history and give the story a wider meaning in the context of the history of migration and settlement in Australia. The material culture of the Hay POW camp reveals the diverse skills and backgrounds of the people interned there, including their educational and cultural backgrounds.
Federico Bonisoli's diaries have intangible significance in providing a reminder of the fears felt by the Australian, German, Italian and Japanese communities of war, the loss of loved ones and the insecurity of war time.
The diaries are well provenanced to the Hay POW camp. The diaries were presented by Maria Bois in 1992 as a part of the Italians in New South Wales Project. The diaries are in the collection of the State Library of New South Wales.
The POW objects are rare in a New South Wales public collection and that it relates specifically to the POW occupation of the Hay site and it is associated with those particular groups who emerge as significant participants at the Hay POW Camp and World War II New South Wales POW camp history.
The diaries represent the culture and traditions of World War II refugees and POWs. It is part of a larger collection represents the German. Italian and Japanese experience in Australia during both World War II.
The diaries importance lies in its potential to interpret the place as a site associated to POWs and internment, the internment camp itself, the refugee/ POW experience. The object presents the opportunity to interpret the stories of various individuals who were interned at Hay POW camp and those who were repatriated after the War only to return as migrants and become successful members of the Australian community despite their experiences.
---
Bibliography
Coupe, S & Andrews, M 1992,
Was it only Yesterday? Australia in the Twentieth Century World
, Longman Cheshire, Sydney.
Heritage Office & Dept of Urban Affairs & Planning 1996, Regional Histories of New South Wales, Sydney.
Heritage Collections Council 2001, Significance: A guide to assessing the significance of cultural heritage objects and collections, Canberra.
---
Websites
www.sl.nsw.gov.au
---
Written by Stephen Thompson
Migration Heritage Centre
June 2007 – updated 2011
Crown copyright 2007©

The Migration Heritage Centre at the Powerhouse Museum is a NSW Government initiative supported by the Community Relations Commission.
www.migrationheritage.nsw.gov.au

Regional Services at the Powerhouse Museum is supported by Movable Heritage, NSW funding from the NSW Ministry for the Arts.

State Library of NSW
www.sl.nsw.gov.au