Era:
1939 - 1945
Cultural background:
Italian
Collection:
Griffith Italian Museum
Theme:
Agriculture
Clothing
Folk Art
Settlement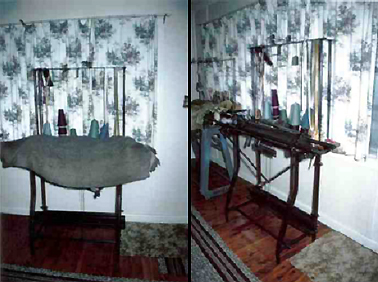 Knitting machines and tools in situ at Erice's home, 1991. Photograph Peter Kabaila
Collection
Griffith Italian Museum: Pioneer Park Collection, Griffith, Australia.
Object Name
Knitting Machine.
Object/Collection Description
Erice Zilliotto's knitting machine, tools and samples. Knitting machine for very fine wool, single ply/two ply, on black enamelled tubular metal stand with black enamelled frame to hold up strands of wool from bobbins. In working order with cloths over, as used by donor, with as many accessories as could be found. As donated, not cleaned or restored for display. Inscribed "DUBIERINA Mark Depositata 262743 M SOC. ITALIANA-DUBIED MILANO". Sleeper rail laid across cross bars at bottom of frame to hold machine steady. Dimensions: Three stitch holders of various lengths, 285, 405, 700mm.
Implements, wooden spools, and other items in various boxes and tins, with assorted screws, nails, and springs. Correspondence and samples of wool and cotton sent to Mrs Erice Zilliotto by the Foster Knitting Machine Company, 75 King St Sydney, 1960s. Knitted garments, including a two-piece women's woollen swimming costume, two one piece swimming costumes, one pair of men's bathers, two child's singlets and various samples. Knitting pattern books, Italian and English.
Crosley notebook, with order and patterns hand written. Wool sample books. Also on display at the Italian Museum: Knitting Machine. Brought to Griffith from Paderno del Grappa by Anna Maria Forlico when she immigrated in 1943.
Erice Zilliotto was born in Cavaso, Treviso Province in northern Italy in 1913. Her mother was a machine knitter, and Erice learned the craft by the time she was eleven. She later had a workshop in Rome, numbering the Vatican among her clients. After her marriage and move to Griffith in 1962, she continued to produce fine courtelle machine knitted suits and other garments to order. The rise and fall of the woollen industry in the Comunita Pedemontana area of Northern Italy forms the European backdrop to knitting machines from Italy. The woollen industry flourished from the sixteenth century in northern Italy, and large scale industrialisation was prevented by a series of laws which encourage production in rural areas and effectively prevented centralisation and mechanisation in the large centres. In 1454 the Doge Francesco Foscari issued one of the first laws that gave the right to carry out spinning and weaving in rural areas, against the demands of the city of Treviso, which wanted to concentrate these activities within its own boundaries. The issue caused bitter struggles between urban and rural woolworkers. By the end of the seventeenth century almost every town and village in the pre-alpine zone from Brenta to Piave had a woollen industry and more than half of the woollen products from the entire province of Treviso came from the foothills of Mount Grappa.
The grazing of sheep required for the industry resulted in the deforestation of the Grappa Mountain foothills (from which it never fully recovered). But the success of the industry was greatly assisted by the multitude of small mountain streams feeding through the rural communities, which provided a cheap power source for machinery. While the weaving was carried out in small factories, individual households carried out a cottage industry of washing, beating, dyeing and spinning the wool.
It was the failure of this industry to keep pace with the mass production technology of the industrial revolution, along with the decline of the Republic of Venice, which had protected it, which led to the industry's severe decline in the nineteenth century. The collapse of the industry resulted in widespread impoverishment and mass emigration to United States and then Australia. The result was that by the end of the twentieth century, there were more descendants from the Pedemontana area in Australia than people still living in the Pedemontana area (1983: "Dal Piave al Brenta, terre e genti").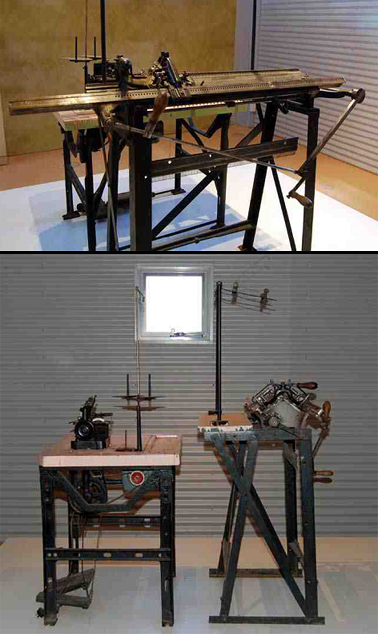 Display at the Griffith Italian Museum, 2008. Knitting machine owned by Anna Forlico. Photograph Peter Kabaila
Knitting machines from Italy were brought out to supplement women's income in a cottage industry. Some Italian women who migrated to Australia had arrived with knitting machine in tow. These women had taken the trouble to bring such a cumbersome piece of equipment such a long way, because the knitting machine represented a traditional source of income. In Italy, home machine knitting was a career rather than a hobby, possibly more in the north than the south. By the quality of Erice's work, the standard of workmanship was extremely professional. Erice Zilliotto (nee Barrato) was born in Cavaso, Treviso Province, Italy in 1913. Her mother, born in 1893, was a home machine knitter, and Erice, the eldest daughter, had learned the craft from her mother Elvira Baratto and aunty Lina Codemo, by the time she was 11. Her sister Bianca, as the youngest daughter, also learned, but at the local convent, and was more enthusiastic about music than knitting. As an adult, Erice moved to Rome, where she had her own home based machine knitting business, employing 2 to 3 girls. Her clients included the nuns of the Vatican, and there was also reference to biretta for the priests. In 1962 while on a holiday with her sister in Wollongong, Erice met her future husband, also on holiday, from Griffith. Her sister Iva and brother in law Guiseppe Zanotto helped her migrate to Australia in 1961. She shipped her machines and started a knitting business in Balgownie (Wollongong) in the small two bedroom cottage she shared with her sister's family. Her customers were mainly Italian migrants, some of them already knowing her work since living in Italy.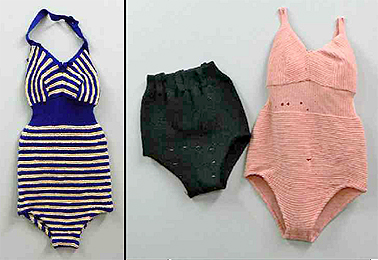 Erice's woollen swimming costumes knitted in the 1960s. Photograph Peter Kabaila
Erice married Emilio Zilliotto and moved to Griffith, bringing her two knitting machines from Italy, one for "coarse" work and one for fine. By account, and from the neat records of measurements in her order books, she built up a steady clientele for her work in Griffith. Some pieces, such as a brown courtelle dress was knitted by Erice, are of extremely fine, high quality knitting – with nothing handmade about the finish. It is difficult to believe that work of this quality could be produced outside a factory. Other samples of Erice's work were even finer – T shirt fine. Complete examples donated to the museum include underwear and both men's and women's swimming costumes. Italy certainly had a very high reputation for fine knitted garments, but it is difficult to imagine that its source was the home knitting industry. Unfortunately, with different lifestyle, expectations and fashion values in Australia, Erice's generation could be the last to practice this imported skill.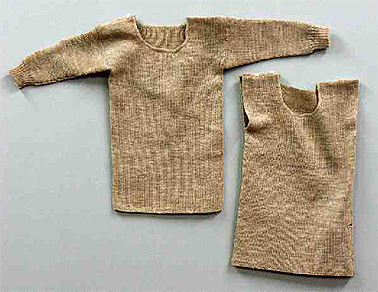 Knitted under garments c.1962. Photograph Peter Kabaila
This collection is of historic significance as a family craft handed down from mother to daughter, that may be traced back to a sixteenth century tradition in Northern Italy. The swimming costumes document fashions in the Italian migrant community in Australia of the late 1950s and early 1960s.
The fineness of the work is of aesthetic value. Erice Zilliotto was a professional knitter and the work is of much higher quality than that of the average home knitting machine.
The completeness of the collection is of moderate research value. This collection of items is an example of a craft brought to Australia from Italy by Italian women. It is significant to Italian women as evidence of a cottage industry, once prominent in the Veneto, passed down from mother to daughter. The collection is also evidence of the high level of skill, as although it contains knitting pattern books, these were only reference items as Erice was known to have worked from the note book that recorded customer requirements and measurements.
The collection is historically documented. It is well provenanced as the information about the item was provided by Erice's sister Bianca Zilliotto. This collection is a good example of the equipment, patterns and samples of work of a cottage craft.
The knitting machine on its own is not rare, however the collection as a whole, with its examples of work knitted on the machine, samples and associated equipment, is rare. The knitting machine is in operational order. The knitted items are in sound condition and the machine accessories, knitting books, and bobbins of wool are all highly intact and catalogued.
This collection has interpretive potential as an example of a female trade, because of its completeness.
---
Bibliography
Kabaila, P, 2005,
Griffith Heritage
. Pirion Publishing, Canberra.
Oliver, Robyn, "Knitting Machines from Italy", Area News, March 1994.
Heritage Office & Dept of Urban Affairs & Planning 1996, Regional Histories of NSW, Sydney.
Heritage Collections Council 2001, Significance: A guide to assessing the significance of cultural heritage objects and collections, Canberra.
---
Websites
www.griffith.nsw.gov.au/Page/Page.asp?Page_Id=143
www.griffith.nsw.gov.au/Page/page.asp?page_Id=142
---
Written by Peter Kabaila
March 2008
Edited by Stephen Thompson
Migration Heritage Centre
March 2008 – updated 2011
Crown copyright 2008©

The Migration Heritage Centre at the Powerhouse Museum is a NSW Government initiative supported by the Community Relations Commission.
www.migrationheritage.nsw.gov.au

Regional Services at the Powerhouse Museum is supported by Movable Heritage, NSW funding from the NSW Ministry for the Arts.

Griffith Italian Museum & Griffith Pioneer Museum are managed by Griffith City Council.
www.griffith.nsw.gov.au