Era:
1945 - 1965
Cultural background:
Italian
Collection:
Griffith Italian Museum
Theme:
Clothing
Folk Art
Settlement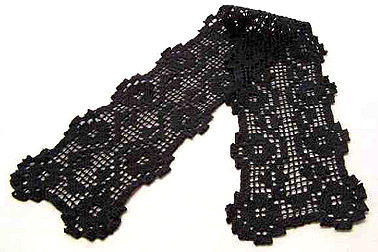 Lace inserts.Photograph Peter Kabaila
Collection
Griffith Italian Museum: Pioneer Park Museum Collection, Griffith, Australia.
Object Name
Lace collection.
Object/Collection Description
1. Dress, 1948, made by Libera Battocchio for her daughter. Wool for this garment was hand spun. Bolero, 1951, wool, pink.
2. Doyley, 1950, set of three pink and green cotton, made by Libera Battocchio for her daughter's trousseau
3. Coloured cotton doyleys made by Libera 1979 and shuttle made by Girolamo Battocchio in 1979.
4. Scarf, c1950, black wool, made by Libera Battocchio. Assorted items of filet lace embroidery.
Lace making in Possagno forms the historical background to this collection of traditional Northern Italian lace work. Traditional Italian handiwork is being revived in Italy, in areas where it had almost disappeared.
During the 1990s, the teachers of the lacemaking group in Possagno were Armida dal Favero and Cecilia Biron. The making of this sfilato lace is still carried on in the Communità by this Possagno lacemaking group, lead by these two ladies. A number of members of the group had family in Griffith. There was a computer and electrical firm in Griffith called Biron & Kuiper, and Cecilia Biron, the Possagno postmistress, was related to the Birons of this firm. They were an old and established Griffith family with a firm base back in the old country. There are also Faveros in Griffith. One of the other lacemakers, Wilma Zancanarro, sent messages back to her Griffith family.
Possagno is only a village, but it is made up of clusters of houses, sometimes in the older parts, built around and facing defensively into a central courtyard, with entry gate and well – few windows on the outside. Each of these clusters is a "contrada" – according to the dictionary- a district or street – district is probably closer, although it suggests something larger than they are. For example, there is a "Contrada Biron". In Griffith Biron is pronounced "Byron" – in Italy, "Beeron", with emphasis on the last syllable. The Contrada Biron is of the older, very traditional style, with cows inside at ground level and hay in the loft, although now in a street with other more modern houses. Down in the central "square" in Possagno, there is a very attractive map showing the Contrada.
The photographs of Contradas and of lace makers in Possagno show the continuity of the people who made items in the Griffith Italian collection, and their skills, with their place of origin, i.e. with the villages and towns that make up the Comunità.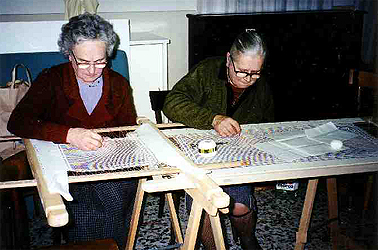 Possagno lace teachers, Armida Dal Favero and Cecilia Biron photographed working on filato lace in 1996. Photograph by Robyn Oliver.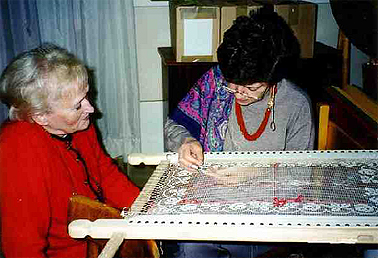 Lacemakers (ricamatrice), Adelina Vardanega (Zatta) and Celina in 1996. Photo by Robyn Oliver.
As well as the home country, places such as Griffith had émigré communities that brought traditional skills and practices, transplanting them into Australia. The Possagno lace makers have familiar surnames because they are related to families in Griffith. With the Italian Museum now set up, there is still a chance that their skills can be passed on here to a new generation.
This form of lace, traditional to the Comunità Montana del Grappa region, and known as filato, is made on a frame. The first stage is to construct the base net – lines of threads laid out around the frame in one direction, and then knotted into place with a needle at each junction, as the lines are put into place in the opposite direction, ideally producing an even grid. It's not as easy as it looks. This could be seen from the differences between the work of the beginners and the teachers – Armida Dal Favero and Cecilia Biron (related to Griffith's Biron families), and this must be the most tedious stage. The thread used is strong, tightly spun cotton or linen in natural white.
The fun starts with the second stage, when the grid is embroidered with fillet style patterns, copied from graphed paper patterns. All kinds of designs are used, from simple scallops to more elaborate floral patterns and cherubs – anything in fact that might be done with fillet crochet. A variety of threads and stitches can be used to provide different textures. There is a further stage of intricate knotting to produce the final firm scalloped edge before cutting begins (as it must, to remove it from the frame).
Some women in the group brought in some old and fine examples. Anna Rita Vardanega and her mother brought items made by Anna Rita's grandmother, Eugenia Vardanega, approximately 70 years ago, including an exquisite baby's dress and bonnet, entirely made in filato. Lucia Basso brought in a square filato cover, with a hole in the middle, designed to cover the old fashioned plain white conical light shades. There were obviously many uses for the lace – one example in the Cavarzan household, was made to cover a small foot quilt (copri piumino) – with magnificent tassels in each corner, gold over the burgundy quilt, it was very handsome.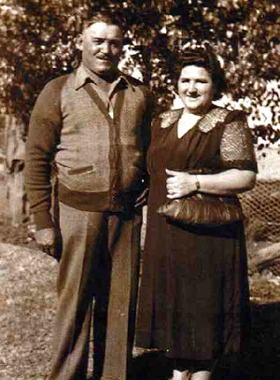 Girolamo Battocchio and Libera Battocchio 1953. Libera wearing lace inserts in dress. Courtesy Griffith Italian Museum
At the lace makers' group in the town of Possagno there are other lace and embroidery styles, as well as the filato described above. The sfilato lace crossed the boundaries between cutwork and embroidery. One set of doyleys, again from the collection Anna-Rita Vardanega and her mother, had a series of intricate borders of drawn thread work, which many will remember from their school sewing lessons. Threads are removed in one direction, so that the now loose remaining threads in the opposite direction can be twisted and clustered to create lacy strips. A photograph in an old English embroidery book showed just this style of embroidery, captioned as – "examples of sixteenth-century Italian drawn-thread work in the Victoria and Albert Museum in England".
Several women were working drawn thread work borders with amazing speed, as they talked with equal speed. The name for one kind of drawn thread work was gigliuccio a giorno, which roughly translates as "day lily". It is probably a stitch name, like "coral stitch" in English, which bears no particular resemblance to coral. Another lady in the group, Wilma Zancanarro, was creating fine diamond net using knitting needles. Through Robyn Oliver, who visited Possagno in 1996 to visit the lace makers, she sent greetings to her relatives in Griffith.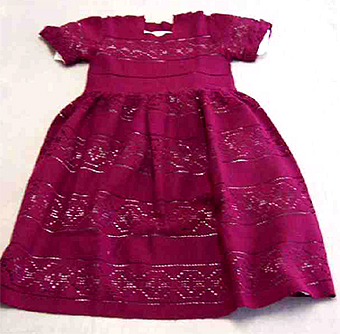 Dress, 1948, made by Libera for her daughter. Wool for this garment was hand spun. Photograph Peter Kabaila
The late Mrs Libera Battocchio of Yenda was a well-known local lace maker. Examples of her work include filato lace doyleys and a fine wool filato lace dress made for her grand daughter, Mrs Ada Snaidero of Griffith, when Ada was 9 years old. Mrs Battocchio demonstrated the lace at a Carnivale exhibition of International and antique handicrafts held in the Griffith Study Centre in 1981.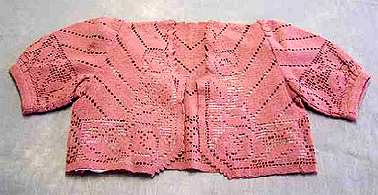 Bolero, 1951, wool. Photograph Peter Kabaila
Libera Battocchio, nee Michelon, came from the town of Pederobba, close to Possagno where the lace work group is based, and one of the eight towns that make up the Comunità Montana, Griffith's Sister City. She learned to make the lace from the nuns when she was at school, and later when she worked as an assistant at an orphanage in Pederobba, earned part of her living from it.
In 1933 she immigrated to Australia to join her husband, Girolamo, who had been in Australia for "quite a few years" – the couple having married by proxy. They made their home on Farm 1482 Yenda, where they were to spend the rest of their lives – becoming loyal Yenda residents and in the end choosing to be buried there. Mrs Battocchio died in 1991. Libera Battocchio had three children, sons Ado and Adino, and one daughter Ada, on whom she lavished her enthusiasm for lace. Ada said, with photographs to prove it, that her childhood clothing was extensively trimmed with the lace, and she even had whole garments – dresses and bolero's made of it, to the point where she didn't appreciate it, wanting to look like everyone else, as children do. Consequently, although her mother tried to teach her, and although she now has all her mother's books and equipment, she never mastered it, about which, with the distance of time she has some regret.
Libera loved making the lace, and continued to do so until she died, "winning all the show awards" whenever she entered. She made lace for all her friends and relatives, including beautiful trousseau lace for her granddaughter, Denise Castellato, and lace for a dressmaker friend in Wollongong – insertion, trimmings for clothing, and doyleys.
Although Ada did not learn to make the lace, she was able to provide a few clues about her mother's techniques. Unlike the filato in Italy, her mother made the base net without a frame, using a netting shuttle. It was only put on a frame at the embroidery stage. Her mother used a variety of coloured and textured threads to create different effects using simple filling stitches – sometimes producing almost a finely woven effect, sometimes very open. The edges were always finished with a very fine buttonhole stitch, almost invisible. Ada plans to donate part of her collection to the Italian Museum including samples, patterns and equipment. It would be lovely then, to find someone who can teach the lace, to carry on the tradition – if not locally, then perhaps on a future visit by one of the Italian lace makers during a Sister City visit.
In May 1996, the Area News published a photograph of Leanne Snaidero, wearing a fine wool filato lace dress, and showing filato lace doyleys made by her great grandmother, Mrs Libera Battocchio of Yenda. The dress was made for Leanne's grandmother, Mrs Ada Snaidero of Griffith, when Ada was 9 years old.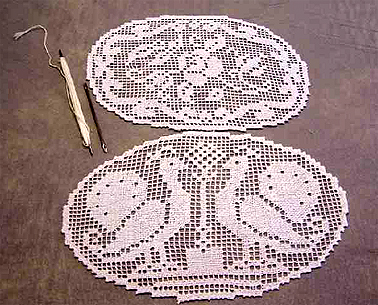 Coloured cotton doyleys made by Libera 1979 and shuttle made by Girolamo Battocchio in 1979. Photograph Peter Kabaila
This collection is of historic significance as a family craft handed down from mother to daughter.
This collection has moderate aesthetic value for its fine standard of handcraft.
This collection has research significance for the study of cottage crafts in Australia. The collection has potential for oral history research with Italian lace makers and their female descendants as a primary source.
This collection of items is an example of a craft brought to Australia from Italy by Italian women. It is significant to Italian women as evidence of a cottage industry, which still continues as a recreational craft in the Comunita Montana del Grappa (Province of Treviso) area of Northern Italy.
The history and provenance of Libera Battocchio's lace work is well established. This collection is a highly representative sample of work of a cottage craft. The lace work items on their own are not rare, however the collection as a whole, as samples of a cottage craft, is rare.
The lace work has been kept in good condition. This collection has interpretive potential as an example of a female trade, because of its completeness.
---
Bibliography
Cornwall, J. 2007.
Fruits of Our Labour. The history of Griffith's Italian Community.
Griffith City Council.
Kabaila, P. 2005.
Griffith Heritage.
Pirion Publishing, Canberra.
Shirley Norris, discussion with Ada Snaidero,
Feb 2008.
Robyn Oliver,
"Lace Making in Possagno"
Area News, 10 May 1996.
Robyn Oliver,
"More Possagno Lace"
Area News, 17 May 1996.
Robyn Oliver,
"Libera Battocchio's Lace"
Area News, 24 May 1996.
Significance: A guide to assessing the significance of cultural heritage objects and collections,
Heritage Collections Council. 2001.
Websites
www.griffith.nsw.gov.au/Page/Page.asp?Page_Id=143
www.griffith.nsw.gov.au/Page/page.asp?page_Id=142
---
Written by Peter Kabaila
March 2008
Edited by Stephen Thompson
Migration Heritage Centre NSW
March 2008
Crown copyright 2008©

The Migration Heritage Centre at the Powerhouse Museum is a NSW Government initiative supported by the Community Relations Commission.
www.migrationheritage.nsw.gov.au

Regional Services at the Powerhouse Museum is supported by Movable Heritage, NSW funding from the NSW Ministry for the Arts.

Griffith Italian Museum & Griffith Pioneer Museum are managed by Griffith City Council.
www.griffith.nsw.gov.au