Era:
1939 - 1945
Cultural background:
Italian
Collection:
Griffith Italian Museum
Theme:
Folk Art
Settlement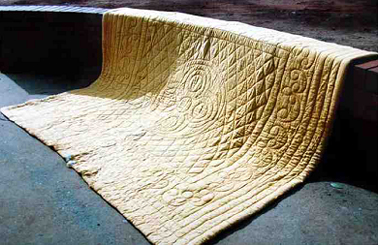 Angela Zilliotto's brides trousseau quilt. Photograph Peter Kabaila
Collection
Griffith Italian Museum: Pioneer Park Collection, Griffith, Australia.
Object Name
Trousseau Quilt.
Object/Collection Description
Quilt made by Angela Zilliotto's mother c 1921-1940. Whole cloth quilt, yellow sateen both sides. Hand quilted in geometric and curvilinear patterns. Edges turned in, hand finished. Stuffed with flock-like material said by the donor to be wool. Approximately 25mm thick x 2500mm x 2000mm.
This 'whole cloth' quilt has a bordered design. The cover of a whole cloth quilt is made from a single fabric, although lengths of the fabric are often pieced to make up the full width of the whole cloth cover, as has been done with this quilt. The Angela Zilliotto quilt is reversible, both sides made of the same yellow cotton sateen satin cotoni.
The quilt is sized to fit a double bed. In the dialect of the quilt's place of origin, the Comunità Montana del Grappa, Province of Treviso, in the Veneto region of Northern Italy, a quilt of this size was known as an imbotià matrimoniale referring to its common use as part of a bride's trousseau. In Italian the word is imbottita.
Angela Zilliotto's quilt is hand quilted in a bordered quilting design. Bordered quilting designs have a central quilted area surrounded by one or more quilted borders. The central field of this quilt is filled with a somewhat Celtic looking central motif surrounded by cross-hatching. The Comunità area has Celtic heritage, although possibly somewhat distant in time to have influenced this design. The surrounding borders comprise one curvilinear, somewhat floral looking border and series of equally spaced straight-line borders. The outer raw edges have been neatly turned in and hand stitched to form a plain edge.
Where the padding is exposed at worn outer edges it is seen to be a white flock like material, which appears to be carded wool, concurring with the description of traditional practices given at the time of donation. Its size is approximately 2.5cm thick. 2500 x 2000mm.
This quilt was donated to Griffith Pioneer Park Museum in 1993 by Maria and Nazzarina Zilliotto, in the name of their mother, Angela Zilliotto (nee Torresan), 1915 – 1958.
Angela was the first wife of Milio Zilliotto. By the time the quilt was donated, Milio was deceased and his second wife, Erice (neè Baratto), was in a nursing home unable to provide any information. The provenance for the quilt was pieced together in discussion with Angela's daughters, who were children when their mother died, and with Bianca Baratto, the younger sister of Milio's second wife. Angela and Bianca grew up in neighbouring towns, Bianca at Cavaso del Tomba.
Angela Zilliotto was born in Crespano del Grappa. Crespano is the largest of a group of eight close-knit towns, which form the local government area of the Comunità Montana Del Grappa, along with innumerable smaller villages and farming settlements.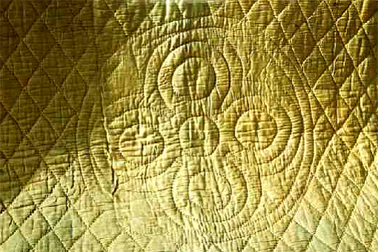 Details of the quilt. Photograph Peter Kabaila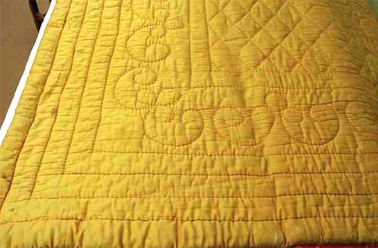 Details of the quilt. Photograph Peter Kabaila
The Comunità is located on the foothills of the Grappa Massif, looking up to Monte Grappa in the west and down towards the Venice lowlands to the east. To the north and south it is bounded by the fast moving Piave and Brenta Rivers. The area has strong cultural heritage traced back to prehistoric and pre-Roman times, with lively ongoing celebration of folk traditions. The introduction to Guida al versante trevigiano del Massiccio del Grappa -alla scoperta della Comunità Montana del Grappa published by the Comunità Montana del Grappa in 1995 begins:
Conoscere la Comunità Montana del Grappa significa entrare in un territorio in cui le tradizioni e la cultura antiche sono fortemente radicate alla montagna e alla terra.
To know the Comunità Montana del Grappa means to enter into a territory in which the traditions and ancient culture are strongly influenced by the mountains and land.
The majority of Italian migrants to Griffith and the Murrumbidgee Irrigation Area, especially prior to World War II, and for some time after, came from the Comunità Montana del Grappa in a chain migration pattern. Angela emigrated in 1949 to join her husband, Milio, in Griffith: Milio also came from the Comunità. Her family assumed that she had brought the quilt with her. She is said to have been a teacher in Venice prior to her departure, but took up dressmaking in Griffith because of her lack of English.
There is a strong tradition in the Comunità, within living memory, for an imbotià matrimoniale to form a basic element of a young woman's bridal trousseau. The origins and antiquity of the tradition are unknown. The villages are covered in snow during winter and the quilts were thick and heavy to counter the cold. This quilt is now very worn, but based on other Comunità quilts seen by Robyn Williams in Italy and Australia; it would originally have been around 5cms thick.
Angela's daughters thought that the quilt had been made by Angela's mother. Bianca Baratto described the two local scenarios for the making of such a quilt, and it is possible that Angela Zilliotto's quilt could have been produced by either method.
In the first scenario, the women of the bride's family would make the quilt. Until the late 20th century Comunità families, regardless of their 'trade' or occupation, aimed for self-sufficiency in fruit, vegetables and livestock, including a few sheep. When a quilt was required, often to mark a special occasion, such as a daughter's wedding, the fleeces were stored up over a period of time until there was sufficient for the filling. Before making the quilt, the wool was washed and carded. Then the lining sandwich, with top and bottom covers, was stretched out on a frame. Several quilters might work on the quilt at once, moving around the frame as necessary. On Robyn Williams' visit to the Comunità in 1996, at least one sateen whole cloth quilt of bordered design was said to have been made by the mother-in-law of the owner.
In the second scenario, the family would employ a specialist quilt maker called a fabbricetrice. Bianca said her own imbotià matrimoniale had been made in this way, as were many of the quilts seen by Robyn Williams in the Comunità. One well-known Comunità cottage quilt maker was Luisa Cunial (1894-1987) of Possagno. Her name was often referred to by older Italian women in Griffith and by owners of quilts in the Comunità. In January 1996 Robyn visited the home of the late Luisa Cunial, accompanied by Comunità folk historian, Marcello Cavarzan, and was introduced to the then resident of the house, Luisa's niece, Teresa Moro.
Luisa learned the craft from her mother and the tradition is likely to go back further. Like the Angela Zilliotto quilt, most of the examples of Luisa Cunial quilts seen by Robyn are whole cloth sateen quilts with simple geometric or curvilinear bordered quilting designs. All of them are thick and heavy, padded not with wool collected directly from the family sheep, but with wool flock, made from recycled woollen clothing, shredded and carded at the small factory of Signor de Panni in the nearby Comunità village of One di Fonte. The resulting dark grey flock is known as el vel in Comunità dialect and il vello meaning fleece in Italian. It is evident in any Luisa Cunial quilts which happen to have a hole, and there was still a supply of it in her old home in 1996. Luisa herself used to cart the materials for "el vel" to the factory in a carriola or wheelbarrow. Local rumour suggested that there may have been a long standing romance between Luisa and Mr de Panni the wool carder, suppressed because of her responsibilities, as the eldest of a large family. The basis for the rumour appears to have been the frequency of her visits to the factory. She never married and earned her living as a quilt maker to the end of her life. The name "de Panni" comes from panno or cloth, suggesting to Marcello Cavarzan that the family's connections with the fabric manufacture went back a very long way.
During the visit, Luisa's niece demonstrated the stitch used to quilt through the thick padding, which would have been much more than 5cms deep before the quilting compressed it. A straight needle and strong cotton thread were used. Although the stitch appears on first sight to be the running or stab stitch normally used in modern quilts, it was more akin to a spread out backstitch, the needle entered at an angle, possibly looping back on itself on both sides for strength, like a vertical herringbone stitch. The stitches are noticeably longer on one side than the other. Each stitch was finished with a tug. The straight lines for the quilt pattern were marked with taut string, dipped in chalk and snapped.
Luisa's quilting frames, obviously handmade, were still stored in the loft of a barn adjoining to the house in 1996. They were of the same rail and stretcher form used in traditional English quilting, pegged together at the corners and supported on two sawhorse-like stands. The quilt was tacked onto webbing attached to the rails, rolled up and tensioned by the stretchers, and re-rolled to expose un-quilted areas as the work progressed. There were many peg holes to allow for different sized quilts to be made on the frame, but Marcello Cavarzan pointed out that the most worn holes marked out the size of the imbotià matrimoniale.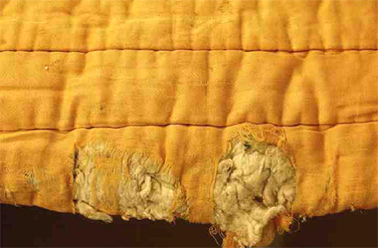 Detail of wool stuffing, seen at the most worn part of the quilt. Photograph Peter Kabaila
Angela Zillioto's whole coth quilt, and the quilts of Luisa Cunial, have much common in design and choice of cloth with British whole cloth quilts of the same period. The most marked difference is in the thickness of the padding and possibly the makeup of the wadding. The recycled el vel style wadding has not been found described in any known books on quilt history, although it is not thought to be unique to the Comunità. It could be bought in haberdashery shops in New Zealand in the 1970s for stuffing toys and cushions.
Among the plethora of material on the history of American quilts, even in Italy, and some interest in the quilts of Britain, France and Australia, little research appears to have been done on the history of Italian quilts and it is not known how old the craft was, or how regionally distinctive. In searching his personal collection of Comunità historical sources, Marcello Cavarzan found a few centuries old listings of bed coverings in household inventories, but their form was unclear. In 1996 staff at the new Museo delle Tradizioni Populari Bellunese in Cesiomaggiore in the north of the Province of Treviso, knew nothing of them and none were sighted in other folk museums visited in the north west of Italy. On the other hand Robyn Williams has seen a similar thick, sateen covered, whole cloth quilt in a second hand shop in Sweden, and another in a museum in Australia claiming eastern European origin,
NOTE: the names Zilliotto, Toressan and Cunial are distinctive Comunità names, with their origin in specific architectural or landscape features. They are common there, as they are now in Griffith and the Murrumbidgee Irrigation Area. The names have their origins in local dialect terms for specific architectural and landscape features: Zilliotto probably referred to a field of lilies, Torresan to a tower (possibly a church bell tower), and Cunial to the wedge shaped or cuneiform plan of the venerable block of defensively inward facing farmhouses which forms the heart of the Contrada Cunial (district or suburb) on the outskirts of Possagno.
Angela Zilliotto's quilt is registered as Quilt No 55GPM on the National Quilt Register.
Two other quilts from the Zilliotto house in Griffith are also listed on the National Quilt Register. They are both sateen, whole cloth quilts with simple geometric bordered designs, one for a double bed and one for a single bed. Both are padded with "el vel" of the kind produced at Mr de Panni's carding factory.
Quilt number 53RO: "Whole cloth quilt, yellow sateen both sides. Hand quilted, geometric designs; centre square cross hatch, corner spaces filled with diagonal lines, border of 4 lines of parallel quilting. Flock padding visible in holes – said to be wool. 5 cm thick. 2290 x 1950mm" This quilt was located on Erice Zillioto's bed at the time of discovery.
Quilt number 54RO "Whole cloth quilt, brown (tan) sateen both sides. Edges turned in and finished with fine running stitch. Hand quilted, simple crosshatched design with two linear borders. Has had flower shaped hole cut from the centre of one side. 5cm thick. 2290 x 1350mm".
The two quilts were owned by Milio Zilliotto's second wife, Erice Zilliotto (neè Baratto), who was born in 1913 in the Comunità town of Cavaso del Tomba. She followed her mother into the craft of machine knitting and worked in Rome before her move to Griffith, where she continued machine knitting professionally. The knitting machines she brought with her when she emigrated are now in the Griffith Pioneer Park Museum collection, along with reels of wool, finished clothing, samples and other related material.
The two Erice Zilliotto quilts were found in her Griffith home after she had been moved into a nursing home in 1993. They are very much in the style of Luisa Cunial's quilts and may well have been made by her. Erice's hometown of Cavaso del Tomba is within easy walking distance of Luisa Cunial's home in Possagno, but the specific history of the quilts is unknown. Erice herself was no longer capable of providing information and her sister, Bianca Baratto, had left Australia before the quilts were discovered. Angela Zilliotto's daughters knew nothing about them. They are now in Robyn Williams' private collection.
This quilt has historical significance as one of the first Italian quilts to be documented in Australia. The quilt has a moderate level of aesthetic value. Although ornamental, its design was chiefly based on its utilitarian value, as bedding in unheated houses of a cold European climate.
This quilt has research significance for the study of traditional Italian cottage crafts.
This quilt has social significance as a craft item brought to Australia from Italy by Italian women. It is significant to Italian women as evidence of a cottage industry, once prominent in the Veneto, passed down from mother to daughter. The quilt is also evidence of the high level of skill of the Veneto quilt makers. Its transfer into a hot climate in which it could not have any utilitarian function is evidence of the strong emotional value placed on this item, particularly as a relic of a bridal trousseau.
The history and provenance of this quilt is well established.
The quilt is very representative of the Veneto region.
The quilt is locally rare. The National Quilt Register has few quilts from Italy.
The quilt has been kept in good condition. Some wear on the hem (where small patches of stuffing is visible) indicates that it has been in use.
The interpretive potential of this quilt is increased by its entry in the National Quilt Register, together with two other Italian quilts in the Robyn Williams (Oliver) private collection.
---
Bibliography
Cornwall, J 2007,
Fruits of Our Labour. The history of Griffith's Italian Community.
Griffith City Council.
Kabaila, P, 2005 , Griffith Heritage. Pirion Publishing, Canberra.
Heritage Office & Dept of Urban Affairs & Planning 1996, Regional Histories of NSW, Sydney.
Heritage Collections Council 2001, Significance: A guide to assessing the significance of cultural heritage objects and collections, Canberra.
Osler D, 1987, Traditional British Quilts, B.T. Batsford Ltd., London.
Robyn Oliver, "A quilt from Italy", The Area News, 16.8.1993
Robyn Williams (Oliver) – unpublished research undertaken in the Comunità Montana del Grappa, 1996, advised and guided by Comunità folk historian, Sig. Marcello Cavarzan.
---
Websites
www.griffith.nsw.gov.au/Page/Page.asp?Page_Id=143
www.griffith.nsw.gov.au/Page/page.asp?page_Id=142
www.discover.collectionsaustralia.net.au National Quilt Register quilt numbers 55GPM,53RO, 54RO
---
Written by Peter Kabaila
March 2008
Edited by Stephen Thompson
Migration Heritage Centre
March 2008 – updated 2011
Crown copyright 2008©

The Migration Heritage Centre at the Powerhouse Museum is a NSW Government initiative supported by the Community Relations Commission.
www.migrationheritage.nsw.gov.au

Regional Services at the Powerhouse Museum is supported by Movable Heritage, NSW funding from the NSW Ministry for the Arts.