Era:
1965 - 1990
Cultural background:
Italian
Collection:
Fairfield City Museum and Gallery
Theme:
Food
Models

Spaghetti maker – chitarra. Courtesy Fairfield City Museum and Gallery
Collection
Fairfield City Museum and Gallery, Smithfield, Australia.
Object name
Spaghetti maker.
Object description
Spaghetti maker, wooden frame, rectangular, with fine wire stretched lengthwise across the top. The spaghetti maker is called a chitarra ("guitar" in Italian), a stringed instrument used in Abruzzo to cut pasta. It was handmade by the late Giuseppe (Joe) Bianchi in Smithfield in the 1980s to replicate familiar equipment from his village life in Abruzzo, Italy. The chitarra is in unused condition. Dimensions: 500mm long x 220mm wide x 110mm high.
Giuseppe Bianchi was born in Manopella, Pescara, Italy in 1920, and migrated to Australia from Italy in 1956 after serving as a conscript with the Italian Army during World War II and helping with the reconstruction of the city of Pescara, which was destroyed during the war. This was Giuseppe's second attempt to immigrate; the first was to Argentina in 1950. The return to his home town with his family was forced by a recession in Argentina which affected the building industry that he was employed in. He needed to find a country where he could fulfil his lifetime dreams, and as Australia was looking to Europe for skilled tradesmen, he made application through an Australian immigration agency, and was successful. On landing in Melbourne in March, 1956, Bianchi soon found work on the construction of Melbourne Dam.
Fourteen months later Giuseppe Bianchi moved to Wetherill Park because of contacts there from the same village in Abruzzo. Once settled in Sydney, he applied for his family to join him in May, 1957. Although Giuseppe had taken short courses in his spare time to learn to read and write English fluently, life was tough for the rest of the family with their lack of English, and no close family support. Mrs Bianchi even helped on building sites in small ways, and it was with pride that many Sunday outings included a drive to the current building site so that the family could admire his work.[1]
As a young boy, Giuseppe Bianchi always wanted to work with metal, but family circumstances meant that it was not possible to pay for an apprenticeship in that trade. Giuseppe attended school only until 4th grade, thereafter he spent time as a farm hand and as a bricklayer's labourer. He observed tradesmen at work and practiced until he became a master bricklayer.
Giuseppe began to follow his hobby of making and repairing things in earnest when he retired from bricklaying in the mid 1970s. He initially bought himself a lathe and taught himself the principles to make replacement parts for machines that were no longer available. His passion for making models grew out of a longing to make the toys that his single mother could not afford to buy for him as a child. He began making his miniature replicas of vintage cars in 1984, and displaying them at community events in Fairfield. One of his models won the Fairfield City Festival prize in 1986.
Unlike his scale model toys, the handmade wooden spaghetti maker was made to the same dimensions as the ones he was familiar with in his homeland village. He recreated those memories, even though modern metal pasta machines were in use in the kitchen of his home in Smithfield.
To use this particular pasta machine, "pasta alla guitar" because of its visual likeness to a guitar, the dough would be rolled out and folded into strips many times until thin, then wrapped around a rolling pin and placed over the metal strings and then pressed down with the rolling pen to make shredded pasta. The frame is tilted, and the thin spaghetti would roll out onto the bench, and then eaten fresh. "My Dad loved to make replicas of the past. At home he also had a model of a threshing machine, of how they used to collect and grind the wheat into flour in his village"[2].
The Bianchi's Smithfield house, garage, shed and backyard filled with recreated memories of their homeland. Images were made of life-sized statues of soldiers, a papier-mache reproduction of the 6th Century stone statue of the Warrior of Capestrano; and models of the Roman colosseum; the Altare della Patria in Rome, which is a monument to Italy's first king, Vittorio Emanuele; and the Santa Maria Arabona church in his birthplace, Manopello. Giuseppe had detailed knowledge of the church from working as one of the bricklayers reconstructing the tower of the church which had been damaged during the war.
The Bianchi collection is housed in Giuseppe's personal museum known as the Abruzzo Museum of the Arts, adjacent to his home in Smithfield. He made his collection accessible to the public during his lifetime, and particularly to school children who come away with an enjoyable understanding of Italian culture.
A model of the leaning tower of Pisa, a model 1919 Fiat pedal car, and a platoon of model artillery soldiers made from plaster casts in his image, were donated to the Fairfield City Museum and Gallery in 1986, by Giuseppe. The model 1919 Fiat pedal car was the first model Giuseppe made, and subsequent cars acquired bigger engines that allowed the cars to be driven at 20 kph. Each of his cars took approximately 6 months to build.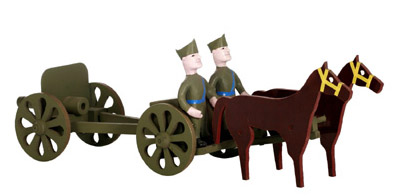 Model of The Artillery, 1990s, wood, plywood & papier mache. Courtesy Fairfield City Museum and Gallery
Giuseppe's passion for recreating village life extended to making five life-size statues of people in costume representing important aspects of village life. They include a carabinieri (policeman); an alpine ranger; an infantry soldier; himself as a World War II artillery soldier; and a reginella di campagna (a village woman carrying a metal jug of water on her head as there was no running water in the village of Manopella when he left).
Two very large wooden male and female festival dolls, which were traditionally associated with May harvest festivities in the Abruzzo region of Italy, take a dominant place in his collection. Dressed in traditional costume, they are hollow inside so that people could dance while holding the frame from inside. When the festival was completed, the dolls were burnt so that the crops would grow well. These particular dolls were used in May celebrations at the Abruzzi Club in Wetherill Park, but burning was never considered an option.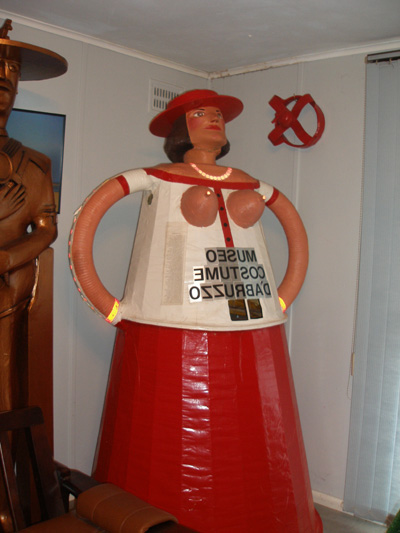 May Festival doll. Collection of the Abruzzo Museum of Arts. Courtesy Fairfield City Museum and Gallery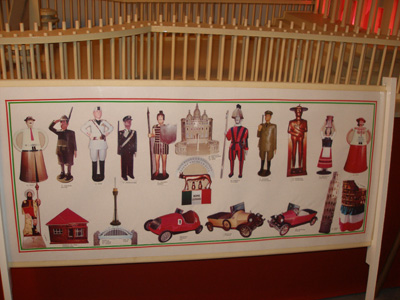 Models made by Giuseppi Bianchi in his personal collection. Courtesy Fairfield City Museum and Gallery
The dolls are historically significant as evidence of migrant folk art transplanted from Italy to the suburbs of Sydney. Guiseppi became involved in Italian cultural events in Fairfield, particularly with the Abruzzi Club when it was operating and made a significant contribution to the maintenance of the memories of Italian life for the older migrants, and for the younger generations born in Australia. He effectively re-established a connectedness with older relatives and their way of life. The replicas of Italian life that Giuseppi Bianchi created will assist visitors to the Fairfield City Museum and Gallery in understanding the hardships, which forced many migrants to leave villages and towns despite the cultural heritage and history they were leaving behind.
The models are aesthetically significant as examples of Italian folk art brought to Australia by Italian migrants. The models of the cars and buildings are scaled replicas, with metal details on the cars such as Fiat emblems and handles being hand cast. Details on the uniforms and costumes, demonstrate aspects of everyday life in Italian villages and amplifies the time that Guiseppe Bianchi dedicated to bringing an awareness of Italian culture to future generations.
The models have interpretive significance. The handmade chitarra (spaghetti maker) is an indicator for visitors of how basic village life was for many migrants who saw migration as a way to make a better life, particularly for their descendants.
The models have well documented provenance. The wooden spaghetti maker was donated to the Fairfield City Museum in 2001 by the late owner, Mr Giuseppe Bianchi from his collection of handmade toys; miniature vintage cars, some with motors; and models of Italian buildings which are housed in The Abruzzo Museum of Arts at his home in Bronsden Street, Smithfield.
---
Footnotes
[1]
Eulogy presented by Anna Canto celebrating the life of her father Giuseppe (Joe) Bianchi, 2008.
[2] Interview with Anna Canto, Giuseppe Bianchi's daughter, Fairfield City Museum & Gallery December, 2008.
---
Bibliography
Culture & Cultivation. Backyards in Fairfield.
Exhibition Catalogue, Fairfield City Museum & Gallery, 8 August – 10 October, 2004. Developed in partnership with the Centre for Cultural Research, University of Western Sydney and the Fairfield City Museum and Gallery.
Gapps, S 2008, Fairfield: evolution of a migrant city. Fairfield City Museum & Gallery.
---
Websites

The Migration Heritage Centre at the Powerhouse Museum is a NSW Government initiative supported by the Community Relations Commission.
www.migrationheritage.nsw.gov.au

Regional Services at the Powerhouse Museum is supported by Movable Heritage, NSW funding from the NSW Ministry for the Arts.

The Fairfield City Museum & Gallery showcases the diverse cultural heritage of Fairfield City with an extensive program of exhibitions and activities catering for the whole community. www.livingmuseum.com.au