Era:
1965 - 1990
Cultural background:
Thai
Collection:
Parramatta
Theme:
Education
Government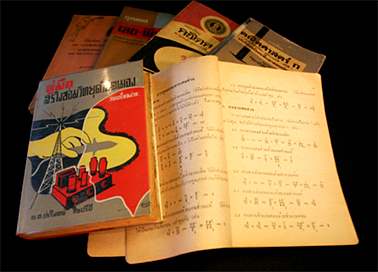 Text books from Thailand. Photograph Ed Giles
Collection
Parramatta Heritage Centre, Parramatta, Australia.
Object Name
Thai Engineering Text Books.
Object/Collection Description
1 Diesel Engines, 2 Trigonometry (workbook), 3 Trigonometry (textbook), 4 Building a radio, 5 Statistics, 6 Mathematics, 7 Adult Mathematics, 9 Maths, 10 Thai grammar. C.1960 – 1970s. Dimensions approximately 120mm high x 197mm wide x 20mm deep.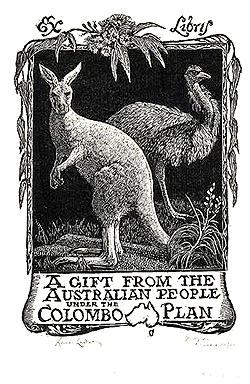 Book plate: Colombo Plan, L. Lindsay, 1954. Courtesy National Library of Australia
After World War II Australia increased its trade and aid to South East Asia. This was largely because the United States and Britain and the Australian government saw this as a means to promote diplomacy and thwart the influence and spread of communist China in the region.
Before World War II most of Australia's trade was with Britain. From the 1950s Australia increased trade with Japan. Japan consumed most of Australia's meat, wool, wheat, sugar, coal and mineral exports. In return, Japan exported cars and electrical goods to Australia. In the 1950s Australia introduced aid to Asia. In 1986 Australia gave aid worth $1026 million. 1
In January 1950, Commonwealth foreign ministers meeting in Colombo, Ceylon, recommended the creation of a scheme under which bilateral aid could flow to developing countries in Southeast Asia. Later dubbed 'the Colombo Plan', this bold initiative brought Asia and the West together at a time of great political and economic uncertainty. By 1954, the seven founding nations of Australia, Canada, Ceylon, India, New Zealand, Pakistan and the United Kingdom had been joined by Burma, Cambodia, Indonesia, Japan, Laos, the Philippines, the United States of America, Vietnam and Thailand.
Six countries supplied aid; Australia, New Zealand, Canada, Britain, Japan, and the United States of America. Approximately 20 developing countries received aid that included Bangladesh, India, Indonesia, Laos, Malaysia, Pakistan and Thailand.
The developed countries provided grants and loans to help the other countries develop their industry and agriculture. They sent experts to teach and advise engineers and public servants. They provided equipment and material to undertake major infrastructure projects. In 1983 Australia gave $59 million in aid to support the Colombo Plan. Students from developing countries were brought to study in developed countries. When they had finished their studies, they returned home to use their skills and knowledge to help develop their own countries and economies. In 1986 there were 35,000 foreign students and trainees whose study and living costs were paid for by the Australian government. 2
For many students their experience in Australia was tainted by racism and discrimination from the Australian public and media attitudes formed from the White Australia Policy. Often students banded together to provide support networks to deal with racism and the language barrier. Many of the Colombo Plan students brought their own text books to help study at Australian universities and colleges. Thai students commonly brought Thai language textbooks to Australia to support their studies here and any work they may do relating to their studies. Education is highly valued in Thai society and the students tried to take full advantage of the opportunities.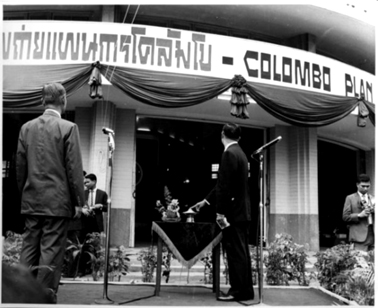 Colombo Plan Exhibition at the Thai Product Display Centre, 1963. Courtesy National Library of Australia
The Colombo Plan occupies a prominent place in the history of Australia's relations with Asia, where it is best remembered for sponsoring thousands of Asian students to study or train in Australian tertiary institutions. Yet, it reached into almost every aspect of foreign policy, from strategic planning and diplomatic initiatives, to economic and cultural engagement. The Colombo Plans was based on the notion that improved living standards would foster political stability and prove a counter to communism in the region. The Colombo Plan reflects the ideas generated by the Department External Affairs in the 1950s and the forceful diplomacy of one of Australia's pre-eminent foreign ministers, Percy Spender.
The text books have historic value as evidence of the changing nature of Australian relations with Asia, Britain and the United States. The Colombo Plan reveals Australia's hope of using the aid program to involve the United States in regional affairs, cultivate diplomatic and commercial relations, assist the rehabilitation of Japan and play a part in the Cold War. The Colombo Plan shows how Australian officials believed that increased personal contact with Asians would temper growing resentment of Australian immigration policy, in particular the infamous White Australia policy.
The text books have social value providing evidence of the thousands of students from Asia and South East Asia who studied in Australia and other developed nations. The text books symbolise Australia's ongoing migration debate, past and present immigration legislation and the treatment of Asian students and migrants by the wider Australian community.
The text books are well provenanced to their owner Plack Sirisatien and the Parramatta Heritage Centre Collection.
The text books represent Cold War politics and concerns of Australia. Australia sought to consolidate relationships in south- east Asia and provide aid and assistance in promoting development as a means to thwart the spread of communism in the Region.
The text books are in good condition with the pages presenting slight foxing.
The interpretive potential of the text books is considerable. The text books display the skills and knowledge Australia provided to Colombo Plan participants and how this provided help to developing nations to build the infrastructure and resources required for a prosperous and functional communities. The text books interpret the attempts by the Australian government to enhance it own influence in the region, temper the views of the region towards Australia's harsh immigration policy and racist reputation and the West's attempt to provide an alternative to the influence of China in the region.
---
Footnotes
1
Coupe, S. & Andrews, M.
Was it only Yesterday? Australia in the Twentieth Century World
, Longman Cheshire, Sydney, 1992. p.170.
2 Ibid p171
---
Bibliography
Coupe, S & Andrews, M 1992,
Was it only Yesterday? Australia in the Twentieth Century World
, Longman Cheshire, Sydney.
Pollock, Z 2006,Pai Nai Ma: Thai- Australian Experiences, Migration Heritage Centre & Parramatta Heritage Centre.
Heritage Office & Dept of Urban Affairs & Planning 1996, Regional Histories of NSW, Sydney.
Heritage Collections Council 2001, Significance: A guide to assessing the significance of cultural heritage objects and collections, Canberra.
---
Websites
www.monash.edu.au/
pubs/monmag/issue8-2001/colombooct2001.html
immigration.museum.vic.gov.au/origins/glossary.aspx?gid=12
---
Written by Stephen Thompson
Migration Heritage Centre
August 2006
Crown copyright 2006©

The Migration Heritage Centre at the Powerhouse Museum is a NSW Government initiative supported by the Community Relations Commission.
www.migrationheritage.nsw.gov.au

Regional Services at the Powerhouse Museum is supported by Movable Heritage, NSW funding from the NSW Ministry for the Arts.