Era:
1965 - 1990
Cultural background:
Vietnamese
Collection:
Australian National Maritime Museum
Theme:
Boats
Refugees
Settlement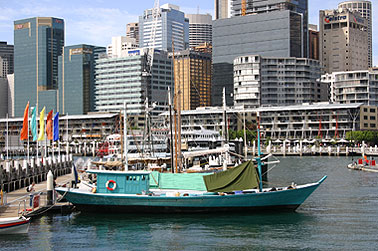 Tu Do c. 2005. Photograph Jeffery Mellefont. Courtesy Australian National Maritime Museum
Collection
Australian National Maritime Museum, Sydney, Australia.
Object Name
Tu Do Fishing Boat.
Object/Collection Description
A wooden fishing boat made in Vietnam by Tan Lu on the island of Phu Quoc in 1975-76 from locally sourced timber specifically for the purpose of escaping Vietnam to Australia. Its name Tu Do (Freedom) reflects this purpose. The Vessel has subsequently used as a fishing vessel in far north Queensland. It was acquired by the Australian National Maritime museum in 1990 and restored and conserved in early 2000. Dimensions: approximately 19.4000mm long x 5200mm wide x 5200mm deep.
Vietnam has been invaded many times. In the nineteenth century it became part of France's empire in South-East Asia. During World War Two, Vietnam was invaded by Japan. Supported by the United States, Vietnamese leader Ho Chi Minh led guerrilla fighters in attacks against the Japanese. In 1945 Japan was defeated and Ho Chi Minh declared Vietnam's independence from France. France did not want to relinquish its colony and sent troops to quell the independence movement. This guerrilla war lasted for almost ten years until Vietnamese guerrillas defeated the French troops at the battle of Dien Bien Phu in 1954.
After the French left, Vietnam was divided into two countries, North and South Vietnam. Ho Chi Minh ruled the north from his capital, Hanoi. Ho Chi Minh's communist government was supported by the Soviet Union and China, while in the south a new government was established in the capital Saigon. President Diem, the leader of South Vietnam was afraid of the increasing power of the north. Raids by North Vietnamese guerrillas along the border exacerbated these fears. Many South Vietnamese supported the north and formed a guerrilla group called the Vietcong. Arms and equipment were sent to the Vietcong from North Vietnam along the Ho Chi Minh trail and the Vietcong worked inside South Vietnam to undermine and defeat the government.
The United States had been sending money, arms and advisors to South Vietnam since 1955. By 1961 there were 10,000 American soldiers in South Vietnam. These advisors were not officially fighting the North Vietnamese and were supposed to be training the South Vietnamese on how to defend themselves. In 1962 Australia also sent equipment and a group of about thirty army instructors to support the United States. In 1965 the United States sent combat troops to fight in Vietnam. Between 1965 and 1970 tens of thousands of American troops were sent to Vietnam. The Australian government started sending troops in 1965 motivated by a desire to support its ally the United States and to stem the spread of communism in Asia.
By 1970 it was clear that the conflict had reached a stalemate. The United States had more troops and better equipment, but many of the South Vietnamese supported the Vietcong and worked with them against the Americans. After long peace talks in France, a cease fire was negotiated in 1973. The American and Australians returned home, but fighting between the North and South continued. In April 1975 North Vietnam soldiers captured Saigon, the capital of the south. South Vietnam surrendered and Vietnam was again united, but under a communist government.
In the late 1970s thousands of Vietnamese fled the new communist regime, escaping the country in small boats. In 1976 the first vessels carrying Vietnamese refugees reached Darwin, Australia. By the end of 1979, 2011 Vietnamese had survived the perilous voyage from Vietnam. Many more died trying. In 1979 Australian immigration officers accepted most refugees remaining in camps in Thailand, Indonesia and Malaysia. Those with relatives in Australia, useful skills and who could speak English were selected, as well as a small number of students and diplomats.
Store owner Tan Lu had fought with the South Vietnamese during the war and believed his family faced a bleak future under the new communist regime. In 1975, he pooled resources with several friends from the island of Phu Quoc and built a boat. To divert suspicion Tu Do (Freedom) was constructed as a dragnet fishing vessel typical of the region.
In September 1977, Tan staged an engine breakdown. A powerful replacement engine was installed and the group of 39 passengers, including Tan's pregnant wife Tuyet and three children Dzung (6), Dao (4) and Mo (2) struggled across the tidal mud flats to the waiting vessel. Tuyet had crushed sleeping pills into her children's food to quieten them and disaster almost stuck when several hours out to sea, they realised Dzung had been left behind. Despite quarrels with his panicked passengers, Tan returned to find her, crying and mosquito bitten in the mangroves.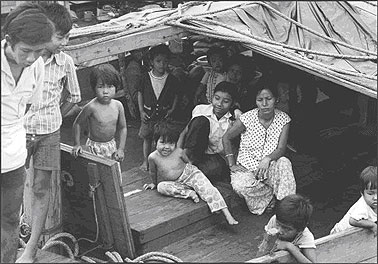 The Lu family on the deck of Tu Do, Darwin, November 1977. Courtesy National Library of Australia
The vessel managed to outpace pirates in the Gulf of Thailand and docked in Mersing, Malaysia where eight exhausted passengers disembarked. Tan had relatives in the United States, but after weeks of wrangling with US Immigration officials, opted to re supply and set sail for Australia. On 21 November 1977, Tu Do finally made landfall in Darwin. Tan and his crew had navigated more than 6,000 kilometres using a map from a school atlas and a simple compass.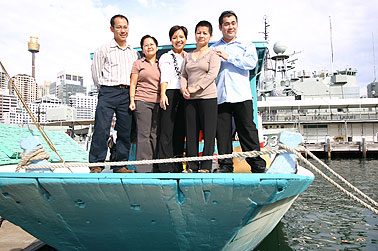 The Lu family on the deck of Tu Do, Sydney, 2005. Photograph Jeffery Mellefont. Courtesy Australian National Maritime Museum
The Australian National Maritime Museum acquired Tu Do in 1990. Working from a passenger list compiled by customs officials, the museum used the Vietnamese media to locate Tan Lu and his family in Lismore, NSW. In 1995 the museum flew Tan and his son Mo to Sydney to inspect Tu Do, advise on its configuration (which had changed little since the boat arrived), and piece together Tu Do's remarkable story. In 1998 museum staff travelled to Vietnam with Tan to locate and purchase replicas of bedding, crockery, toys, life jackets, food and clothing taken on Tu Do in 1977.
Tu Do has historic value as tangible evidence of a key phase of Australia's migration history. These were Australia's first 'boat people' whose arrival and acceptance both reflected the dismantling of the White Australia Policy and encouraged further reforms. While only 2,000 of Australia's 200,000 strong Vietnamese population arrived by boat, escape by sea remains the defining narrative of the Vietnamese experience.
The vessel has significance to the descendants of Vietnamese refugees as a means of understanding their family's migration stories and their homeland's history. Its acquisition by a national institution is a compelling validation of these refugee voyages and experiences.
Tu Do represents a particularly Australian perspective on a global story, one which continues to capture international attention. This story encompasses a range of issues that include social justice, political and religious freedom, the new Australia and its place in the global village and in particular its relationship with Asia. The vessel can be used to explore the experiences of all those who have taken great risks to escape oppression, and in particular those who embarked on the perilous sea voyages as boat people in the aftermath of the Vietnam War.
Historically, Australian migration policy has always responded to a fear of 'the boat' whether it carried Chinese diggers heading for the gold fields, South Sea Islanders recruited for the cane fields, or refugees from Indochina. Tu Do is significant as a symbolic hook for dissecting past and present immigration debates. By locating the vessel's passengers, it also helps humanise and amplify the experience of all asylum seekers.
Tu Do is well provenanced from its construction by Tan Lu on the island of Phu Quoc in 1975-76 to its acquisition by the ANMM in 1990. The vessel is the most thoroughly documented and researched refugee boat held in an Australian public collection. It is remarkably well preserved for a wooden vessel of its age and is currently being restored by museum shipwrights to its appearance when it docked in Darwin in 1977. When completed, it will be the only fully functioning refugee boat displayed on water in an Australian institution.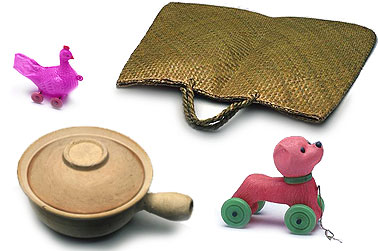 Objects from Tu Do. Photograph Andrew Frollows. Courtesy Australian National Maritime Museum
The interpretive potential of Tu Do is substantial. The story of the voyage and the Lu family as been explored in a number of museum exhibitions including Tears, Fears and Cheers an exhibition on migration to Australia, Smugglers: Contraband and Customs 1901 -2001 exhibition on the centenary of the Australian Customs Service, and Voyage from Vietnam in the core Passengers gallery. Currently a display on Children's Journeys profiles the experience of the Dzung and Dao Lu using original objects from the vessel, replica provisions, photographs, and interviews with the family. Tu Do has been fitted out with props and opens for guided inspections during International Refugee Day, Refugee Week, and Industrial heritage week. Future plans for the vessel include installing weather proof monitors on the wharf so visitors can listen to oral histories with the Lu family, track their voyage from Vietnam, and embark on a virtual tour of the vessel.
---
Bibliography
Broese, F 1998,
Island Nation: Australia's Maritime Heritage
, Sydney,.
Coupe, S & Andrews, M 1992, Was it only Yesterday? Australia in the Twentieth Century World, Longman Cheshire, Sydney.
Lawton, L 2006, A refugee boat called freedom: Crossing borders and linking communities at the Australian National Maritime Museum, Museums Australia Exploring Dynamics Conference papers, Brisbane.
Heritage Office & Dept of Urban Affairs & Planning 1996, Regional Histories of NSW, Sydney.
Heritage Collections Council 2001, Significance: A guide to assessing the significance of cultural heritage objects and collections, Canberra.
---
Websites
www.museumsaustralia.org.au/dbdoc/
Conf%2006%20Lawton%20Concurrent.pdf
www.northernstar.com.au/localnews/
storydisplay.cfm?storyid=3693624&thesection=
localnews&thesubsection=&thesecondsubsection
www.anmm.gov.au/inwater.htm#tudo
---
Written by Stephen Thompson
Migration Heritage Centre
August 2006
Edited by Lindl Lawton
Australian National Maritime Museum
August 2006
Crown copyright 2006©

The Migration Heritage Centre at the Powerhouse Museum is a NSW Government initiative supported by the Community Relations Commission.
www.migrationheritage.nsw.gov.au

Regional Services at the Powerhouse Museum is supported by Movable Heritage, NSW funding from the NSW Ministry for the Arts.

The Australian National Maritime Museum is a Statutory Authority of the Commonwealth of Australia.
www.anmm.gov.au