Era:
1965 - 1990
Cultural background: Dutch, English
Collection:
Powerhouse Museum
Theme:
Clothing
Music
Pop culture
Settlement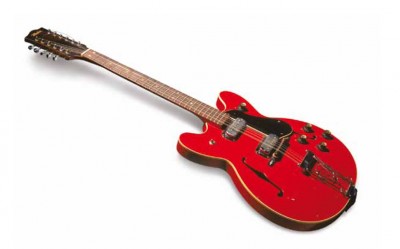 Harry Vanda's Maton 12 string guitar. Courtesy of the Powerhouse Museum
Collection
Powerhouse Museum, Sydney, Australia.
Object Name
Maton 12 String Electric Guitar.
Object/Collection Description
Guitar, semi-acoustic, 12 string, with case, 'Easybeats', wood/ metal/ plastic/ mother-of-pearl/ cardboard/ cloth, Maton Guitars Pty Ltd, Australia, 1964-1966 (-1) Semi-acoustic guitar with two 'f' holes and two pick-ups, red body and black neck. 'Maton' in gold lettering on black headstock. Metal tailpiece in the shape of a stylised 'M' for 'Maton'. Three volume knobs, two treble knobs, one toggle switch with three positions. Black plastic scratchplate. Adjustable [ebony] bridge with mother-of-pearl inlay on bridge feet. Reinforced neck attached to body with four screws. Scratches on the back from the player's belt buckle. Some of the finish has come off the back in small patches. One of the two top E strings is broken. This is a semi-acoustic electric guitar in a style similar to the Gibson ES-335. (-2) Guitar case in plywood covered in yellow and black fabric in a pattern of small checks. Fastened with four metal buckles, one broken and one lockable. The interior is lined with green felt with removable foam supports.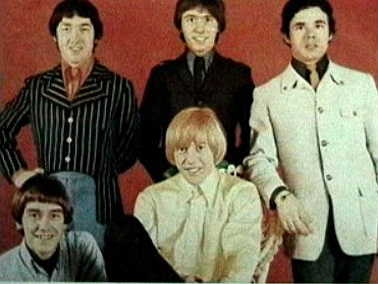 The Easybeats c.1960s, Harry Vanda centre. Courtesy of the Powerhouse Museum
Harry Vanda was vocalist, guitarist and co-songwriter – along with George Young (brother to Angus and Malcolm Young of AC/DC) – with the Easybeats, from 1964 to 1969. The Easybeats are widely regarded as Australia's greatest pop group in the mid 1960s. The Easybeats had their beginnings in the rough environment of Sydney's Villawood Migrant Hostel, where George Young and Harry Vanda were living in 1964. Like so many Australian musicians of the 1960s, the Easybeats were immigrants. All five members had come to Australia with their families – Harry Vanda and Dick Diamonde from Holland, Snowy Fleet and Stevie Wright from England and George Young from Scotland. While the Beatles were touring Australia, the Easybeats were learning their craft playing suburban town-hall dances. Soon they were doing shows at bohemian city venues like Beatle Village, the Bowl, the Beach House and Surf City. Unlike many other bands, who were content to just play covers of English and American hits, the Easybeats took to writing their own songs as well. Prominent music publisher Ted Albert was alert to the emerging beat boom and keen to try his hand at producing. Seeing their enormous potential as songwriters and recording artists, he promptly signed them up.
In March 1965 the Easybeats' first single, 'For My Woman', was released on Parlophone. Desperate to get airplay, the band members took the record around to Sydney's radio stations themselves. They were met largely with indifference, but somehow succeeded in getting sufficient radio exposure for the record to slip into the charts. Their next single was so good that the disc jockeys simply could not ignore it. 'She's So Fine', complete with Stevie's blood-curdling scream at the start, raced to No 1. Suddenly the Easybeats were a sensation. They visited Melbourne, which was rapidly becoming the pop capital of Australia, to play the flourishing dance circuit and there they made a television appearance on The Go!! Show. When 'She's So Fine' became a national No 1 hit, disc jockeys dusted off the Easybeats' first single, 'For My Woman', and it re-entered the charts.
The early success of the Easybeats spearheaded a significant change in direction for Australian music.1
This was a step beyond the Bandstand style of rock 'n' roll that had reflected the easing off in wild music that had been evident in America during the early sixties. Where Johnny O'Keefe had paved a path for Australian music, following Bill Haley and Elvis, the Easybeats were now poised to do the same after the Beatles.
An amazing series of hits followed. Between the release of 'She's So Fine' in June 1965 and 'Sorry' in November 1966, the Easybeats had seven hit singles (including 'Wedding Ring', 'Come and See Her' and 'Women') and a chart-topping EP. In hindsight, the quality of the songs composed by George Young, in partnership at first with Stevie Wright and then with Harry Vanda, compares favourably to any material from overseas that was charting at the time. Australia was in the grip of 'Easyfever' – charmed by the original songs and fresh sound of its premier pop group. Just like Normie Rowe, whose rise to stardom coincided with that of the Easybeats, their appearances were met with scenes of teenage hysteria.
Having conquered Australia, the Easybeats set their sights on England. They arrived in mid 1966, a group of unknowns in the middle of 'swinging London' in its heyday. It was there that they cut their classic working-class anthem 'Friday On My Mind'. Recorded with American producer Shel Talmy, the song stood out as a rock 'n' roll gem, in spite of much stiff competition. A massive No 1 hit in Australia, it went to No 6 in England, thanks to persistent airplay on pirate radio stations. The song established the band as a credible force on the fashionable London circuit and went on to chart strongly in Europe and America, where it reached No 16. After supporting the Rolling Stones on a European tour, the band returned to Australia in May 1967. Hailed as victorious heroes, their triumphant tour of Australia was later described by George Young as 'probably the high point of the group's career'.
From this point on, problems began to arise. Drummer Snowy Fleet departed and was replaced by ex-Purple Heart Tony Cahill, just before the Easybeats embarked on an American tour with Gene Pitney. Being signed to different labels in different countries caused messy contractual wrangles which prevented the release of the second album they recorded in England. The much needed successful follow-up to 'Friday On My Mind' eluded them. In an absurd twist, American radio stations banned 'Heaven And Hell' (a big hit in Australia), because of alleged blasphemy and immorality in its lyrics. Rather than sticking to the 'Friday On My Mind' formula, 1968 saw them experimenting with a confusing variety of styles and sounds, from ska ('The Music Goes Round My Head') to ballads ('Hello How Are You') to psychedelia ('Land Of Make Believe') to hard rock 'n' roll ('Good Times').
Then the band began to self-destruct. Lack of income, disputes with management and drugs took their toll. Harry and George were spending more time in the studio writing and recording demos. Gigs became less frequent, and by 1969 the band was hardly performing at all. The excellent 'St Louis' was the last thing the Easybeats recorded. They returned to Australia in September 1969 for a lacklustre tour, playing brash hard rock when flowery 'progressive' music was all the rage. Ironically, they went their separate ways just as 'St Louis' was entering the American charts. Harry Vanda and George Young went on to become Australia's most successful team of producer-songwriters and were the creative force behind Albert Productions' enormous contribution to Australian music in the 1970s and beyond. As Flash & the Pan they had a number of hits including 'Hey St Peter'. They wrote and produced Stevie Wright's solo work (including his 1974 opus 'Evie') as well as a stack of hits for John Paul Young. When George's younger brothers Angus and Malcolm formed AC/DC, it was Vanda and Young who guided their early career. By showing Australians that they could create world-class pop records and gain overseas recognition, the Easybeats paved the way for AC/DC, the Little River Band and the other international success stories that were to come.2
The guitar has historic significance as Harry Vanda played this guitar with the Easybeats during their heyday. Widely regarded as Australia's greatest pop group in the mid 1960s, the Easybeats had their beginnings in the rough environment of Sydney's Villawood Migrant Hostel. In 1966 the band went to England where they recorded their classic working-class anthem 'Friday On My Mind'. A massive No 1 hit at home, it charted in England and America as well, showing Australians that they could create world-class pop records and gain overseas recognition. The Easybeats disbanded in 1969 but Harry Vanda and George Young went on to become Australia's most successful team of producers and songwriters.
The guitar has aesthetic significance. Maton is Australia's longest running and most successful guitar manufacturer, Maton pioneered the use of Australian wood species in guitar construction. The creator of the Maton guitar company, Bill May, is regarded by Australian luthiers as the 'founding father' of their industry.
The guitar has intangible significance as an object that symbolises a watershed for a generation of Australians from various economic and cultural backgrounds. The 1960s was a decade of change – culturally, politically and economically.
The guitar is well provenanced to Harry Vanda and the Easybeats.
The guitar represents a time when migrants were importing cultural baggage with them to Australia. These influences created a distinctive Australian, but also international sound. The guitar represents the Australian internationalisation of both popular culture and guitar design and manufacture.
The interpretive potential of the guitar is considerable. The guitar is a symbol of youth subculture and Australian rock music.
---
Footnotes
1
Bernie Howitt has written
(Rock through history
, Longman, 1994, p. 139):
2 Cox, P 1998, Real Wild Child CD-ROM, Powerhouse Museum Publishing, Sydney.
---
Bibliography
Coupe, S & Andrews, M 1992,
Was it only Yesterday? Australia in the Twentieth Century World
, Longman Cheshire, Sydney.
Cox, P 1998, Real Wild Child CD-ROM, Powerhouse Museum Publishing, Sydney.
Heritage Office & Dept of Urban Affairs & Planning 1996, Regional Histories of NSW, Sydney.
Heritage Collections Council 2001, Significance: A guide to assessing the significance of cultural heritage objects and collections, Canberra.
---
Websites

The Migration Heritage Centre at the Powerhouse Museum is a NSW Government initiative supported by the Community Relations Commission.
www.migrationheritage.nsw.gov.au

Regional Services at the Powerhouse Museum is supported by Movable Heritage, NSW funding from the NSW Ministry for the Arts.