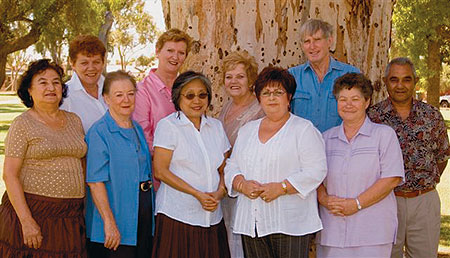 Broken Hill Migrant Heritage Committee Inc
The Broken Hill Migrant Heritage Committee Inc present Sharing the Lode
Sharing The Lode is a celebration of the lives of people from non-English speaking backgrounds who have made Broken Hill their home since 1883. Seventy migrants from eleven nationalities shared their stories to make this exhibition a reality.
Share memories of their homeland, the reasons for migration, the journey, their first impressions of a contrasting land, employment opportunities, and hardships faced and overcome.
Join them as they retrace their life's journey of hope, courage, success and subsequent satisfaction in becoming cornerstones of the Broken Hill community.
The journey will tug at your emotions - a little smile, a tear. You will leave feeling like a friend to all the people who came from non-English speaking backgrounds and made Broken Hill their home.
This Broken Hill Migrant Heritage Committee Inc online exhibition was developed with assistance from the NSW Migration Heritage Centre, Powerhouse Museum and Community Relations Commission. It features excerpts from the permanent exhibition Sharing the Lode at the Migrant Museum, Sulphide Street, Broken Hill, New South Wales.
See the full version at Broken Hill Migrant Museum or download a PDFs of the exhibition panels here:



Sharing the Lode: pages 1-6 (1.5Mb)



Sharing the Lode: pages 7-13 (2.6Mb)



Sharing the Lode: pages 14-20 (3.8Mb)


Migrants Honoured in Broken Hill
read about the exhibition launch »

click to enlarge »
My parents and friends from Blato met me at the airport. It was the first time I had seen my father for twenty six years. - Ante Zaknich

click to enlarge »
Larry was a miner at the Zinc Corporation for over thirty two years. He and his sons accumulated over one hundred and seventy years service...