Era:
1840 - 1900
Cultural background:
German
Collection:
Riverina
Theme:
Agriculture
Blacksmiths
Folk Art
Settlement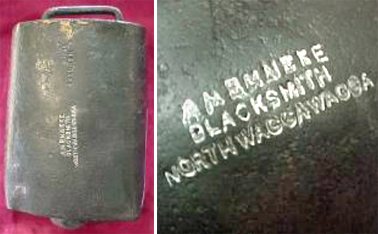 'Menneke' Bell – bullock bell, c.1860. Courtesy Museum of the Riverina
Collection
Museum of the Riverina, Wagga Wagga, Australia.
Object Name
'Menneke' Bullock Bell.
Object Description
Many German migrants living in South Australia and Victoria moved to the Riverina after the1861 Robertson Land Act provided for the selection of land for £1 per acre. In 1858, the town of Holbrook was locally known as 'the Germans' and officially changed to 'Germantown' in 1876. Communities in the Riverina grew and prospered in the late 19th and early 20th centuries with the success of the wool and agricultural industries. Jindera, Walla Walla, Gerogery, Milbrulong, Henty and Trungley Hall also maintained Germanic populations, along with the townships of Jindera, Walla Walla and Henty.
The bell was made by August Augustus Menneke who was born in 1838 in Bakenem, Germany. He immigrated to Australia, arriving in New South Wales in about 1858. Immediately after serving an apprenticeship in the blacksmithing trade, he established his own business in North Wagga, next to the Black Swan Hotel in approximately 1867.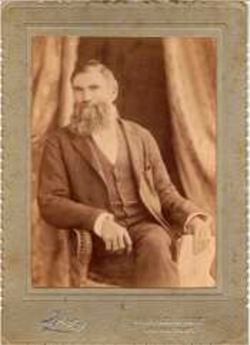 August Menneke. Courtesy Museum of the Riverina
August married an Irish woman, Maria Mary. Together they had three sons – Frederick, Bill and Albert – who all helped him in his blacksmith shop.
Bill also became a famous bell maker, his best feat being the making of a bell from a piece of crosscut saw.
August remained in North Wagga for several years. By the 1870s, he had won fame, particularly for the goods he manufactured for bullock drivers. He had a perfect ear for the sound of a bell, and his bells had a clear tenor quality, which could be heard miles away. These bells were used on a leader in a bullock team or on other stock so they could be easily located.
According to legend, a test was carried out on top of Mt. Kosciusko to find the best bell maker in Australia. The two rivals were August Menneke and Anthony Mongan of Albury. Menneke won when his bell could be heard ten miles away.
Until the 1860s most pastoralists in the Wagga region transported their wool by bullock train to Sydney. Later, many sent their wool by steamer down the Murray to South Australia and then by train to Melbourne. When the railway line was extended to Wagga in 1880, the heyday of the bullock team was over.

A bullock team on Fitzmaurice Street, Wagga, c.1860s. Courtesy Museum of the Riverina
The Menneke bell was nicknamed "The Wagga Pot" by bullock drivers. The bell was made in North Wagga and relates to a time when the village was an important stopover for potential selectors, coaches and bullock trains. The item also relates to a time when Wagga was a frontier society.
August Menneke died on 11 May 1904 aged 66, and is buried in the Wagga cemetery. August Menneke has been honoured in recent times with the naming of Menneke Park, which is bordered by Pugsley Avenue and Gunn Drive in Estella (1992). The request to name a park or street in Estella was made by the Kiwi and Kangaroo Bell Club of Beverley Hills, New South Wales. Menneke is still remembered throughout Wagga as one of the finest blacksmiths and legendary bell-maker.
Menneke arrived in Wagga just before the increase in horses and the improvement in roads during the 1870s which led to an explosion in demand. By the 1920s, most of the blacksmiths in Wagga, along with saddlers and coachbuilders, had been replaced by motor garages. One of the last to go was Harry Hand's smithy opposite Huthwaite's Department Store on Baylis Street, which was demolished during the 1930s to make way for Geale's Hardware.
The Menneke bell is historically significant as a rare known surviving example of August Menneke's work and a rare provenanced example of farm manufacture by a blacksmith in the Riverina.
The bell has aesthetic significance as a good example of cattle and horse bells which were once used extensively throughout the Australian countryside. Its famous peal (which cannot be heard due to the bell's age and condition) is evidence of August Menneke's blacksmithing skill and the broader history of manufacturing in the Riverina.
The Menneke bell provides a research tool as an object associated with German migrant August Augustus Menneke and the nineteenth century history of German migration and settlement in the Riverina.
The bell has intangible significance as it is a locally celebrated but otherwise not well known part of Australian folklore and is featured in a poem by Dame Mary Gilmour and in a written work by Allan Marshall. Its place in local folklore is evidence of the success of migrants in establishing businesses and becoming part of Australian rural community life.
The Riverina community is proud of the bell's history and values its association with local blacksmithing and Australian folklore.
The Menneke bell is reasonably well provenanced. It was donated to the Wagga Wagga & District Historical Society in April 1970 by Fred Menneke, grandson of August and son of Bill. The donation appears to have been facilitated by WW&DHS member A.H. Seccombe. Fred acquired this bell after The Daily Advertiser ran his story regarding the search for an original Menneke bell. It was found by a shearer in a shed in the Holbrook region. Unfortunately there is no further information pertaining to this particular bell, such as who used it and how.
The Bell is rare. People throughout the district (and even throughout Australia) possibly hold Menneke bells in their possession. They are however, rare in museum collections. Although this particular Menneke bell is not well documented, it is rare as a surviving example of August Menneke's work.
The condition of the bell is sound, and intact. The bell shows no special features and is in good condition for its type. Importantly however, it does display two stamps, plus the trademark initials 'AM', which identify it as an original Menneke bell. The famous tenor quality of Menneke's bells is not longer present in this example (possibly due to the small crack in the casing).
The Menneke bell has interpretive potential. It is currently featured in a display as part of the permanent collections of the Botanic Gardens Site. It is included with various artefacts, which portray fragments of Wagga history (for example; a brass fireman's helmet and a baton presented to Wagga Citizens Band conductor Mr. Homann). The bell will also be featured in the upcoming BGS exhibition 'Made in Wagga'. The Menneke bell could be included in numerous displays, incorporating the themes of local legends, local manufacturers, blacksmithing, transport and famous residents.
---
Bibliography
Collins, T 1903,
Such is Life
, Australia.
Fearn-Wannan W. Australian Folklore, – mentions bells made by other blacksmiths, including Marshall, A. Alan Marshall Talking, article titled "Bells of the Bush, " regarding the Mt. Kosciusko bell test.
Heritage Office & Dept of Urban Affairs & Planning 1996, Regional Histories of NSW, Sydney.
Heritage Collections Council 2001, Significance: A guide to assessing the significance of cultural heritage objects and collections, Canberra.
Morris, S 1996, Wagga Wagga Industries: The First Eighty Years, 1846 – 1926, Journal of the Wagga Wagga and District Historical Society Inc, No. 9.
Morris, S 1980, We Shall Not Be Moved: A History of North Wagga and its School 1880 – 1980.
---
Written by Michelle Maddison
Museum of the Riverina
November 2002
Edited by Stephen Thompson
Migration Heritage Centre
March 2006 – updated 2011
Crown copyright 2006©

The Migration Heritage Centre at the Powerhouse Museum is a NSW Government initiative supported by the Community Relations Commission.
www.migrationheritage.nsw.gov.au

Regional Services at the Powerhouse Museum is supported by Movable Heritage, NSW funding from the NSW Ministry for the Arts.

The Museum of the Riverina is supported by the City of Wagga Wagga and the NSW Ministry for the Arts.
www.arts.nsw.gov.au