Era:
1918 - 1939
Cultural background:
Italian
Collection:
Griffith Italian Museum
Theme:
Clothing
Folk Art
Settlement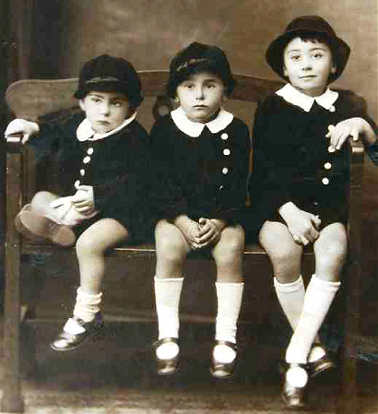 The Pastega boys dressed in Luigia's home made suits, 1928. Courtesy Griffith Italian Museum.
Collection
Griffith Italian Museum: Pioneer Park Collection, Griffith, Australia.
Object Name
A Collection of complete sets of boys' clothing outfits made by Mrs Luigia (Gina) Pastega (nee Cossalter) for her sons, Ori (b.1922), Roy (b.1924) and Leo (b.1926), in the styles popular in villages of Treviso Province in the early twentieth century.
Object/Collection Description
1. Sets of parts of three boys' sailor suites: 3 x hats, 5 x pants, 3 x triangular collars, 3 x squared collars, 3 x tops and 4 x belts.
2. Two hats: Small boys fine silk hat, padded with calico lined. Small boy's fine lawn, very worn, calico lined.
3. Two hats: Boys brown felt hats, fine band in stripes of white, gold, red and brown.
4. Boy's suit: cream silk shirt with matching short pants with pearl buttons for braces.
5. Toddler boy's suit: apricot fuji silk with short sleeved shirt and elastic waist short pants.
6. Photograph: sepia coloured studio photograph of the three Pastega boys all wearing identical black suits with white buttons, collars, socks and hats.
7. Four boy's suit sets: Black velvet boys two piece suits with velvet pants.
8. Two coats: Charcoal grey herringbone tweed overcoats, double breasted, fully lined with cotton sateen.
9. Assortment of other children's clothing and textile crafts made or kept by Luigia Pastega.
The boy's outfits are stored in the textiles room at Pioneer Park Museum. Other assorted items are displayed at the Griffith Italian Museum as listed below:
1. Girl's dress. Girl's cotton dress embroidered by Luigia Pastega c1920s.
2. Boy's suit jacket Boy's velvet suit jacket made in Griffith by Luigia Pastega. Worn by Luigia's sons 1928- 30s.
3. Romper suit. Child's cotton and crepe play suit made by Luigia Pastega c1920s.
4. Infant's jacket. Cotton infant's jacket handmade in Italy for Angelo Pastega, with the name 'Angelo' embroidered in fine red cross stitch, c 1891.
5. Bibs. Cotton and lace infants' bibs sewn in Griffith by Luigia Pastega c1920s.
6. Children's socks. Cotton socks hand-knitted in Griffith by Luigia Pastega c1930s.
7. Jug covers. Linen covers decorated with beads, crocheted by Luigia Pastega. Used to keep dust and insects out of milk jugs.
Luigia Pastega (nee Cossalter) was born in August 1898 in Possagno, Treviso, Luigia spent her early years developing skills as a seamstress which were to become invaluable in later life. Intent on marrying her absent sweetheart, Angelo Pastega, Luigia immigrated to Australia with her friends, Pasqua Rostirolla and Justina Cunial.
She arrived in Melbourne on the 6th January 1921. The following day, Luigia and Angelo, together with Pasqua and Angelo's friend, Antonio Ceccato, were married in a double ceremony.
Angelo promptly bought Luigia to the isolated outpost of Griffith where the newlyweds spent a few months living on the Manera's farm before occupying a ramshackle hessian bag hut on the Gulielmini property.
In 1922 the Pastegas acquired their own farm at West End. When Luigia and Angelo had three sons, Ori, Roy and Leo, between 1922- 26, Luigia called upon her sewing talents, outfitting her boys, as well as some of the local residents, in exquisite handmade clothing. Luigia passed away in 1991 aged 93 but her wonderful garments live on.
This collection is of historic significance as a transfer of habits of dress from the Italian village to Australia.
This collection of clothing is of moderate to high aesthetic value. This collection has high research significance for the history of clothing fashion in Australia. The collection has potential for oral history research with family descendants as a primary source.
This collection of items is an example of a craft brought to Australia from Italy by Italian women. It is significant to Italian women as evidence of a cottage industry, once prominent in the Veneto, passed down from mother to daughter. The collection is also evidence of the high level of skill. The preservation of these clothing items long after they had outlived their utilitarian value is evidence of the high symbolic and emotional value placed on them by their maker.
The history and provenance of these clothing items is well established. The provenance includes photographs of the Pastega boys as children, wearing some of the clothing sets now in the Museum collection.
This collection is a good sample of work of a cottage craft.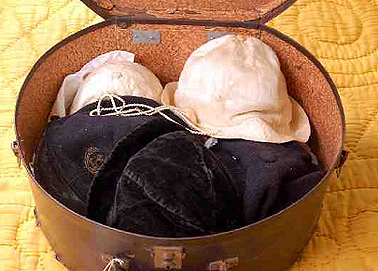 Collection of the boy's hats made by Luigia Pastega. Photograph Peter Kabaila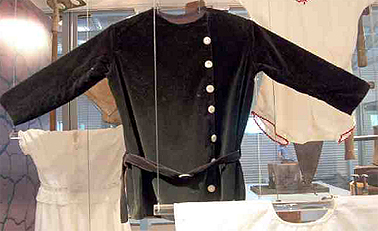 Black velvet boy's suit featured in 1920 photograph. Photograph Peter Kabaila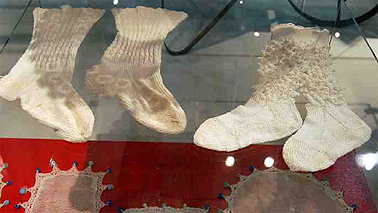 Assortment of Luigia's handmade textile crafts. Display at the Griffith Italian Museum in 2008. Photograph Peter Kabaila
The Pastega collection of children's clothing is highly rare. The remarkable thing about these clothing items is that they were kept by Mrs Pastega for so many years. Most old clothing, particularly the hand-made and hand-repaired items were thrown away. The boys were sent to Australian school in these distinctively Italian clothes. The boys endured the heat of summer in Griffith, and presumably survived the taunts of their school mates, wearing European dress that was designed for a colder climate and for more formal clothing fashions.
These clothing items have been kept in good condition. Slight wear on them shows evidence of use.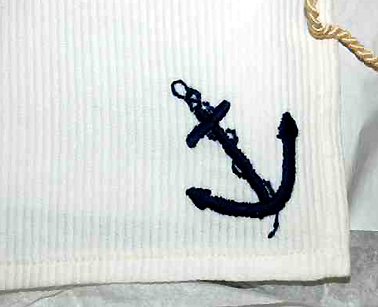 Embroidery detail of boy's sailor suit. Photograph Peter Kabaila
This collection has interpretive potential as an example early twentieth century clothing fashion transported from Italy. It is also of interpretive potential as an example of a female trade. 
---
Bibliography
Cornwall, J. 2007,
Fruits of Our Labour. The history of Griffith's Italian Community.
Griffith City Council.
Kabaila, P. 2005, Griffith Heritage. Pirion Publishing, Canberra (p. 148).
Heritage Office & Dept of Urban Affairs & Planning 1996, Regional Histories of NSW, Sydney.
Heritage Collections Council 2001, Significance: A guide to assessing the significance of cultural heritage objects and collections, Canberra.
Oliver, Robyn, "Family's Donation to Pioneer Park", Area News, December 1991.
Oliver, Robyn, "Historical photo exhibition to show Griffith's early days to Italy",
Area News, June 1996.
---
Websites
www.griffith.nsw.gov.au/Page/Page.asp?Page_Id=143
www.griffith.nsw.gov.au/Page/page.asp?page_Id=142
---
Written by Peter Kabaila
March 2008
Edited by Stephen Thompson
Migration Heritage Centre
March 2008 – updated 2011
Crown Copyright 2008©

The Migration Heritage Centre at the Powerhouse Museum is a NSW Government initiative supported by the Community Relations Commission.
www.migrationheritage.nsw.gov.au

Regional Services at the Powerhouse Museum is supported by Movable Heritage, NSW funding from the NSW Ministry for the Arts.

Griffith Italian Museum & Griffith Pioneer Museum are managed by Griffith City Council.
www.griffith.nsw.gov.au