Era:
1840 - 1900
Cultural background:
English
Collection:
Liverpool
Theme:
Agriculture
Blacksmiths
Economics
Environment
Folk Art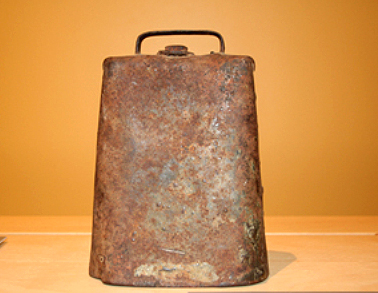 Cow Bell, c.1880 – 1890s, Courtesy Liverpool Regional Museum
Collection
Liverpool Regional Museum, Liverpool, Australia.
Object Name
Cow bell.
Object/Collection Description
Farm cow bell. Late 19th Century. Made from wrought iron. Good condition with surface corrosion. Dimensions: approximately 220mm long x 170mm wide x 140mm deep.
Between 1789 and 1791, the settlers at Sydney Cove were critically short of food. Farms, established with convict labour at Rose Hill (Parramatta) and later at Richmond and Windsor, were soon producing crops. Explorers set out to find new land and areas were opened up in the Liverpool area for market gardens, viticulture and sheep grazing for wool. These farms and pastures all depended on an abundant source of free convict labour to survive. Convicts were assigned to farmers under strict conditions known as 'Assignment' or the 'Government System'.
Liverpool was the first of many towns founded by Governor Macquarie in 1810. He wanted to move the colony's main food-growing region away from the flood-prone Hawkesbury area. He reserved 60-100 acre parcels of the rich soil of Airds and Appin for small farmers. The rest of the land was given out in several hundred acre lots to wealthy former soldiers and public servants.
The traditional owners of the Liverpool area were the Darug people of western Sydney. The rich soil of the area was home to an abundance of plants which in turn attracted animals such as kangaroos and emus, both of which along with yams and other native vegetables and fruit were part of the diet of the Darug people. They lived in small huts called gunyahs, made spears, tomahawks and boomerangs for hunting and had an elaborate system of tribal law and rituals with its origins in the Dreamtime. However, following the arrival of the First Fleet in 1788, they were pushed off their land by the British settlers.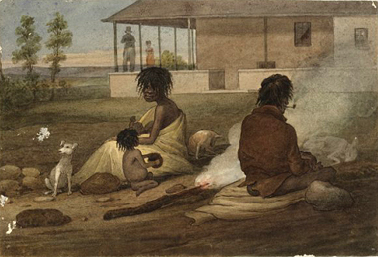 Aboriginal people camping at Glenfield House c.1826. Courtesy National Library of Australia
Fortunes were to be made from wool and wheat grown on big properties from selling wool to England and sheep and cattle to local markets for meat. But by 1840 Liverpool's graziers had moved in search of even more profits, to bigger properties beyond the Cumberland Plain.
During the second half of the nineteenth century Liverpool's agriculture was changing from a mixture of cattle, sheep and crops, to dairy farming and the cultivation of fruit and vegetables.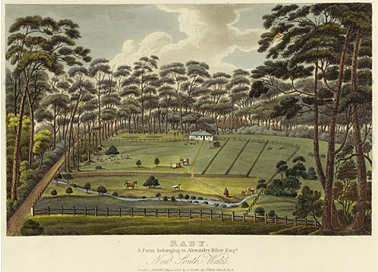 Alexander Riley's farm 'Raby' near Liverpool c.1826. Courtesy National Library of Australia
Many of the families who took up the small allotments are descended from Robert Taylor, a small farmer at Luddenham, and Edward Braithwaite, transported in 1824 for larceny and assigned to John Blaxland and then to the Male Orphan School. They were typical smallholders in the Exeter farms and Kemp's Creek areas. They leased blocks for mixed cropping and dairying, and supplemented the farm income with a trade. These included carting, shoemaking, coach building and stints at the local brick pits. Eventually they were able to buy their own land. Edward Braithwaite also owned a shoemaking business in Macquarie Street that was run by his wife Mary and later by his daughters. Robert Taylor organised the local farmers to build Luddenham Church. They used stone they collected off their land bound with local clay.
In the 1880s many of the small allotments that remained undeveloped were in the hands of the owners of the surrounding huge estates of Greendale, Horningsea Park, Bernera, Raby, Birling, Cecil Hills, Hinchinbrook and the Retreat. Many small farmers leased portions of them for dairying, fruit growing and wood cutting. There were four dairies within the area in 1911 and Alice Meehan and Mrs E. White were the milk vendors1.
In the early 1890s Australia experienced a severe drought far worse than any before. Australia's wool and wheat industry virtually collapsed. Local markets and industries were severely affected with many people out of work and large numbers of men wandering the NSW countryside seeking itinerant work. As a result less crops and fruit were grown on a large scale. By the 1890s many of the larger estates established early in the century, had been subdivided into smaller holdings for market farming and dairy farming. Several Italian families were living in Liverpool in 1891 and over the next decade more Italians took up these small allotments and grew fruit.
The bell is historically significant as evidence of the changing agricultural practices in the Liverpool area after 1850. It is also a rare example of farm manufacture by a blacksmith in the Liverpool area.
The bell has aesthetic significance as a good example of cattle and horse bells which were once used extensively throughout the Australian countryside.
The bell is provenanced to the Liverpool area and was acquired by the Liverpool Regional Museum in the 1990s.
The bell is not rare. Cattle bells are well represented in public collection through out NSW.
The condition of the bell is sound, and intact. The bell shows no special features and is in good condition for its type.
The bell interprets the 2nd phase of colonial development in the Liverpool area in the late nineteenth century and the evolution of land use functions from grazing and wheat for export to dairy, orchards and market gardens to feed Sydney. It is currently featured in Stories of Liverpool 1788 – 1900 exhibition.

---
Footnotes
1
Keating, C
On the Frontier: A Social History of Liverpool
, 1996: pp.125- 145.
---
Bibliography
Broese, F 1998,
Island Nation: Australia's Maritime Heritage
, Sydney.
Coupe, S & Andrews, M 1992 Their Ghosts may be heard: Australia to 1900, Longman Cheshire, Sydney.
Hughes, R 1987,  Fatal Shore, London.
Keating, C 1996, On the Frontier: A Social History of Liverpool.
Macleod, V 2007, Memories + Fragments + Objects An alternate narrative Liverpool Migration History Project (Stage 1), Casula Powerhouse: Liverpool.
Stories of Liverpool: 1788 – 1900 exhibition labels
Heritage Office & Dept of Urban Affairs & Planning 1996, Regional Histories of NSW, Sydney.
Heritage Collections Council 2001, Significance: A guide to assessing the significance of cultural heritage objects and collections, Canberra.
---

The Migration Heritage Centre at the Powerhouse Museum is a NSW Government initiative supported by the Community Relations Commission.
www.migrationheritage.nsw.gov.au

Regional Services at the Powerhouse Museum is supported by Movable Heritage, NSW funding from the NSW Ministry for the Arts.

Liverpool Regional Museum is managed by Casula Powerhouse.
www.casulapowerhouse.com