Era:
1918 - 1939
Cultural background:
German
Collection:
Fairfield City Museum and Gallery
Theme:
Blacksmiths
Economics
Labour Movement
Settlement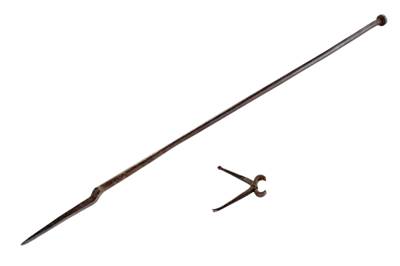 Crowbar and farriers pincers c.1930s. Courtesy Fairfield City Museum and Gallery
Collection
Fairfield City Museum and Gallery, Fairfield, Australia.
Object name
Farriers Pincers & Forged Iron Crowbar.
Object description
Farriers pincers, steel, with rounded jaws, one handle has a clawed end and the other has a knob end. These particular pincers would have been used to remove old horse shoes before cleaning the hoof for reshoeing. The pincers were made in Sheffield, United Kingdom, and used by Carl Wilhelm Heinrich Konemann who was a blacksmith and farrier in Fairfield in 1904. Dimensions: 215mm x 50mm. Condition: Used, with no signs of deterioration.
Forged crowbar, metal with a rammer head at one end for ramming, and the other end is a chisel point, made by Carl Konemann, c. 1930s. This type of crowbar would be used for fencing.1 Dimensions: 1720mm x 50mm. Condition: Good condition, used, and with no signs of deterioration.
Carl Wilhelm Heinrich Konemann worked as a blacksmith, farrier and coachbuilder from 1904 to the 1940s operating initially in The Crescent, Fairfield, on the site of the old Commonwealth Bank in The Crescent. After war broke out in 1914, Konemann relocated his business adjacent to his home in Vine Street, Fairfield. He was one of a handful of blacksmiths who had their own smitheries in Fairfield and Smithfield in the early 20th century. The larger estates on the edge of Fairfield, for example Horsley at Horsley Park, had their own blacksmith's shop on site, not only because of the distance, but also in this instance, they were also horse breeders.
Konemann's blacksmith's shop at The Crescent location would have been in the centre of transport and trade around Fairfield Railway Station, although the street was only a dirt track in 1908. Across from the railway station there were a line of brick shops adjacent to the Railway Hotel opened by Henry Cain in 1881, with Wheatley's general store as a landmark. The work of a farrier or shoeing smith would have been in high demand in those early years in Fairfield with horse and cart being the only transport of goods and passengers from the railway station.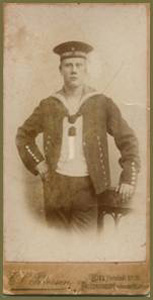 Carl Wilhelm Heinrich Konemann c.1900. Courtesy Fairfield City Museum and Gallery
Carl Wilhelm Heinrich Konemann was born in Neukirchen in Pommem Germany in 1875. As a young man Carl Konemann served in the Germany Navy on the survey ship Moenie and, as it is stated on his Certificate of Naturalization in 1907, he disembarked from the "Moenie" at the port of Sydney in 1899. As the Moenie was a German survey ship and not a passenger ship, there is some conjecture as to Carl's arrival as a migrant. However, within seven days of his arrival he was a naturalized citizen, had been married twice, and had set up his business as a blacksmith.
By the 1900s many German assisted migrants had already settled in the Camden, Fairfield, Liverpool and Penrith areas after the completion of their contracts that were specifically allocated to assist with the development of a viticulture industry. Many were able to buy land in the area and continued with viticulture, market gardening and orchards. No doubt, these connections attracted Konemann to locate his business in Fairfield.
Carl Wilhelm Heinrich Konemann, c.1899, (1875-1967)
In the early years of the 20th century in Fairfield, blacksmith's skills would have been vital to maintain the work horses, the wheels for the carts, coach building, and the crafting and repair of steel and iron tools, and agricultural equipment. The blacksmithing business operated out of a large galvanised shed supported by roughly hewn tree posts. On his "Bill Head" (Invoice Statement), Carl referred to himself as a Blacksmith, Farrier and Coach Builder2.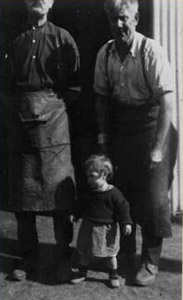 Carl Konemann on the right wearing his protective leather apron, outside the blacksmith's shop. Courtesy Fairfield City Museum and Gallery
Carl Konemann's smithery had a coal fired Champion forge on a brick base with bellows and a chimney flue to allow the gas fumes from the coal to escape. The coal was delivered regularly, and the iron and steel were sent by train in the early days from William Aitkins, Sussex Street, Sydney. His son, Cecil recounts the standard equipment of swages (which he made himself)3, vices, anvils and grindstones for sharpening, with all his tools hung on racks ready for quick retrieval so that there was no delay when working with molten metal4.
In an extension at the back of the blacksmith's shop, Carl had a carpenter's bench with coach building tools to build sulkies fitted with carbide lamps. He would make the metal wheel on an iron wheel plate heated over a bark fire, then doused in cold water to shrink the wheel to the required size and thickness. Sledgehammers were used to drive the tyre onto the wheel. Harry Clements would do the painted finish. Carl made a sulky for his eldest son Carl, so that he could carry his drum kit to play in his band at local dances at the Springfield Hall, Old Guilford and at Liverpool Town Hall5.
Punctually from 7.30am to 4.30pm, Carl made all manner of ironmongery, especially during the 1930s depression, tools like hoes, picks, crowbars to meet the immediate needs of farmers. Saturdays were set aside for making and replacing springs in cars as that was a dirty job and much time needed to be spent cleaning the greasy tools afterwards.
The blacksmith shop no longer exists, although their original Georgian cottage still survives at 97 Vine Street. The blacksmith's shop operated on the Vine Street site by Carl and later his son Paul until the 1940s. When the business closed, most of the smithing and farrier equipment was sold to the local sanitary contractor, E.C. (Jim) Goodsell of Wentworthville, and the shop was dismantled.
From oral accounts, Konemann's paddock and the blacksmith's shop holds many childhood memories for long time residents of Fairfield interviewed by Kim McKerihan in his Reflections of Fairfield6.
From Konemann's paddock you could walk over to the wool wash where the wool was washed and sorted. Konemann's blacksmith shop used to be another favourite spot to spend some time when kids. You could watch them shoe the horses from the various bakers' yards or play in the horse drawn sanitary carts that were there for repair. Then when you got home you were in big trouble because of the smell of your clothes.7>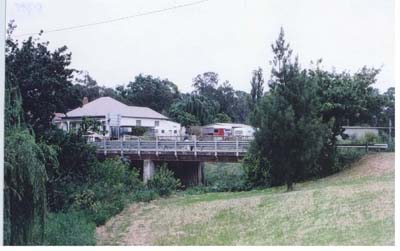 Konemann's Bridge across Prospect Creek adjacent to the existing "Konemann's" Cottage, Vine Street, Fairfield Photograph courtesy of Marlene Riley, c. 1995
The existing Konemann's Bridge across Prospect Creek at Vine Street is the third bridge built on this site. The original timber bridge that was built by Carl was constantly being washed away and replaced by Council until the first concrete bridge was built and named after Carl8. Three of the four cast iron lamp posts that were mounted at each end of the first concrete bridge, opened in 1959, are now in the collection of the Museum. This bridge too, was subject to flooding with the 1956 flood coming up to the windows at the side of Konemann's cottage, and was replaced by the existing concrete bridge at a higher level in 1997.
Carl and his wife Alice (nee Jentsch, whom he met in Sydney) had a large family of twelve boys and three girls.9 Alice's brother, Gustavus Jentsch was the Mayor of Fairfield from December 1925 to June 1928. Carl spoke only English at home with a definite German accent, and German when in the company of local German farmers and friends such as Carl von Heiden, the Sydney piano maker whose estate was a short walk away, opposite Latty's boatshed on the banks of Prospect Creek at Carramar. Although the house in Vine Street had only three bedrooms, there was a large verandah across the back of the house that had beds. The family all fitted somehow, as the older siblings left10.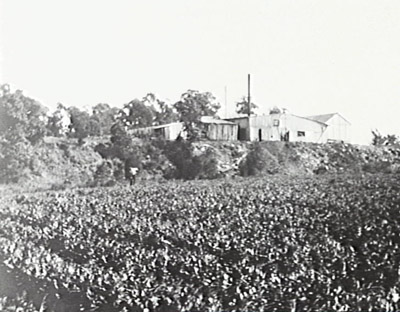 The Fairfield Woolwash, across Prospect Creek from the rear of Konemann's property which operated from the early 1900s to the late 1930s. Courtesy Fairfield City Museum and Gallery
On the property of 3¾ acres, the family was self sufficient with home grown vegetables and fruit, as well as cows, pigs, fowls and ducks. Carl Konemann built a weir across Prospect Creek at the rear of his house, to hold back the salt water, and to contain the fresh water for washing the wool at the wool scourers. Carl built drains for the "used" water from the wool scourers to run onto his property to irrigate his vegetables and orchards. The weir was demolished as part of flood mitigation strategies for Fairfield.
Ironically Carl did not own a horse or plough and borrowed from Harry Dreis' vineyard (later Asmuss' vineyard on the site where the Patrician Brothers College is now) to plough the fields. His eldest son Carl Heinrich, worked at the wool scourers (located approximately behind where the Leisure Centre now stands), and at Asmuss' vineyard.
The pincers and crow bar are historically significant as the were made by Carl Konemann. The Konemanns' are regarded as one of the early pioneering families in Fairfield, providing the essential services of horse shoeing, tool making and repairs and coach building. One of Carl's sons, Cecil is a Fairfield resident, along with many of the Konemann's descendents.
The Georgian style late Federation cottage in Vine Street, formerly owned by the Carl and Alice Konemann, is an identified, although unlisted heritage item in Fairfield City Council's ownership, and the future potential use of the house and its curtilage is still to be determined.11
The pincers have strong provenance. They were used by Carl Konemann in his blacksmithing business either at The Crescent or at 97 Vine Street, Fairfield, from 1900 to the late 1930s, and were donated to the Museum by his grandson, Victor Konemann in 2004. The crowbar, which was forged by Carl Konemann, was donated to the Museum in 2003 by Mr Ron Amos. Amos' father had purchased the crowbar from Konemann in the 1930s. Farming implements such a scythe, a pitchfork, a shovel, a sickle, and other blacksmithing tools such flat and round sharpening stones, and a sledgehammer used by Carl Konemann, were also donated to the Museum by Victor Konemann.
The pincers and crow bar have interpretive significance. The pincers, sledgehammer, sharpening stones and the crowbar could be appropriately displayed in the recreated blacksmith's shop on site at the Fairfield City Museum and Gallery where a blacksmith plies his trade over the forge, for visitors two or three times a week.
---
Footnotes
1
Smith, Keith (1981), p.95
2 Interview with Cecil Konemann
3 Ibid.
4 Interview with Cecil Konemann, November, 2008.
5 Interviews with Carl's descendents – Cecil Konemann, Marie Konemann, Margaret Brookes, Marlene, Riley, Victor Konemann, Phil Konemann and David Leroy, January, 2009.
6 McKerihan, Kim. Reflections of Fairfield. A Fairfield City Council Project. 1989
7 Mr Ken Morris' account, in Reflections of Fairfield.
8 Information provided in interviews with Cecil Konemann and his sister Marie, two of Carl's three surviving children, November, 2008.
9 Doris (1901), (her mother was Carl's first wife Jessie Scott, who died),Carl Heinrich (1906), Elfrida (1907), Augusta (1909), Albert (1912), Paul (1913), Rudolph (1914), Max (1916), Arthur (1918), Victor (1920), Cecil (1922), Morris (1924), Marie (1925), Roy (1927), and Percy Konemann (1930).
10 Interviews with extended family members, January, 2009.
11 Information provided by Graham Hall, Heritage Advisor, Fairfield City Council, November, 2008.
---
Bibliography
Gapps, Stephen.
Fairfield: evolution of a migrant city.
Fairfield City Museum & Gallery, 2008.
Smith, Keith, (compiled by). The Settler's Guide – A biased selection from The Agricultural Gazette of New South Wales, 1810-1910. Thomas Nelson. Melbourne. 1981.
Synnott, K. (ed) The Farmers' Handbook. Department of Agriculture, Sydney. Government Printer. 1938.
---
Written by Helen Tierney
Fairfield City Museum and Gallery
February 2009
Edited by Stephen Thompson
Migration Heritage Centre
May 2009
Crown Copyright 2009©

The Migration Heritage Centre at the Powerhouse Museum is a NSW Government initiative supported by the Community Relations Commission.
www.migrationheritage.nsw.gov.au

Regional Services at the Powerhouse Museum is supported by Movable Heritage, NSW funding from the NSW Ministry for the Arts.

The Fairfield City Museum & Gallery showcases the diverse cultural heritage of Fairfield City with an extensive program of exhibitions and activities catering for the whole community. www.livingmuseum.com.au