Era:
1918 - 1939
Cultural background:
Italian
Collection:
Griffith Italian Museum
Theme:
Folk Art
Furniture
Settlement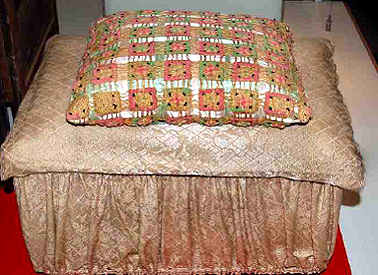 Satin covered bedroom chest adapted from a timber packing crate with decorated hessian-sack cushion.
Photograph Peter Kabaila
Collection
Griffith Italian Museum: Pioneer Park Collection, Griffith, Australia.
Object Name
Home Wares Collection.
Object/Collection Description
Bedroom chest and cushion Satin covered bedroom chest adapted from a timber packing crate with decorated hessian sack cushion. Made and used by the Pastega family 1930s.
Angelo Pastega first came to Australia in 1912. After returning to serve with the Italian Army during the First World War, he came back to Griffith with his wife Gina in 1920, taking up Soldier Settler Farm 1290 as an allied ex-serviceman.
One of the interesting things about Angelo Pastega is that his First World War service for Italy seems to have been recognised in Australia when he was awarded a Soldier Settler farm.
These home wares are of historic significance as an improvised craft, reflecting the resourcefulness of economically impoverished migrant families.
These items of rustic quality have aesthetic value in their own right, as hand-made examples of Home wares.
These items have research significance for the study of pioneer/settler technology in Australia.


Homemade knives fashioned by Angelo Pastega. Photograph Peter Kabaila
The bedroom chest and kitchen knives are examples of craft improvised in Australia by Italian men. It is significant to Italian families as evidence and a reminder of hard times as irrigation pioneers.
The history and provenance of the home wares collection is well established. They are representative of items hand made by pioneers, settlers and early migrants. Improvised home wares have not been generally rare, however they are a disappearing type in the Murrumbidgee Irrigation Area.
The worn condition of the items shows evidence of use. This collection has interpretive potential as an example of improvised home wares.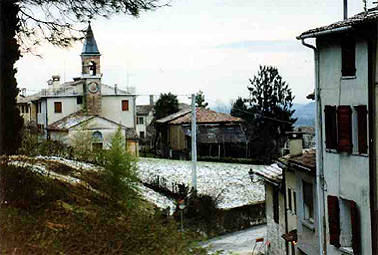 Contrada Pastega. Courtesy Griffith Italian Museum
In relation to the collection of items from the Pastega family, including the children's clothing, the photograph of the Contrada Pastega is important as it is the ancestral home base for the Pastega family who donated the items. Although Angelo Pastega, the patriarch of the Griffith family emigrated directly from the Comunità town of Cavaso – the Contrada Pastega is his family's place or origin and there are still probably Pastegas there. His wife came from Possagno, where she was a seamstress, so he may have gone to the larger town of Cavaso – only a few miles up the road – to get work. Photographs of Possagno show the continuity of the people who made items in the Griffith Italian collection, and their skills, with their place of origin, i.e. with the villages and towns that make up the Comunità.
---
Bibliography
Ceccone, Sandra, interview with Pierina (Rina) Marin, Griffith, 2007.
Cornwall, J 2007, Fruits of Our Labour. The history of Griffith's Italian Community. Griffith City Council.
Kabaila, P 2005, Griffith Heritage. Pirion Publishing, Canberra (p. 148).
Heritage Office & Dept of Urban Affairs & Planning 1996, Regional Histories of NSW, Sydney.
Heritage Collections Council 2001, Significance: A guide to assessing the significance of cultural heritage objects and collections, Canberra.
Oliver, Robyn, "Family's Donation to Pioneer Park", Area News, December 1991.
Oliver, Robyn, "Historical photo exhibition to show Griffith's early days to Italy",
Area News, June 1996.
---
Websites
www.griffith.nsw.gov.au/Page/Page.asp?Page_Id=143
www.griffith.nsw.gov.au/Page/page.asp?page_Id=142
---
Written by Peter Kabaila
March 2008
Edited by Stephen Thompson
Migration Heritage Centre
March 2008 – updated 2011
Crown copyright 2008©

The Migration Heritage Centre at the Powerhouse Museum is a NSW Government initiative supported by the Community Relations Commission.
www.migrationheritage.nsw.gov.au

Regional Services at the Powerhouse Museum is supported by Movable Heritage, NSW funding from the NSW Ministry for the Arts.

Griffith Italian Museum & Griffith Pioneer Museum are managed by Griffith City Council.
www.griffith.nsw.gov.au