Era:
1918 - 1939
Cultural background:
Lebanese
Collection:
Redfern
Theme:
Food
Immigration Restiction
Religion
Settlement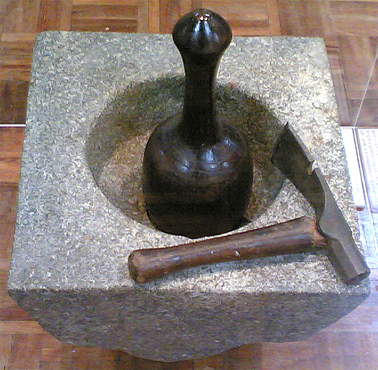 Jirin & medaha, c.1938. Photograph Stephen Thompson
Collection
Maronite Heritage Centre, Redfern, Australia.
Object Name
Jirin and Nedaha.
Object/Collection Description
The jirin displayed was hand made by Joseph John Isaac, in 1938 from Australian Blue Granite. The pestle or 'Medaha' was also hand made by Joseph John Isaac, in 1938. Dimensions: 300mm wide x 300mm deep x 500mm high.
The Lebanese started to migrate to Australia in the 1850s. By the 1880s communities were forming in Sydney, Melbourne and Adelaide. Because the early Lebanese originated from the Ottoman district of Mount Lebanon in Syria that existed before the formation of the modern state of Lebanon they were called Syrians or Ottomans. Mount Lebanon was then under Ottoman (Turkish) control. The Ottomans were Muslim and they harassed non Muslims. The Ottoman presence caused many Lebanese people to migrate to Australia. In 1854, the first Maronite Catholic Lebanese arrived in Australia.
By 1901 many Lebanese people had settled in and around Redfern, Waterloo and Surry Hills in Sydney. Most arrived with no money, spoke little English and had no work skills apart from farming. They were considered non British foreigners and fell under the White Australia Policy classification as Asian because Lebanon was on the eastern side of the Mediterranean. Discrimination and restrictive policies meant it was virtually impossible for these people to get work in the industries dominated by the Anglo Australian working class. As a result some entrepreneurs established retail and warehouse businesses and factories. Although no official data exists on the employment of Lebanese settlers prior to 1901, it is assumed that most of them engaged as shop-keepers and hawkers. The area boarded by Redfern, Waterloo and Surry Hills became an economic hub that provided employment and goods for the Lebanese community – this ironically came at a time when these suburbs experienced decay and hardship. A number of Lebanese merchants prospered and became well known nationally for their self employment enterprises.
Many Lebanese became itinerant hawkers selling exotic goods in suburban and rural areas of New South Wales. The typical Lebanese hawker would carry a small range of merchandise over their back using a short stick. They travelled by foot from suburb to suburb and town to town walking several miles a day. As such they would separate from their family and church for long periods at a time. That would prove to be a factor in facilitating their integration into Australian society.
The Redfern warehouses often gave these hawkers a suitcase of Manchester and draperies on credit to get them started. Once the hawkers got established they were able to start their own businesses. Because of their experience in rural areas they realised that opportunities existed in the country and by 1945 most rural and regional centres had one Lebanese small business. They created a network of Lebanese business through out New South Wales and Australia. Large Lebanese wholesalers were at the centre of this network and this ensured Redfern, Waterloo and Surry Hills was its economic centre.
Many early Lebanese migrants faced hurdles in settling into the general Australian community. They wanted access to the political rights, social security and land ownership opportunities enjoyed by the Anglo Australian Community. However they were viewed as being 'different' by the wider community. These differences stemmed from the mind set of the White Australia Policy. Anglo Australians felt they looked and sounded different and were different in their cuisine, customs and religion.
Lebanese cuisine was very different to the traditional Australian meal of meat and three veg. A meal usually starts with 'mezza', a selection of dips and salads such as hommus and tabbouli. Common mains include kebbeh, rez 3a djej (chicken with rice) and samke harra (garlic fish). Tabouleh (Tabouli) and Kibbeh are Lebanon's two national dishes. Tabouleh is a salad made of fresh cut parsley, minced tomatoes and onions. Mixed with cracked wheat (bulgur wheat) and seasoned with olive oil and lemon juice. Kibbeh is an emulsified paste of the freshest lamb and bulgur wheat. Meals are generally accompanied by arak, a powerful Lebanese aniseed liquor that turns to a milky white colour when mixed with water. Desserts include many variations of sweets such as baklawa, knefe and maamoul.


Kebbeh (left) and tabouli. Courtesy Wikipedia
The jirin is a traditional meat tenderiser used in Lebanese cooking. The jirin is a meat tenderiser used to prepare 'kibee' (kebbeh) a traditional Lebanese meat dish.
"Granddad was always making things … I came home one day to find a solid piece of hardwood in the backyard, about 10 inch by 10 inch by 1 and 1/2 meters and a solid piece of blue granite. Over time my grandfather – John Isaac slowly turned this block of wood first into a garlic grinder "medaha toum", then a potato masher "medaha patorta", and eventually after a few months he completed the 'Jirin'.
At the time we lived on the Great Western Highway, Parramatta. His friends would call on him often, keeping him company while he etched away with his hammer and chisels.
I remember Granddad sending me off to the black smith at least one a fortnight to sharpen his 'adoum' (chisel) and other tools. He even made his chisel by hand and used it everyday, to form the Jirin.
John Isaac, Sydney 2007. Courtesy Maronite Heritage Centre
The jirin and medaha has historical and intangible significance as evidence of the cultural heritage and experience of the Lebanese community in the migrant histories of New South Wales. They represent sub themes in Australia's migration history of minority communities that are often over shadowed by the main Anglo Australian cultural groups especially the British.
They interpret the migration stories of the Lebanese Maronites who came to Australia in the late 19th and early 20th centuries and the hardships and difficulties non British cultural groups experienced in establishing communities and gaining acceptance from Australian society. These tensions are still evident in Australian culture today.
---
Bibliography
Broese, F 1998,
Island Nation: Australia's Maritime Heritage
, Sydney,.
Convy, P 2006, The Lebanese quarter: Mapping the Syrian Lebanese Quarters at Redfern- time, place and extent. Australian Lebanese Historical Society.
Coupe, S & Andrews, M 1992,Their Ghosts may be heard: Australia to 1900, Longman Cheshire, Sydney.
Ghosn & Kairouz 2007, Jirin information sheet, Maronite Heritage Centre.
Heritage Office & Dept of Urban Affairs & Planning 1996, Regional Histories of NSW, Sydney.
Heritage Collections Council 2001, Significance: A guide to assessing the significance of cultural heritage objects and collections, Canberra.
---
Websites
www.collectionsaustralia.net/org/325/about/
---
Written by Stephen Thompson
June 2007 – updated 2011
Crown Copyright 2007©

The Migration Heritage Centre at the Powerhouse Museum is a NSW Government initiative supported by the Community Relations Commission.
www.migrationheritage.nsw.gov.au

Regional Services at the Powerhouse Museum is supported by Movable Heritage, NSW funding from the NSW Ministry for the Arts.

Unravelling the journey of yesterday... Invigorating our knowledge of Today... Building Faith, Hope and Light for Tomorrow.