Era:
1840 - 1900
Cultural background:
English
Collection:
Liverpool
Theme:
Agriculture
Archaeology
Blacksmiths
Convicts
Exploration
Folk Art
Macquarie
Settlement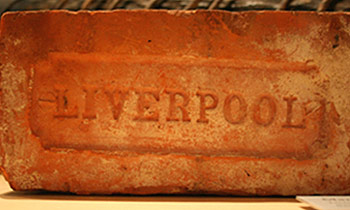 Liverpool brick, c.1890. Photograph Vesna Ristevski
Collection
Liverpool Regional Museum, Liverpool, Australia.
Object Name
Collection of tools, shingles, bricks and nails.
Object Description
Mash hammer, wooden mallet, chisel, compass, wood shingles, convict made bricks and iron nails from the early township of Liverpool. Dimensions: Bricks approximately 230mm long X 120mm wide x 90mm high. Nails approximately 50- 60mm long x 5mm wide. Shingles approximately 350mm long x 100 – 120mm wide.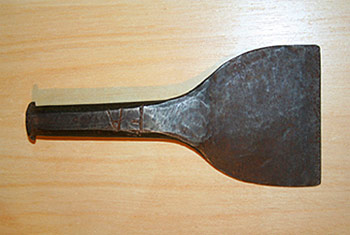 Chisel, c.1880-90s. Photograph Vesna Ristevski



Compass, c.1880-90s. Photograph Vesna Ristevski

When England lost its American colonies in 1778 in the American War of Independence, it began to look to the Pacific to replace these markets and resources. Joseph Banks, an influential naturalist and merchant, convinced the British government that breadfruit from Tahiti was an ideal crop to grow in the West Indies and use to feed slaves. Banks also argued that Botany Bay in New South Wales would make an ideal British port in the Pacific and that a settlement should be established with indentured convict labour. A penal settlement was also seen as a possible solution to the increasing problem of petty crime and a growing prison population in English cities.
These problems were compounded by massive unemployment due to the 'Industrial Revolution'. Food and materials once supplied from farms across the British Isles were now replaced by imports that were processed in mills and factories. British farm owners turned their land over to sheep grazing. They evicted farm labourers and their families, who, with no jobs and nowhere to live, flocked to the cities looking for work in the mills. Many resorted to petty crime to feed their families and indeed petty crime became a way of life for many. Criminality was widespread because it was hard to catch criminals in the warren like streets of the industrial cities and there was not a dedicated professional police force. Despite this the few gaols there were started to fill up and a solution to the crime problem was sought.
Despite it being a huge and very expensive experiment to set up a colony in an unknown land on the other side of the world, Britain decided to establish a penal colony at Botany Bay under the leadership of Captain Arthur Phillip. This was hoped to replace convict dumping grounds lost in North America, clear out the British gaols, provide a deterrent to crime in Britain and establish a deep water port in the South Pacific for Britain to expand its territories.
The First Fleet of 11 ships, each one no larger than a Manly ferry, left Portsmouth in 1787 with more than 1480 men, women and children on board. Although most were British, there were also Jewish, African, American and French convicts from Britain. After a voyage of three months the First Fleet arrived at Botany Bay on 24 January 1788. Here the Aboriginal people, who had lived in isolation for 40,000 years, met the British in an uneasy stand off at what is now known as Frenchman's Beach at La Perouse. On 26 January two French frigates of the Lapérouse expedition sailed into Botany Bay as the British were relocating to Sydney Cove in Port Jackson. The isolation of the Aboriginal people in Australia had finished. European Australia was established in a simple ceremony at Sydney Cove on 26 January 1788.
Between 1789 and 1791, the settlers at Sydney Cove were critically short of food. To make matters worse, the supply ship HMSGuardian was wrecked off South Africa before it reached the Colony, and HMS Sirius , one of two of the Colony's Navy vessels, was wrecked on Norfolk Island en route to China seeking food. In desperation, the HMS Supply, the Colony's second Navy ship was sent to Indonesia for food. Hopes were raised when a vessel arrived in Port Jackson in 1790, but it was not the HMS Supply , but the Second Fleet of five ships carrying over 730 people. This Second Fleet was a disaster, with its human cargo severely abused and exploited by the private ship owners. Of 1000 convicts on board, 267 died and 480 were sick from scurvy, dysentery and fever. The supplies on board the Second Fleet were supposed to feed the convicts, but the ship owners withheld the supplies for sale until after the convicts disembarked. Phillip, enraged by this behaviour as he had to further ration existing supplies, became desperate to establish farms and a local economy.
Farms, established with convict labour at Rose Hill (Parramatta) and later at Richmond and Windsor, were soon producing crops. Explorers set out to find new land and areas were opened up in the Liverpool area for market gardens, viticulture and sheep grazing for wool. These farms and pastures all depended on an abundant source of free convict labour to survive. Convicts were assigned to farmers under strict conditions known as the 'Assignment' or 'Government System'.
Liverpool was the first of many towns founded by Governor Macquarie in 1816. He wanted to move the colony's main food-growing region away from the flood-prone Hawkesbury area. He reserved 60-100 acre parcels of the rich soil of Airds and Appin for small farmers. The rest of the land was given out in several hundred acre lots to wealthy former soldiers and public servants. With rare exceptions Macquarie would not give land to women.
Francis Greenway became Australia's first notable architect. Transported for forgery aged 35 in 1814, he was followed by his wife Mary with their family. Since there was a desperate shortage of skilled people in the colony at the time, he got his ticket-of-leave very soon and became an architect in Sydney. He was employed in 1816 as Civil Architect and Assistant Engineer by Governor Lachlan Macquarie, who was keen on public building programs and helping ex-convicts into law-abiding careers. Greenway supervised much of the building work in the Liverpool area. Two of the grandest of Macquarie's projects were in Liverpool, the hospital and St Luke's Church. Both were based on plans originally designed by Greenway.
In the 1830s Liverpool had become a trading centre for the whole South West Sydney area. The future seemed bright. Some farmers and merchants made their fortunes and engaged the colony's leading architects to build them grand houses. Liverpool also acted as a centre for the management of large numbers of convicts. They were employed by local settlers and by the government. Free tradesmen were encouraged to come to build in Liverpool by being given blocks of land in the town. The growing township and migration of Europeans to the area had a tremendous impact on the local environment and the aboriginal people.
Between 1800 and 1850 all of the building materials in the colony were produced locally, usually near the place of construction.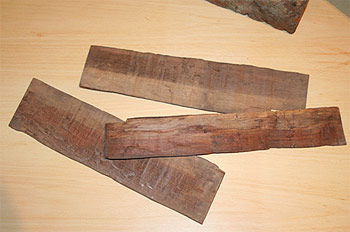 Roofing shingles, c.19th century. Photograph Vesna Ristevski
Chinese people were reputed to be fine carpenters. In 1837 Joseph Hickey told a parliamentary committee that the colony needed 500 of them. Many Chinese people were employed in the Sydney region as carpenters and shingle cutters. Shingles were split from Casuarina trees known as colonial oaks or from ironbark trees that swept the Cumberland Plain in a vast forest that once covered most of what are now the western suburbs of Sydney. The accessibility and cheapness of ironbark and Casuarina led to the development of a local group of artisans who specialised in the shingle cutting. Splitters developed deft skills with their adzes and roof slaters adapted their techniques to lay and replace shingles.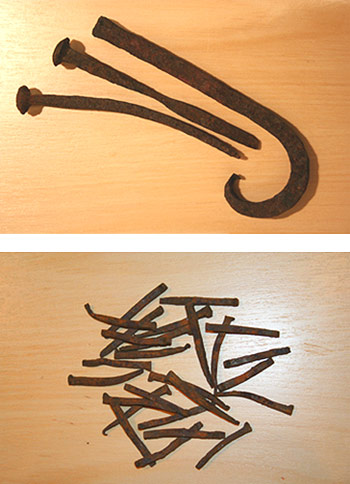 Hand made nails.
Photograph (top) Vesna Ristevski.
Photograph (bottom) Daniela Ristevski.

A small local handmade nail making industry developed because imported nails made for the softer English and North American timbers bent when hammered against the harder colonial woods. A Parramatta metalworker Robert Tomlinson, an ex convict file cutter, provided thousands of shingle nails and other types of nails for Elizabeth Farm in the 1820s. The hand made nails were very valuable. People would often sift through the embers of a burnt down house in search of old nails, which could be taken to a blacksmith to be straightened.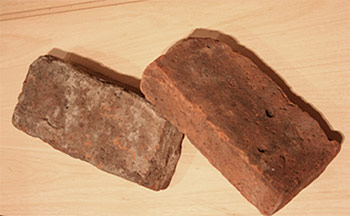 Early bricks. Photograph Vesna Ristevski

In the 1820s bricks were dug and fired at the places of construction. Brick clay pits were established where the clay was suitable for brick making. Convicts were employed to make bricks and marked each brick with their sign as a method to tally up for payment in tobacco or tea. Later commercial brick companies were established.
The earliest colonial bricks were somewhat smaller in size and poorer quality than those from Europe. The colonial bricks were sun dried or fired in lower temperature kilns from clay that was not sufficiently strained of impurities and had insufficient lime. As a consequence colonial bricks lacked the strength of those produced in Europe where there was hotter kilns and better clay. Brick makers worked in teams, who mined the earth for clay, put it through a pug-mill to refine it and pressed it into separate sanded moulds, and then emptied each brick from its mould onto pallets. When the pallets were full they were taken to drying racks and left for several days before the bricks were staked in the kiln.
The brick makers also provided employment to carters, carpenters and woodcutters on site who made and repaired the furniture of the yard and cut and carted timber to fuel the kilns.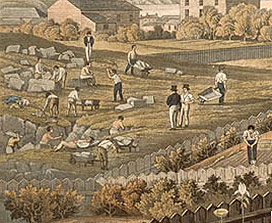 Building workers at Sydney Cove in 1821. Courtesy Mitchell Library, State Library of New South Wales
At Liverpool from the late 1800s the Liverpool Steam Brickworks was the main source of Liverpool's building materials. Most of the buildings constructed at the turn of the century were made at the Steam Brick works. These bricks are easily identifiable from the prominent 'Liverpool' stamped on one side and 'MC' on the other.
The collection of tools, bricks, shingles and nails has historical value as evidence of the colonial expansion out of Port Jackson onto the Liverpool plains and the establishment of the Macquarie town of Liverpool. The collection also has historical significance as evidence of colonial building materials and practices.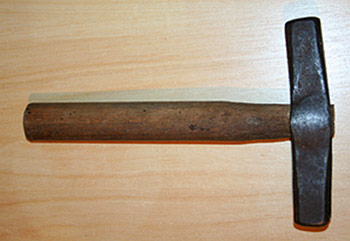 Mash Hammer, c.1830. Photograph Vesna Ristevski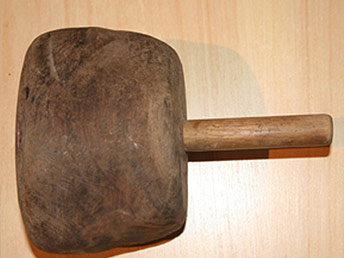 Wooden Mallet c.1880-90s. Photograph Vesna Ristevski

The collection has aesthetic significance in the manufacture of early building material including hand made nails and brick. Those made by convicts have individual stamps such as triangles, stars or crescents imprinted by the maker as a method of tallying their work output for payment. Later bricks carry the manufactures name, in this case 'Liverpool'.
The collection is significant for researchers as one of the few existing collection of early building materials in public collections.
The collection has significant social value, being iconic symbols of Australia's brutal convict origins and the development of the early settlement at Port Jackson and Liverpool.
Although we don't know which buildings or the place the collection comes from, the Collection is provenanced to the Liverpool area and was acquired by the Liverpool Regional Museum in the 1990s.
The collection interprets the exploration and expansion of the early colony at New South Wales. It also interprets the change from the brutal convict origins of European Australia to a migrant based market based economy. The collection has the potential to interpret the building methods in the construction of many of the early building in Sydney.
---
Bibliography
Broese, F 1998,
Island Nation: Australia's Maritime Heritage
,
Sydney.
Coupe, S & Andrews, M 1992, Their Ghosts may be heard: Australia to 1900 , Longman Cheshire, Sydney.
Hughes, R 1987, Fatal Shore , London.
Stories of Liverpool: 1788 – 1900 , exhibition label Liverpool Regional Museum
Heritage Office & Dept of Urban Affairs & Planning 1996, Regional Histories of NSW, Sydney.
Heritage Collections Council 2001, Significance: A guide to assessing the significance of cultural heritage objects and collections, Canberra.
---
Websites
www.casulapowerhouse.com
---
Written by Stephen Thompson
Migration Heritage Centre
January 2008 – updated 2011
Crown copyright 2008©

The Migration Heritage Centre at the Powerhouse Museum is a NSW Government initiative supported by the Community Relations Commission.
www.migrationheritage.nsw.gov.au

Regional Services at the Powerhouse Museum is supported by Movable Heritage, NSW funding from the NSW Ministry for the Arts.

Liverpool Regional Museum is managed by Casula Powerhouse.
www.casulapowerhouse.com