Era:
1918 - 1939
Cultural background:
Italian
Collection:
Griffith Italian Museum
Theme:
Folk Art
Furniture
Settlement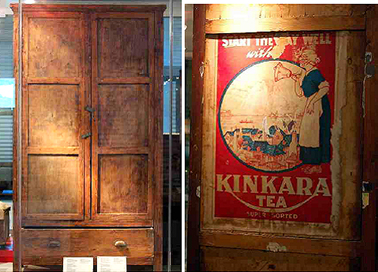 Cupboard showing detail of tea chest label on inside of the door. Photograph Peter Kabaila
Collection
Griffith Italian Museum: Pioneer Park Collection, Griffith, Australia.
Object Name
Tea Chest Wardrobe .
Object/Collection Description
This tea chest wardrobe made in Griffith by Antonio Signor from recycled tea chests. It was used by the Signor family from the 1930s.
Antonio Signor was born 1896 in Crespano del Grappa. Antonio Signor trained as a cabinet maker in Bassano del Grappa. Poor economic conditions in Italy forced him to leave his wife and young daughter in 1926 and join his brother, Francesco, in Hanwood in search of better opportunities. Picking up seasonal farm jobs and work with McWilliams winery in Yenda, Antonio was able to bring out his wife, Maria, and daughter, Veronica, in 1930.
During the early depression years Antonio put his cabinet making skills to good use, crafting all their household furniture from packing cases and timber scraps. He also undertook furniture repairs and made joinery to order for local customers.
Tragically, Maria signor died in 1945 and was buried at Yenda. Antonio remained at Yenda until 1965, later joining his daughter, Veronica, in Sydney. Antonio passed away in 1969 aged 72 years, but his remarkable improvised furniture survives.
The tea chest wardrobe is of historic significance as an improvised craft, reflecting the resourcefulness of economically impoverished migrant families.
he tea chest wardrobe has a rustic quality that has aesthetic value in its own right, as a hand-made example of furniture.
he tea chest wardrobe has research significance for the study of pioneer/settler technology in Australia.
The tea chest wardrobe is an example of a craft improvised in Australia by Italian men. It is significant to Italian families as evidence and a reminder of hard times as irrigation pioneers.
The history and provenance of he tea chest wardrobe is well established. The wardrobe is representative of items made by pioneers, settlers and early migrants.
Improvised furniture has not been generally rare, however this is a disappearing type of item in the Murrumbidgee Irrigation Area.
The worn condition of the wardrobe shows evidence of use.
The tea chest wardrobe has interpretive potential as an example of improvised furniture.
---
Bibliography
Cornwall, J 2007,
Fruits of Our Labour. The history of Griffith's Italian Community.
Griffith City Council.
Kabaila, P. 2005, Griffith Heritage. Pirion Publishing, Canberra (p. 148).
Heritage Office & Dept of Urban Affairs & Planning 1996, Regional Histories of NSW, Sydney.
Heritage Collections Council 2001, Significance: A guide to assessing the significance of cultural heritage objects and collections, Canberra.
---
Websites
www.griffith.nsw.gov.au/Page/Page.asp?Page_Id=143
www.griffith.nsw.gov.au/Page/page.asp?page_Id=142
---
Written by Peter Kabaila
March 2008
Edited by Stephen Thompson
Migration Heritage Centre
March 2008 – updated 2011
Crown copyright 2008©

The Migration Heritage Centre at the Powerhouse Museum is a NSW Government initiative supported by the Community Relations Commission.
www.migrationheritage.nsw.gov.au

Regional Services at the Powerhouse Museum is supported by Movable Heritage, NSW funding from the NSW Ministry for the Arts.

Griffith Italian Museum & Griffith Pioneer Museum are managed by Griffith City Council.
www.griffith.nsw.gov.au