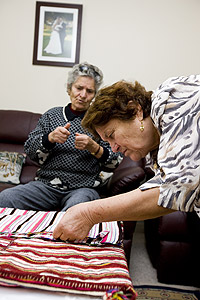 Spasija Aleksoska and Kostadinka Jordeska (sisters)
Spasija Aleksoska came to Australia for a better life in 1969 with her two children and husband. Her sister Kostadinka Jordeska came in 1969 to live with her husband who was already working at the Port Kembla steel works. From the village of Trebenista near Ohrid, both Spasija and Kostadinka wove many aprons but could only bring a few with them to Australia.
Spasija:

"Women prepared the wool at night time and on winter days they would weave aprons when there was not much work in the fields. We talked and wove at the same time. We made the wool, dyed and spun it. The sewing threads were the only [items] bought. A bride has twenty to thirty aprons as her dowry. Most village girls have dowries. A bride does not expect the groom to supply clothes so she brings clothing with her, with whatever she had available to her. The girl has so much work, day and night, until the wedding. She does not go out while engaged, making all the gifts for the wedding.

It is a hard life for women looking after children. The men prefer large women. If she is too skinny, how can she work in the fields? I said to the men,' If you want meat go to the butcher, I am fine as I am'. For dancing, men prefer skinny girls. I put cloth on top of my bust and stomach to make me look bigger and to hide my pregnancy. I padded my stomach before my pregnancy so no-one would know. I would go through the mountains the back way, embarrassed for people to see my pregnant stomach. One month before the birth of my daughter, I was working in the field, lifting chillies as if I wasn't pregnant, bringing water home. Now women wear short tops, so everyone can see their pregnant stomach!

I like it in Australia, it is an easier life and we have more money. Life is better here."