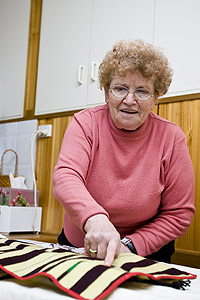 Blaguna Nikolovska
Blaguna migrated to the Illawarra in 1997 with her husband. Her children were already living here and she now lives with them. She is from the village of Dolenci in the region of Demir-Hisar.
"People donít wear aprons any more. My great-grandmother was the oldest person to live and die in national costume. The cosula (vest) was made by my mother and grandmother and is the main part of the costume for that region. It was all hand-made at home, put together and then decoration added. For mother, getting parts was hard but jewel merchants in Bitola travelled around and visited once a month and sold things to the women.

The alena (apron) pattern is special to the region. Some ladies made changes in the pattern and mixed colours. When a girl got married she made many gifts for the family. She knitted thirty to forty socks and wove aprons for the women. Men were given pairs of socks, tied together with woollen ties and put around their necks. Marriage was different then. "