Introduction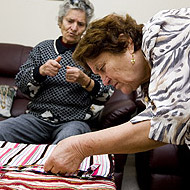 Spasija Aleksoska, Kostadinka Jordeska, Menka Karanfilovska, Blaguna Nikolovska and Angelina Todoroska are apron-makers who come from a range of Macedonian villages and regions.
In May 2009, they were interviewed, photographed and
filmed
by Powerhouse Museum staff for the exhibition,
Ties with tradition: Macedonian apron designs
.
These women opened their homes and shared their memories of traditional Macedonian dress. The Museum would like to thank them for their generosity, hospitality and good humour for sharing their stories and memories of apron-making and wearing.
We would also like to acknowledge Verica Sajdovska for her thoughtful and sensitive interpretation and Mendo Trajcevski and the staff and volunteers from the Macedonian Welfare Association Inc. for making the visit to the women happen.