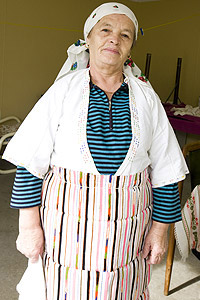 Angelina Todoroska
With her two children, Angelina came to Australia in 1970 to join her husband who had been working at the steelworks in Port Kembla. Angelina is from the village of Meseista, near Ohrid, and during the 1960s and 1970s, local people were actively encouraged to work overseas.
"In Macedonia, the women wove aprons together, young and old, singing and making different patterns. If someone died, then a black stripe was added and the apron was worn for one to three years. We wove stripes on the loom and sewed them together not matching; that is how it was. There was a loom in every house; now they have fallen apart, have been thrown away. Young people are not interested in it. They donít want to know.

A mother makes aprons for her daughter or granddaughter to remember where she lived. When I married, I gave my mother-in-law a darker apron as a gift... and gave [one] to my sister-in-law before coming to Australia. Twenty aprons were left in Macedonia.

[In Australia], I used to lend aprons to the family for celebrations and dancing but they sometimes came back with wine stains!"