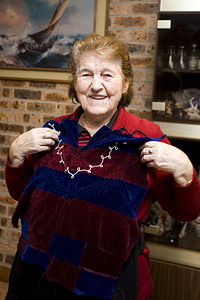 Menka Karanfilovska
Menka came to the Illawarra in 1966 to join her husband who was already in Australia. He was working and trying to make a better life for her and her son. Menka is from the village of Velusina near Bitola and is an accomplished craftsperson. Although she no longer weaves aprons, she has turned her hand to many creative techniques.
"When I got married I had to bring skirts, aprons, shirts, socks and scarves. I did not have money for anything else. After I married, I made blankets from scratch but not any more aprons. When you married you wore what you made before. After this you had to follow what your father-in-law said and probably work in the fields. No time for making aprons.

We wore aprons with a vest, belt and chemise. This heavy outfit was worn when working in the fields. I donít make aprons now but crochet tablecloths without a pattern. I copy and try new patterns and also sell my work."