Established: c. 1890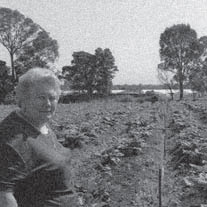 Location: Corner Bringelly Road & King Street, Bringelly
From the earliest years of the colony, convict migrants worked in Liverpool to provide Sydney's food. During the 1890s many large estates were divided and several Italian families already living in Liverpool as well as other migrants, such as the Chinese, took over these small blocks of land and grew fruit and vegetables. Profi ts were marginal and often small acreages, like those at Hoxton Park, were managed by women, while their men worked in the city.
The location of market gardens in Liverpool has changed over the years. They moved west as rural land, in places like Casula and Green Valley, was claimed for housing during the 1960s and 1970s. Today Bringelly, Rossmore and Austral still support market gardeners who grow a wide variety of fresh vegetables, herbs, fruit and flowers to supply Sydney's markets and multicultural cuisine. These areas, and Edmondson Park, will soon be developed as part of the expansion of the South West Sydney region. Within thirty years, it is expected that there will be an additional 46, 000 homes for about 130, 000 people in this region.
Market gardens have passed into the hands of people from many different countries: from Croatia in 1955, Germany in 1966, Malta and Lebanon in 1976, Vietnam in 1988 and China and Italy over many years. These nationalities and dates of arrival indicate some of the waves of migration to Australia from around the world.
Horticulture is a skill many migrants bring from their homeland. It does not require language skills and provides employment for many who cannot, or have not yet learned English. Work on the land often involves the whole family. The range of produce grown is a tribute to migrant innovation and adaptability.