Established: 18 February 1939
Original Town Hall established: 1881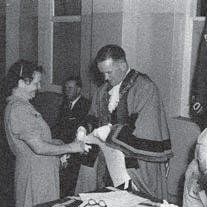 Location:Corner George & Moore Streets, Liverpool
The original Italianate town hall, built on this site in 1881, was replaced by a functional interwar building which opened here in February 1939. As the centre of local government, and representing all levels of government, the town hall was an important site for migrants.
Naturalisation and citizenship ceremonies were conducted here by the mayor, as the Queen's representative. British and Commonwealth migrants automatically had citizens' rights on arrival. In 1949 Australian citizenship was introduced which gave the option to European residents to be naturalised. After 1956 non-European migrants could apply for citizenship if they had been living in Australia for fifteen years. Citizenship is an official and formal acceptance of a migrant into Australian society.
Campaigns to immunise children against diphtheria, tetanus, whooping cough and poliomyelitis were a dramatic part of health care in the 1950s. Immunisation clinics were run at the town hall for hundreds of children during the second half of the twentieth century. Council's free immunisation was attractive to all residents, including migrants who had seen many children die from these diseases in their own countries.
Liverpool Town Hall also housed the library from 1956, which was an important source of information for all members of the community. Attitudes towards other cultures began to change in the 1970s and gradually books and information became available in languages other than English. Liverpool Library is located 100m further north in George Street.
In 1987 Council moved to new premises in Hoxton Park Road.