Established: 1994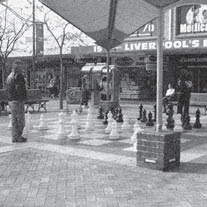 Location: Macquarie Street, Liverpool
Chess is thought to have originated in India in about 600 AD and spread via Persia to the Mediterranean region and Europe. Although people from different countries played each other informally for centuries, the first international chess tournament was held in 1851 at the Crystal Palace Exhibition in London. Howard Staunton, who promoted the chess set design that is most used today, started the competition. Karl Ernst Adolf Anderssen of Germany won and was recognised as the first world champion chess player.
This place for playing chess was created by Liverpool City Council in 1994, when Macquarie Street was closed to traffic.
It was instantly popular and people queued to play, so small tables with chess boards were soon installed.
The final of the first chess competition, which more than fifty people entered, was held here on 26 January 1995.
Men from many different countries, especially Eastern Europe, the Middle East and South America, often gather here to watch or play. Several migrants mention the pleasure they get from playing chess at this public venue. It brings them into contact with others without any constraints or limitations of language.