Former Liverpool hospital established:
1830 Present Liverpool hospital
established: 1958, refurbished in 1994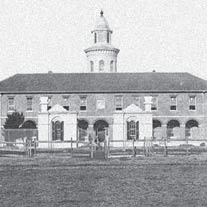 Location:
Former. College Street, Liverpool
New. Corner Elizabeth & Goulburn Streets, Liverpool
Liverpool's first hospital, in the 1790s, is thought to have operated in a tent beside the river. This Georgian brick and stone hospital opened in 1830. It was designed by convict, Francis Greenway and built by convict migrant labour. By the 1870s many aged convicts, who had been sent to New South Wales more than thirty years earlier ended their days here (transportation had ceased in 1840). In 1958 the new hospital opened in Elizabeth Street. Today the former hospital is a central feature of Liverpool as the local Technical and Further Education College (TAFE), which offers opportunities for all residents.
When the present hospital was under construction in 1994, 0.2 percent of the budget was allocated to artworks. Liverpool Hospital Redevelopment Arts Program commissioned a variety of art to reflect the cultural diversity of the local community and chose many young and migrant artists. Staff and service groups in the hospital and the local community were consulted.
Murals, mosaics, ceramics, photography and painting have all been displayed here. The use of the corridors as a gallery exposes up to a thousand people each day, to the work of many artists. Displays are rotated every few weeks. There are also some permanent works. The most recent, completed in 2007, is The Quiet Dreaming Place a courtyard decorated with mosaic murals. It was created by the local Aboriginal community as somewhere for comfort and solitude.