Established: 1956-58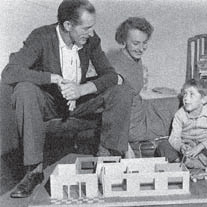 Location: McGowen Crescent, Liverpool
This street is the result of migrants pooling their resources. In 1955 British migrants living in hostels at East Hills and Heathcote (called Voyager Point today) started saving two shillings a week each towards buying a home. The group formed the Hammondville New Settlers Co-operative Building Society in May and purchased twenty eight acres which was part of a golf course, which used the early colonial home, Collingwood as a clubhouse. Each of the twenty six families was allocated land by ballot, paying £250 for their block.
The first part of the project was to build a road to Council specifications by June 1956. None of the men had any experience building houses, except for a pipe-fitter and an electrician, so two carpenters were hired to speed up work. By Christmas 1957 migrant families moved into fi fteen of the houses and by the end of 1958 all the homes were ready. Together, they had built homes for all the families which would have been impossible for each family to achieve alone.
The three-bedroom weatherboard homes all had tiled roofs, modern bathrooms and kitchens, with an outdoor toilet. They were not identical as each family chose their own design. Today several houses are still weatherboard and little altered, but more than half have been brick veneered. People from a variety of countries live here today and the street is a reminder of the advantages of group cohesion and cooperation to adjust and settle in a different country.