(Macedonian Orthodox Church)
Established: 28 August 2002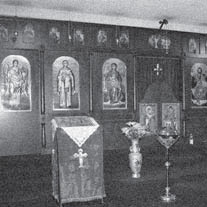 Location: 37 – 39 Atkinson Street (corner Nagle Street), Liverpool
This Macedonian Orthodox Church was officially opened on 28 August 2002 to meet the needs of a growing Macedonian community in Liverpool. In just two months, the community raised the funds to purchase the land.
There are over a thousand people from Macedonia living in Liverpool and the number is growing. Migrants from Macedonia and their children and other young people who identify with Macedonian culture attend church services and scripture classes here.
The Macedonian Orthodox Church is an independent and autonomous part of the Eastern Orthodox Christian Church, found in Russia, the Balkans and parts of the Middle East. This Macedonian Orthodox Church is part of the external diocese of Australia and New Zealand.
The community would like to build a traditional Macedonian Orthodox Church here, as this architecture is familiar to them and would confirm their cultural identity. This will require a considerable effort by all the Macedonians who are committed to raising the funds for this project. The Church Committee will need to explain the plans and cultural style to Liverpool City Council and the wider Liverpool community.
This site has been used for religious worship for more than fifty years. The Seventh Day Adventists built a community hall here in 1962 and eventually a church which they sold on completion in 1985 to Latin American Adventists. The Macedonian Orthodox Church in Liverpool is continuing an important community tradition.