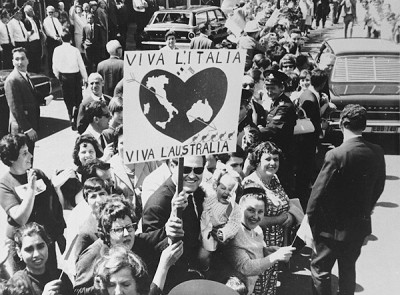 With little English language knowledge and familiarity with their new country, Italians naturally sought security by congregating with other Italians. From the earliest periods of Italian migration to NSW, Italians created associations and clubs. Sydney's Eolians formed the first regional group in 1903. Today, most Italian regions are represented by an association. Within these regional groups are religious associations which organise an annual festa (festival) for the patron saint of particular villages. Today Italian clubs and associations in NSW extend to areas such as Broken Hill, Griffith, Lismore, Newcastle and Wollongong.
In the 1950s the San Francesco Association provided Italian lessons for new arrivals at Cusa House and organised a soccer team. The Italo-Australian Club on George Street provided a place for young male migrants to congregate and get an 'Italian meal'. The largest clubs were the Leichhardt based APIA (1954) and Club Marconi (1958) in Bossley Park.
Italian newspapers have existed in Sydney since 1885 and La Fiamma (The Flame) which began in April 1947 continues to this day. One of the most loved Italian language radio broadcasters was Lena Gustin ('Mamma Lena'). She began her career in 1957 and went on to host radio programs for over twenty years.
Events in Italy also gave cause for the migrants living in NSW to come together as a community. In 1882, thousands of Italian and non-Italians gathered in Sydney's Garden Palace to attend a memorial service on the death of Garibaldi. When Italian President Giuseppe Saragat, the first Italian Head of State to visit Australia, arrived in Sydney in 1967, over 3000 people crammed into Sydney Town Hall.
PHOTOS
The Continental Music Float carrying the reigning 'Music Queen', Marisa Bulzomi in the second Waterwheel Festival procession along Banna Avenue, Griffith, NSW 1957 Courtesy of the Ceccato family
Mr and Mrs G. Fin. at the arrival of the Italian president Saragat at Sydney's Mascot Airport, NSW 1967. Courtesy of the Fin family
Young Italian men enjoying a cigarette and a chat at the Italo-Australian Club in George Street, Sydney, NSW 1954. Courtesy of the Urbani family