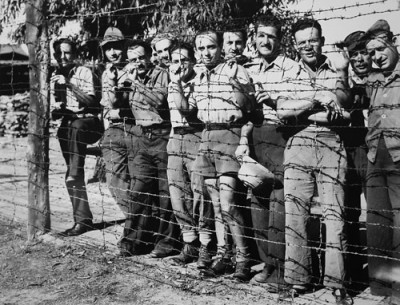 During World War I, Italy supported the Allies, and several Italians living in Australia, who remained Italian citizens, were recalled back to Italy and conscripted. Many of those who returned died of the 1919 Spanish Influenza Epidemic and are buried at North Head.
Italians in Australia formed a number of political movements. These included the Luigi Platania, and its female counterpart, Gruppo Femminile Fascista, formed in 1927. The Fascist Party was involved in cultural, sporting, welfare and social events such as celebrations for visiting Italian dignitaries and the arrival of Italian vessels. Prior to WWII, Italian ex-soldiers also marched on Anzac and Remembrance Days using the Fascist salute.
When Italy entered the war in June 1940 on the side of the Axis Powers, all Italians in Australia were considered enemies Restrictions were placed on Italians and over 4000 were arrested and interned in camps such as Holsworthy, Hay, Cowra, Loveday and Barmera.
In addition to internees, 18,000 Italian soldiers taken as POWs in Northern and Eastern Africa were transported to Australia to relieve the manpower shortage. Most POWs were first housed in POW camps such as Cowra and Holsworthy, and then allotted to private farms to work and live with Australian families. Hundreds of POWs returned to Australia as migrants during the post war migration program.
PHOTOS