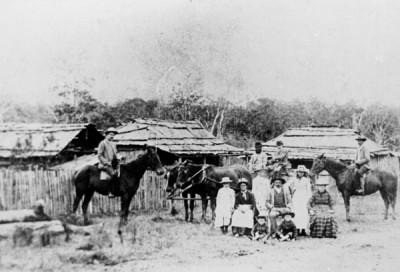 The Italian presence in NSW predates the postwar migration boom. By 1881, there were 521 Italians in NSW with a sizable Italian community in Sydney comprising professionals, artists and importers.
In 1881, 217 Veneto migrants arrived in Sydney. They had been swindled by the Marquis de Rays, who in return for a huge sum, promised them land and prosperity on New Ireland (near the Solomon Islands). In reality, New Ireland was uninhabitable and many died from disease and starvation. Out of empathy, the NSW Government sent a ship to collect the survivors and settle them in NSW. Eventually the survivors established their own settlement, 'New Italy' in Woodburn, near Lismore. 'New Italy' had its own school, church and post office and ran as a successful agricultural settlement until the early 20th Century.
By Federation there were approximately 1577 Italians in NSW. Numbers were boosted in the 1920s when the USA introduced immigration quotas. Chain migration began to areas such as Griffith and a 'little Italy' emerged in Stanley Street, Sydney. Italians were engaged in rural areas clearing land, mining granite and building railways. Sizable fishing communities emerged from the 1920s along the coast. By 1939 the number of Italians increased to 40,000 throughout Australia.
PHOTOS
Early photograph of the settlement of New Italy between 1890 and 1895. Photo by Joseph Check. Reproduced from the Mitchell Library, State Library of New South Wales
Giuseppe arrived in Australia in 1920 and pioneered the 'set line' fishing method out of Wollongong. Courtesy of the Puglisi family
Angelo Pastega (far right) with other Italian labourers working on the construction of the northern New South Wales railway line in the early 1910s. Courtesy of the Griffith Genealogical and Historical Society