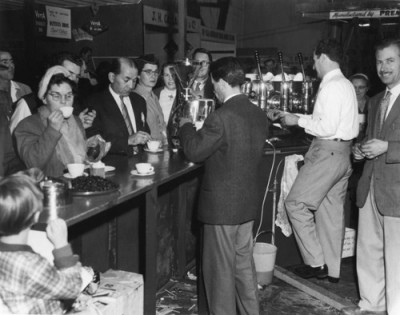 As most Italian migrants came from rural towns, many engaged in agricultural activities in Australia. In the 1950s and 1960s, Italians worked as market gardeners on the outskirts of Sydney in areas such as Ryde, Marsfield, Eastwood, Sutherland, Fairfield, Liverpool and Cabramatta. Italians from mainland Sicily, Calabria and the Eolian Islands worked in the fishing industry in Woolloomooloo, Wollongong and Ulladulla. Veneti, Calabrians and Sicilians made up half of the population in the Murrumbidgee Irrigation Area and many Veneti farmed bananas and tobacco in the Lismore area.
Family businesses were a common feature of the Italian migration experience. In cities, Italian-run bars and restaurants, served Italian espresso coffee and continental cakes. In most suburbs one would find an Italian greengrocer, general store, fishmonger, baker, delicatessen or boot maker.
Migrants were also attracted to mining areas such as Broken Hill and the BHP steelworks in Newcastle and Port Kembla. The postwar Snowy Mountains Scheme employed thousands of Italians constructing dams and tunnels. Italians also worked as tradesmen and labourers on large construction sites including the Sydney Harbour Bridge, Sydney Opera House and the Australia Square Building. Construction companies such as Electric Power Transmission (EPT), Transfield and Pioneer Concrete were established by Italian migrants.
PHOTOS
Cane-cutting was a back-braking job undertaken by many Italian migrants in both NSW and QLD. The cane-cuting gang seen here is 'taking a break' on McEvoy's farm, Innisfail, QLD September 1958. Courtesy of David Murphy
The founders of Vittoria Coffee, Orazio and Carmelo Cantarella at a trade show in Sydney, NSW in the late 1950s. Courtesy of Vittoria Coffee