Era:
1918 - 1939
Cultural background: Chinese, English, Indian, Japanese, Lebanese, Pakistani, Thai
Collection:
National Archives Australia
Theme:
Federation
Games
Government
Labour Movement
Settlement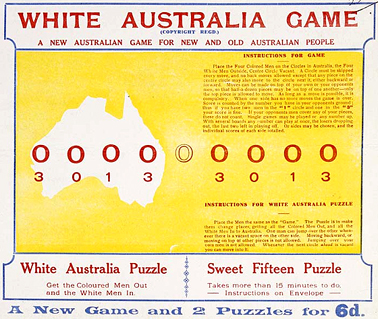 White Australia Game c.1920s National Archives of Australia
Collection
National Archives of Australia, Canberra, Australia.
Object Name
White Australia Game.
Object/Collection Description
In 1901, 98% of people in Australia were white. Australia wanted to remain a country of white people who lived by British customs. Trade unions were keen to prevent labour competition from Chinese and Pacific Islander migrants who they feared would undercut wages. One of the first pieces of legislation passed in the new Federal Parliament was the Immigration Restriction Act. Now known as the infamous White Australia Policy it made it very difficult for Asians and Pacific Islanders to migrate to Australia. This Act stated that if a person wanted to migrate to Australia they had to be given a dictation test. The dictation test could be in any European language. So a person from China or Japan who wanted to live in Australia could be tested in one or all of French, Italian or English languages. In 1905, the Act was changed so it could be given in any language at all. Of course, most Asians failed the tests and were not allowed to migrate to Australia unless they were able to enter the country under very strict exclusion rules and fortunate enough to have well connected sponsors.

White Australia Game c.1920s National Archives of Australia
The White Australia Policy was widely popular in the Australian community until the 1970s. Racism has been a familiar under current in Australia's social and political culture since the gold rushes and the Lambing Flat anti Chinese Riots in 1861. Racism is a device politicians and the media have used through out the 19th and 20th Centuries to attract votes and gain political support in the community. In 1901 William Morris Hughes, future Prime Minister of Australia, launched the Labor Party's platform citing: "Our chief plank is, of course, a White Australia. There's no compromise about that. The industrious coloured brother has to go – and remain away!" 1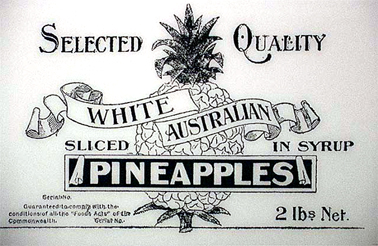 White Australian pineapples label.c.1900 Image courtesy of National Museum of Australia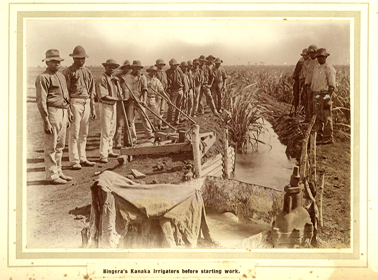 Kanaka workers setting up irrigation channels in the cane fields, Bingera, Queensland, c.1905. State Library of Queensland
The game has historic significance as evidence of the prevailing view in the early 20th century of Australia's ethnic purity and the desire to restrict Asians and Pacific Islanders from migrating there. The game is evidence of how the Immigration Restriction Act 1901 was internalised by most sectors of the Australian community.
The game has intangible Significance for migrant communities especially Chinese and Pacific Islanders who were largely the target of the Immigration Restriction Acts and is evidence of sentiments that can surface in Australian politic and nationalism..
The game was made by Francis James Shaw, of Coburg, Victoria and is in the National Archives of Australia collection.
The White Australia game is rare as it is one of the few objects that remain that with such overtly racist, discriminatory and apartheid sentiments.
The game represents the racist attitudes held by colonial governments, trades unions, and the wider community that manifested themselves in the Immigration Restriction Act 1901, the dictation test and paraphernalia such as this game.
The White Australia game has the potential to interpret the main themes of the Immigration Restriction Act 1901 and racism in the Australian community then. This is namely restricting Asian and Pacific Islander immigration to, and maintaining European racial purity in Australian post 1901. The game has the potential to interpret the racist attitudes to Asians and Pacific Islanders and the subsequent laws and polices adopted by the Federal government to restrict these groups migration and work in Australia.
---
Footnotes
1 Bulletin, 16 February 1901
---
Bibliography
Coupe S, & Andrews M,
Their Ghosts may be heard: Australia to 1900
,
Longman Cheshire, Sydney, 1992.
Coupe, S & Andrews, M 1992, Was it only Yesterday? Australia in the Twentieth Century World, Longman Cheshire, Sydney.
Heritage Office & Dept of Urban Affairs & Planning 1996, Regional Histories of NSW, Sydney.
Heritage Collections Council 2001, Significance: A guide to assessing the significance of cultural heritage objects and collections, Canberra.
---
Websites

The Migration Heritage Centre at the Powerhouse Museum is a NSW Government initiative supported by the Community Relations Commission.
www.migrationheritage.nsw.gov.au

Regional Services at the Powerhouse Museum is supported by Movable Heritage, NSW funding from the NSW Ministry for the Arts.